This article is about how a PYP school in Peru reworked a unit of inquiry to put the arts in the driving seat. First grade students wrote and performed their own plays connected with effective communication and the IB learner profile. This year-long project led by their drama department was supported by other disciplines and with action taken by their IB Diploma Programme (DP) students as part of their community, action and service (CAS) project.
With the arts in our hearts
During our unit How we express ourselves, our 1st grade students had the opportunity to write their own plays, design their own costumes and scenery, choose their own music, while learning about the science of how the heart functions. They also designed the play programmes and effectively communicated all of their ideas in the final performances of their plays. In addition, as part of their action, the students asked their families to donate Christmas gifts for a local community project to get tickets for their final performances.
Conceptualizing
In the past, this unit of inquiry had a focus on story-telling and entertaining others, but after reflection, we worked collaboratively to try and make the unit as conceptual as possible so that it could be applied and understood from the perspective of many different disciplines. During this process, through collaboration with classroom teachers and subject specialists, we re-wrote the central idea to be: People use their creativity to communicate messages in different ways.
Our drama teacher worked with the students all year on this unit of inquiry, firstly on understanding the central idea and then working with students in each class to define the concepts and problems for writing their own plays. "The concept about effective communication coming from the heart was something I considered very important, as today people often speak without thinking about the consequences. The students did an excellent job making personal connections to this idea and this could be seen in the ideas for their plays and the scripts they wrote."
The students worked tirelessly for 2 months creating characters, the story line, scenes, lines and actions that became their connections with the heart through effective communication. The students also chose one or two IB learner profile attributes to incorporate into their plays because during the process of writing them, they realized the importance of the IB learner profile in connection with effective communication. The most obvious attribute was communicator, but students also found connections with being caring, thinkers, risk-takers, reflective and open-minded. Each play was about 20 minutes long and was written in the host-country language – Spanish.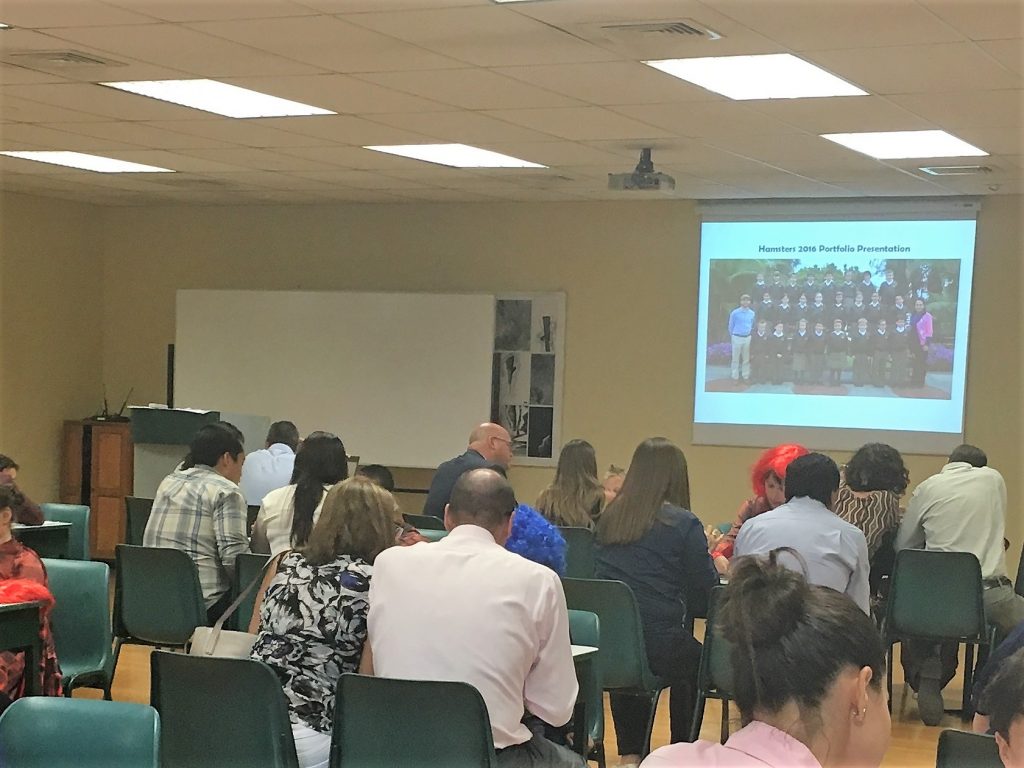 Transdisciplinarity
During preparation time, important work was taking place in other curricular areas. With their classroom teachers, students had the opportunity to carry out inquiries about how the heart works and to answer their own questions related to this. Some students inquired: "What does it mean to be heart-broken?", "Why do we cry when we are sad?" and "How does my heart help the rest of my body?" These independent inquiries led students to a range of scientific understandings that they presented to their classmates using digital presentations and posters, all helping them to develop confidence and be risk-takers speaking in front of others.
As part of the process, students also used their creativity and art skills to design their costumes and the scenery for the stage. Using their scientific knowledge of the heart and the characters they had chosen, they decided that the costumes should represent valves, veins and even a heartbeat. They chose the colours red, white and blue to make the setting realistic.
Developing gross motor skills was also a key part of their performances. Students worked hard to master body and facial expressions, and also used their voices to convey their messages. Our dance department was involved in helping students create dances for the songs they had chosen to accompany their plays – all songs with the heart at the core.
During the final preparations for their performances, students worked in English and Spanish to further explore the line of inquiry: different purposes for communication – entertain, explain and persuade. They created play programmes for their parents that included: a summary of the plot, 'critics' comments, self-reflections and drawings of their characters. This involved using the writing skills they had learned during the year. They also prepared a short presentation with their class so that they could explain to their audience how they created the play themselves.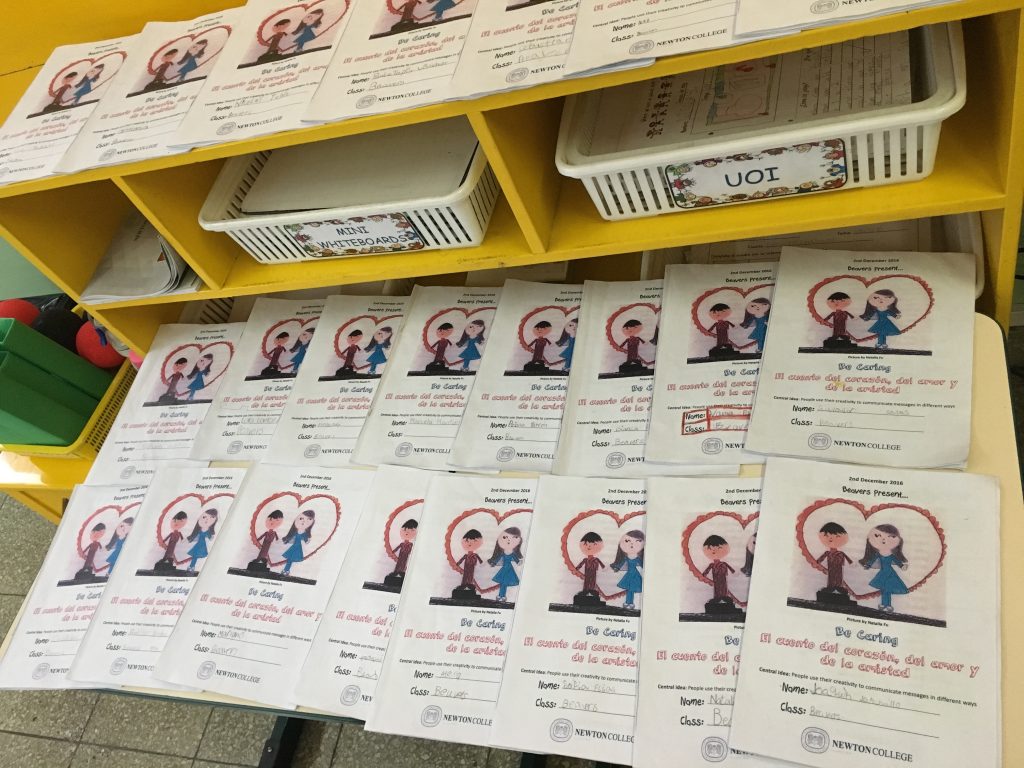 Action and reflection
After the plays had been performed, the students collected the Christmas gifts that their audience had donated and proudly gave them to the community as part of the CAS project organized by our IB DP students. The student self-reflections showed deep understanding of both this action and of their process of learning and development during this year-long unit of inquiry.
—
Kathryn Rymarz is Deputy Head of Lower School and PYP Coordinator at Newton College in Lima, Peru. She is an IB Workshop Leader and School Reviewer for IB Americas. She has worked in international teaching for 12 years and holds a Masters Degree in Instructional Science and School Leadership from Drexel University, PA. She tweets @KatRz7.