In looking for a way to deepen student understanding of concepts, while still maintaining fidelity to the single subjects, this article shows the work of the physical education (PE) department to create conceptual connections while focusing on knowledge, skills and conceptual understandings pertaining to PE and beyond.
How do we integrate single subjects into the units of inquiry while maintaining the integrity of the discipline and not creating thematic units? We, as a school, felt we were missing opportunities to create conceptual connections through subject-specific central ideas, which could support and deepen student conceptual understanding. For the 2017-2018 Primary Years Programme (PYP) exhibition, we decided to try out a conceptual connection central idea in PE with the aim of deeper learning, more engagement throughout the exhibition and increased choice while simultaneously maintaining fidelity to the discipline.
This year's exhibition central idea was: "Humans shape the future through their actions". Transdisciplinary planning began with a specialist/homeroom collaboration where we asked, "What does this look like in PE?" rather than, "How can PE support this?" One of the grade 5 teachers began thinking aloud about how sport is a great way to fight for social justice. With that, music, art, language, PE and homeroom teachers were discussing a PE connection and our creativity was sparked! After much discussion, we settled on the PE central idea: "Sports can be an avenue to promote social justice and change". We hoped that students would see how humans can shape the future through their actions by focusing specifically on sports, social justice and change.
Our provocation had to grab students' attention and make them uncomfortable enough to want to make a change. Having just finished a games unit in which students learned basketball, we thought a Basketball Challenge was perfect. All was well until, without warning, boys' points were worth 5 while girls' were worth 1. "It's not fair!" and "What is this!" were statements thrown around the court. Suddenly, one team got their basket lowered while the other remained in place. The next blow came when the two strongest players on each team were banned from shooting or scoring. "You can't do this!" someone yelled. As the rules changed, the level of frustration rose for those students feeling the injustice and they wanted to make a change! The game was followed by a class discussion on students' feelings and an introduction to the unit.
The provocation provided the tiniest taste of injustice which allowed students to begin to empathize with our case studies who had experienced larger injustices and used them as an impetus to make big changes in the world. With each case study we used a different visible thinking routine to both deepen and assess understanding. Below are a few examples.
Jackie Robinson showed us the fight for racial equality in major league baseball. We used the visible thinking routine Circle of Viewpoints and students wrote down interpretations of two pictures without knowing the background. They were shocked to find out that what they assumed was happening in the pictures was actually the opposite. This routine allowed us to see their perspectives before and after gaining new knowledge about a historical event. The questions and conversations which this sparked were immense and some students made personal connections to racial discrimination.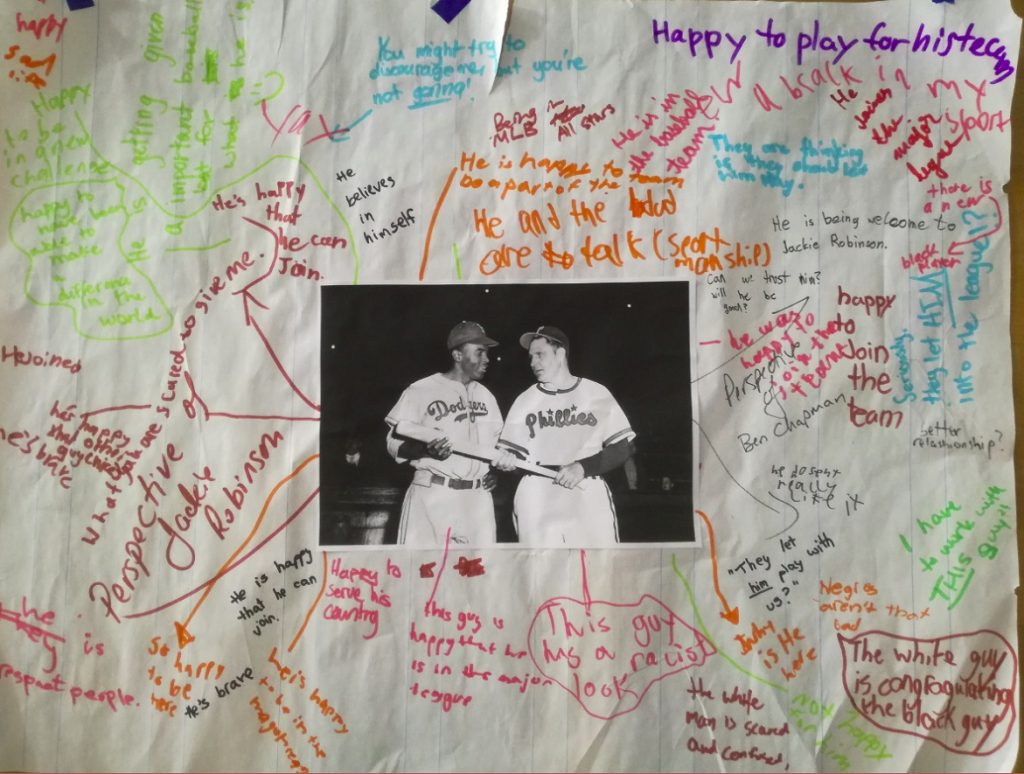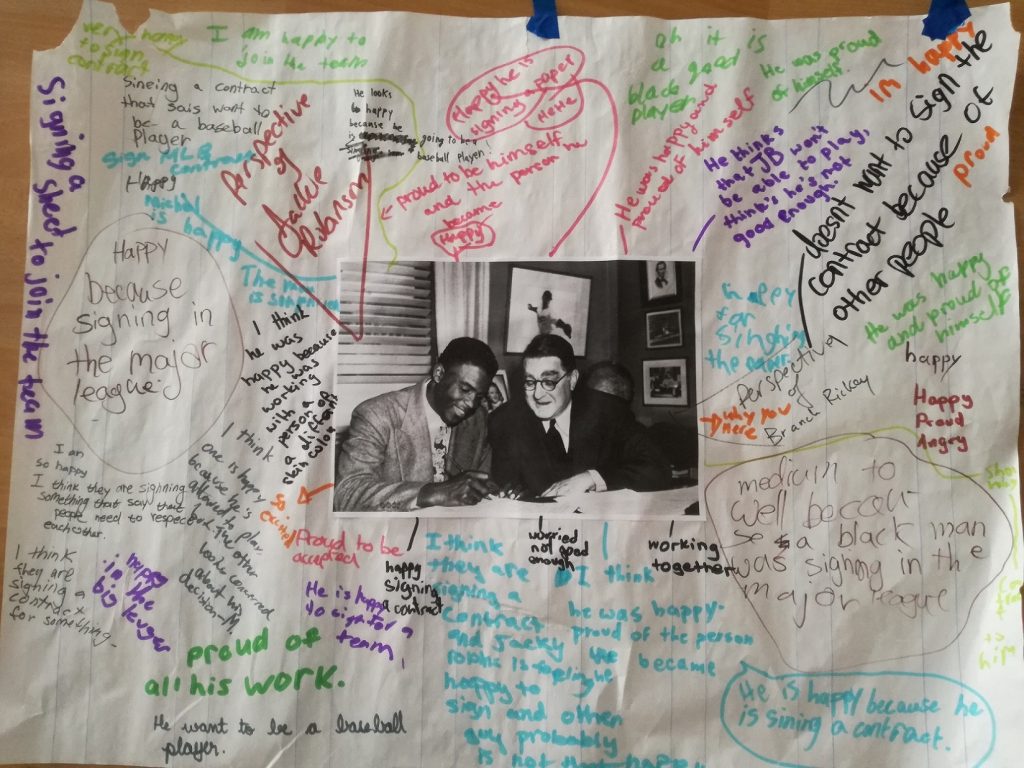 Basketball players Bilquis Abdul-Qaadir and Darsh Preet introduced us to the right to express religion through clothing while playing sport. We tweaked the Zones of Comfort protocol to help students identify their feelings about disallowing people to wear certain clothes while playing sports and then the debate began.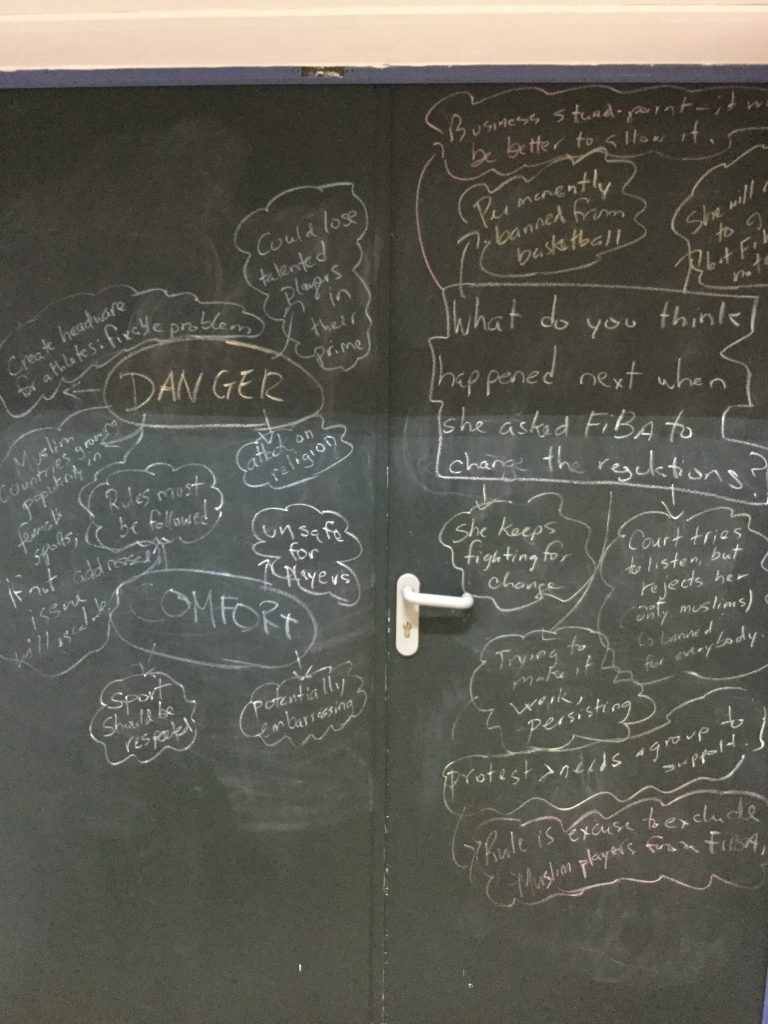 Brazilian football player Marta was our springboard to gender inequality. After learning about Marta's fight students completed the below Venn Diagram.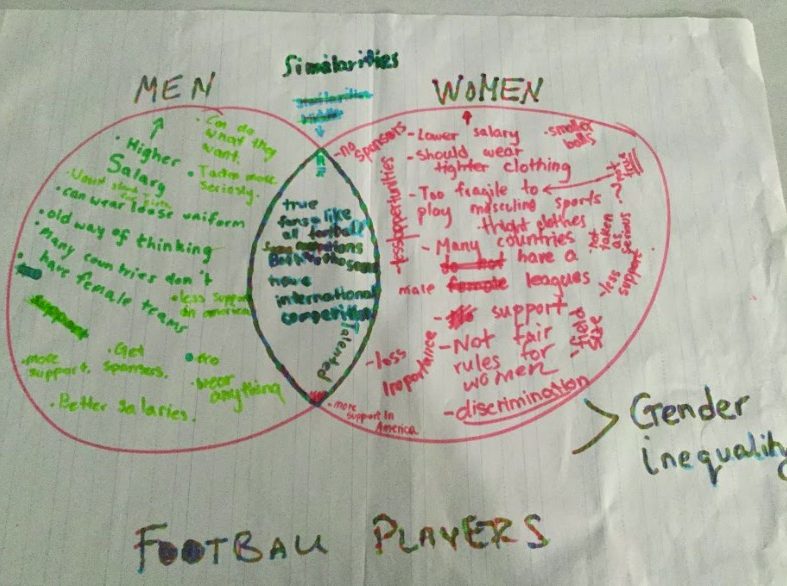 In addition to the above mentioned case studies, students explored:
With each new case study, students expanded their perspectives and deepened their understanding of the exhibition's central idea. They became more confident in taking and defending positions, and listened to varied perspectives with open minds. Some began to independently inquire into other change makers (see below).
A presentation about Katherine Virginia Switzer, the first woman to run the full Boston Marathon in 1967.
Questioning why women cannot play football in home nation (Pakistan) followed by discussion.
Researching athletes who fought for social justice in home countries.
Designing and documenting engaging assessments was a priority. Students were asked to research and write a speech about someone who had used sports to make a change or to fight for social justice. This could be based on one of our class case studies or the athlete of their choice (see student checklist here). During the unit students would also be preparing for a Mini Olympics and enhancing their skill set in high jump, long jump and 60 meter sprint. Initially we thought it would be great for the medalists to present their speeches at assembly; however, in the end, there were two passionate students (non-medalists) who were our speakers. Athletic skill would be assessed through a Mini Olympics and conceptual understanding would be assessed through the content (not delivery) of the speech. We were looking for students to show:
Knowledge about facts from the time
Understanding of how their case study promoted social justice or change through their actions
Personal connection with the subject of their case study.
Students and teachers used the same checklist to assess understanding and knowledge of the central idea. It should also be noted that throughout the unit, teachers documented learning through the collection of anecdotal notes, pictures, and the collection and presentation of visible thinking routines.
We felt that the combination of the Mini Olympics for enhancing and assessing skills, as well as the presentation and research of case studies related to social justice and change, would allow us to maintain the integrity of PE while deepening their thinking of the homeroom central idea.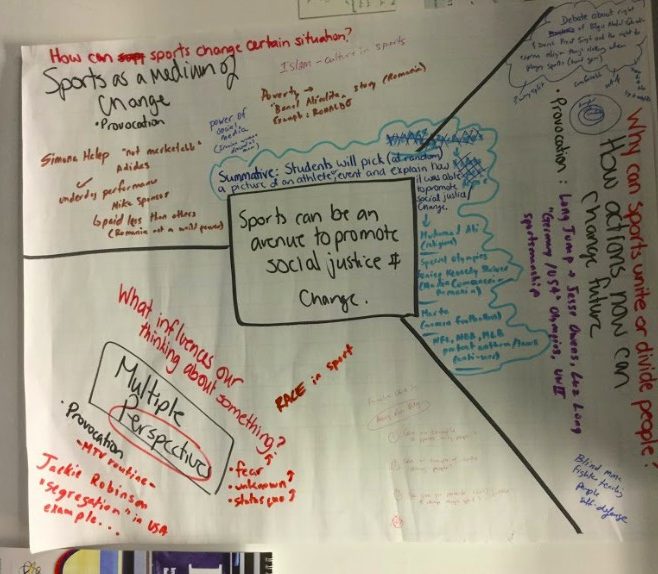 The learning which took place in PE was evident in many exhibition projects demonstrating that the understanding of change and social justice had transcended PE. The grade 5 PE teacher stated, "It gave me a fresh perspective on teaching PE. We were able to go deeper into conceptual connections and they (the students) could see how athletics pertains to the real world."  While there are improvements to be made, we are excited about the potential of this unit and creating other transdisciplinary units based on conceptual connections.
Works Cited
"April 28: Muhammad Ali refuses Army induction." This Day in History, www.history.com/this-day-in-history/muhammad-ali-refuses-army-induction. Accessed 18 July 2018.
"Circle of Viewpoints." Project Zero, Harvard School of Education, www.pz.harvard.edu/resources/circle-of-viewpoints. Accessed 18 July 2018.
Comaneci, Nadia. "Special Olympic Athletes Are Making History." Huffington Post, 8 July 2015, www.huffingtonpost.com/nadia-comaneci/special-olympics-athletes_b_7753014.html?guccounter=1. Accessed 18 July 2018.
"Jackie Robinson." History Channel, www.history.com/topics/black-history/jackie-robinson. Accessed 18 July 2018.
Litsky, Frank. "Ruth Langer Lawrence 77, Who Boycotted '36 Olympics." The New York Times [New York], 6 June 1999. The New York Times, www.nytimes.com/1999/06/06/sports/ruth-langer-lawrence-77-who-boycotted-36-olympics.html. Accessed 18 July 2018.
Mendonca, Duarte, and James Masters. "'Female Pele' Marta seeks fair deal for women's soccer." CNN, 9 Aug. 2013, edition.cnn.com/2013/08/07/sport/football/marta-pele-brazil-pele-football/index.html. Accessed 18 July 2018.
"MPower Change: Muslim Grassroots Movement." MPower Change, act.mpowerchange.org/sign/fiba-let-them-play. Accessed 18 July 2018.
"Zones of Comfort, Risk, and Danger." School Reform Iniative, www.schoolreforminitiative.org/. Accessed 18 July 2018.
Courtney Hughes is the PYP Coordinator at the American International School of Bucharest. She has been at the school for 9 years. Courtney is originally from the United States where she began her teaching career in New York City Public Schools. She sees the power of transdisciplinary learning and believes that children can do anything. Courtney is a full-time mother, wife and educator. When she has a spare moment, she enjoys working out, eating and traveling to kid friendly locations. She could never have written this article without the support and dedication of Alex Sota and Svetlana Akhundova (the grade 5 PE team). You can follow her on Twitter @cbeishline.