Since the release of "PYP: From principles into practice", IB World Schools around the world have been engaging with the content and planning for implementation. Four schools at different stages of their IB journey will share their approach to understanding and implementing the IB Primary Years Programme (PYP) enhancements in their own context. Here is the second story in the series that features an IB World School in India and illustrates how the school continues to explore the enhanced content.
 My name is Anthony Hamblin and I have been the PYP coordinator at Stonehill International School for the last 18 months. I have been asked to share our journey as a school implementing the new PYP enhancements in a series of blog posts over the next year. This blog post shares three ways we explored the IBPYP section on The Learner.
 The learner
Since my previous blog post on the learning community, the next step in our journey was to action some of our understandings. The primary school dedicated a professional development day in February to the enhanced PYP documentation to ensure consistency and shared understandings. This was organised and delivered by our Head of Learning Support and PYP Coordinator. It was an opportunity to tap into their drama background and cover two objectives; an opportunity to reflect on the learning community document, and a specific focus on 'The PYP stance on student grouping'
'A PYP classroom that is committed to inclusivity and diversity is a dynamic learning environment. Students move between individual work and group work, as well as among fluid and diverse groupings, in response to their needs and the needs of the inquiries — both transdisciplinary and subject-specific.' The Learning Community P7
This was an IB PYP team recommendation as an area to develop from our Accreditation visit earlier this year. We explored and developed a variety of grouping and regrouping strategies that were not all 'academics based' and while in these groups, students had an opportunity to collaborate with others they may not usually work with. After a mathematics game split us into six groups, we looked at creatively sharing our understanding of the six areas of the learning community: A community of learners, International mindedness, Leadership, Collaboration, Learning environments, and Technology. Our teachers used their communication skills in a variety of ways, including posters, plays and songs to share their understanding of the six areas within the document.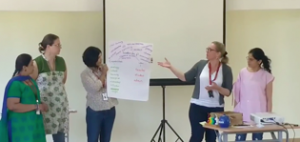 After using our knowledge of the noises of barnyard animals to get into a new group, we used a consensus-building activity to help us define our version of agency. Teachers read separate pages from The learner and Supporting student agency to inquire into the IB's definition and wrote down their top five takeaways. In partners, they synthesised down to their top four. They then got back into their groups to collaboratively decide on their final top four. The takeaways from the group were presented on a poster. A gallery walk followed where other groups chose their top three, marking out their favourites with coloured post-its. These ideas have been consolidated and explored further to form an essential agreement on what agency means to us at Stonehill.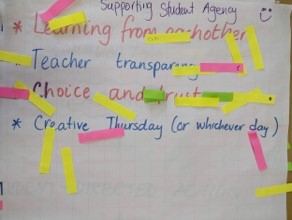 Learning Hub
Last year, Stonehill International School set up a Learning Hub, an opportunity for our teachers to share their knowledge with over 70 educators from around India, and an opportunity for PYP coordinators to collaborate. This year, with a focus on differentiation and the enhancements, we had over 200 educators attend. Workshops focused on The learner (The early learner, Action, Learneragency and the PYP exhibition) were full to the brim, with educators excited about getting to grips with the enhancements and collaborating with others from around India.
This was also an opportunity to share our commitment to supporting all learners by hosting the first SENIA India get together, with workshops on supporting students with sensory needs and autism spectrum disorder in the mainstream classroom.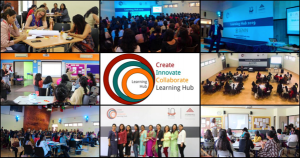 Exhibition
The final part of The Learner document is the exhibition. Our #SISPYPX journey began way back in October when our P8 (Grade 5) learners developed their teamwork, collaboration and communication skills as part of our residential trip dedicated to building their approaches to learning skills.
Our PYP exhibition unit of inquiry falls under How we organise ourselves and runs for the whole year, with a dedicated six-week focus before the presentation night. Learners are expected to create their own central ideas (we looked to the 'Co-constructing Central Ideas' teacher support material to support this) and lines of inquiry, and fit it within any of the six themes.
In preparation for the intensive research weeks, learners attended a collaborative planning session with all their teachers. Here, we discussed the key purposes of the exhibition; the why, how and what ofeExhibition. We used the visual thinking strategy "See, Think, Wonder" (Richhart and Perkins, 2008) to have an understanding of what the learners already knew and wanted to know about the exhibition.
We inquired into the role of transdisciplinarity in the PYP exhibition and explored how the specialist teachers and others from the learning community could support the students' journeys, including guest speakers and mentors.
More recently members of the learning community shared their passions with the P8 students to show that action can take many different forms. As our learners developed their understanding of action they were relieved to find out that action does not have to be a world-changing event, but can be something significant and personal to them. We referred to the six types of action described in The learner: participation, advocacy, social justice, social entrepreneurship and lifestyle choices)
As an extension of student agency, our learners shared what the exhibition is about with their parents, and previous PYP exhibition parents were invited to talk about their children's experiences. Our exhibition takes place at the end of April, with more information about it in my next blog post.
___________________________________________________________________
Anthony Hamblin is the PYP Coordinator at Stonehill International School in Bangalore, India. In his 7 years of IB PYP teaching experience, he has also worked in Azerbaijan as an early years teacher and leader. He is passionate about student and teacher agency, collaboration and encouraging performing arts in all aspects of a student's learning journey. You can follow him on Twitter @stonehillPYP and his school @Stonehill_SIS.
___________________________________________________________________
Be on lookout for the fourth in a series of planning for implementation stories next week. We will share the continued journey of an IB World School in Namibia.