Since the release of "PYP: From principles into practice", IB World Schools around the world have been engaging with the content and planning for implementation. Four schools at different stages of their IB journey will share their approach to understanding and implementing the IB Primary Years Programme (PYP) enhancements in their own context. Here is the second story in the series that features an IB World School in Namibia and illustrates how the school continues to explore the enhanced content.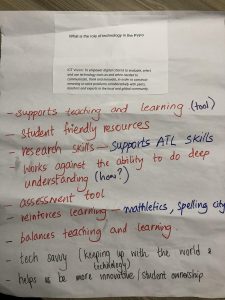 Our ICT Vision: To empower digital citizens to evaluate, select and use technology tools as and when needed to communicate, think and innovate, in order to construct meaning or solve problems collaboratively with peers, teachers and experts in the local and global community.
We recently did a review of how we implement technology here at our school. We referred to the IB document, that has recently been released: "Purposeful technology integration and implementation."
We recently did a review of how we implement technology here at our school. We referred to the IB document, that has recently been released: "Purposeful technology integration and implementation." Our teachers and educational assistants reflected on the following questions:
What is the role of technology in the PYP?
To know some examples of technology integration and implementation: what do we do well? What do we need to work on?
What do we know about how technology supports inquiry?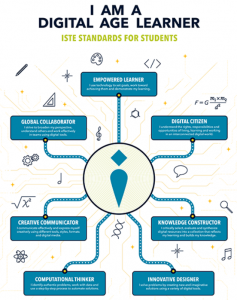 It was an exercise that evoked thoughts, discussions, and an opportunity to share what we do in the learning environment at our school. We also focused on our vision and philosophy towards technology and learning.
One awareness from our educators was that it is important to keep up to date with a rapidly changing world. The reality is our students will need to use technology in their everyday lives. A question then raised is what is our responsibility to support this? One response is that we are all responsible as educational guides. Technology is something that should be considered a tool to support learning amongst the other mediums and materials we provide students in the classroom. For example, you will see by the photos below that our technology workshop included the use of many tools including pens, paper, and face-to-face interaction and discussion.
Technology is a useful tool to enhance how we teach and how we facilitate learning for our students, but that doing so effectively requires a holistic, meaningful and thoughtful approach. The focus is on the learning, not the technology. Technology helps us to connect with learners and experts worldwide. Technology implementation involves thoughtful planning on the part of teachers to ensure the tools match the learning goals identified. A combination of digital and non-digital tools can help support and extend learning, such aspaper, scissors, and pens. When students are using technology we foster responsible use and support student agency when making informed decisions and ethical choices. Technology supports teachers monitoring, documenting, measuring and reporting on learning using an e portfolio platform.
Students use various platforms to make their thinking visible, to reflect and share learning, to connect with the real world and to become informed learners making safe choices when researching and gathering information. Some examples of using Technology to support learning at our school include students using Google Slides to share their connections through inquiry, teachers using class blogs to keep parents informed and celebrate student learning, and students involved in generating blog posts to summarise their learning using Google Slides. These tools are introduced to teachers and students by our ICT integrationist coachas a way for the students to learn and practise technology skills, whilst showcasing their learning.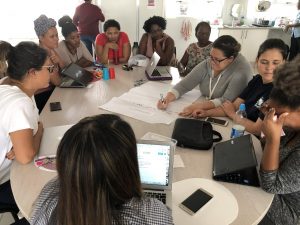 In previous years at WIS, students used to go to the computer lab to learn how to use Microsoft Powerpoint. Now they stay in the classroom to  learn and integrate the very same skills. This is more authentic as they have an audience of students, parents and teachers, they receive feedback and use this to reflect on further learning. What was once a stand-alone ICT lesson with independent work has become a more purposeful example of how learning can be enhanced in the classroom. Students can take turns to create a blog post each week in groups of. This is engaging, and is an opportunity to empower students in sharing their thoughts and giving voice in their learning community.
Students use "Sphero" to plan, decode, problem solve and use critical thinking skills. They use Seesaw to reflect and measure on their own personal growth and receive feedback from various stakeholders throughout their learning journey. They use apps and tools creatively to show their newly gained perspectives and understandings.
Our journey with technology has evolved over the last five years starting with the introduction of the use of iPads as a tool for learning. We are always reflecting and responding to ways in which technology can be incorporated to best support students' PYP learning journey. Our teachers and students here at WIS are innovative and motivated to embrace effective practice for continuing to improve and transform learning and teaching.
_____________________________________________________________
Avril van Zyl, PYP Coordinator at Windhoek International School in Namibia. She is very interested in the ongoing development within the PYP. She is always open to continue to grow and learn in her journey as part of the PYP vision. Her focus is on the transformation of learning and teaching and supporting the growing approaches to student empowerment in their learning journey.
_____________________________________________________________