Continuing our series of blog posts following four schools at different stages of their IB journey, as they share their experiences and approach to understanding and implementing PYP: From principles into practice, in their own context.
This week we join Stonehill International School as they investigate Learning and Teaching.
This year brings about many changes at Stonehill International School. As well as the usual turnover of teachers you would expect from an international school, we also grew to three homeroom classes in most year groups. With large student growth across the school, we ended up introducing 39 new teachers to the school at the beginning of August – our largest ever orientation.
The Learning and teaching pillar of the PYP: from principles into practice aims to support the implementation of the programme on a theoretical,operational and practice level (pg.1), and what better time to ensure that teachers who are new and returning have a shared understanding of what underpins the PYP than during orientation.
We began by looking at four key educational philosophers, Bruner, Dewey, Malaguzzi, and Vygotsky using a visible thinking strategy Generate, Sort, Collect, Elaborate to create posters of our findings. During this activity, we were specifically inquiring into what philosophers had to say about inquiry, community, environment, skill development and assessment.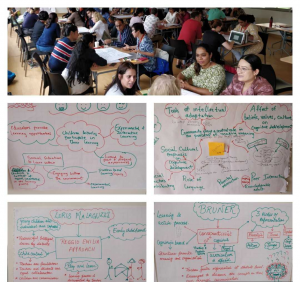 Learning to Learn
After further exploring our shared philosophical understandings, we collaborated on our first exploration of the year. This year each grade level is developing a new investigation titled 'Learning to Learn', which is a precursor to our POI. Teachers looked at examples of central ideas and lines of inquiry that support building community, and then worked in grade teams to create their investigation for students to carry out.The student inquiries will focus on what it means to be a learning community and encourage students to reflect on how to be successful learners at Stonehill. Our Primary Principal reinforced the importance of a 3D curriculum; Skills (our Approaches to Learning), Concepts (Key and related) and Knowledge (Transdisciplinary Themes) within the context of building our community utilising material from Edutopia. Depending on its success, the investigation may well be integrated into the POI next year under the transdisciplinary theme Who we are or How we organise ourselves.
The learning to learn investigation encourages collaboration, helps build relationships and enables teachers and learners to collaboratively create their classroom environment, routines and parameters for learning. Team teaching with single subject teachers during the first weeks of the school year, ensures that everyone, shares a common understanding of behaviour expectations, learners needs and strategies to develop problem-solving.
Teachers are now challenged to align their pedagogy to the philosophical underpinnings covered in the structured inquiry session on the philosophers. Teachers have an opportunity to take risks fully supported by leadership. Learning experiences will utilise the key elements of learning as outlined by the beliefs that underpin our programme. With grade levels having a mix of very experienced PYP'ers and teaching staff just being introduced to the programme, discussion was lively and a supportive learning environment with the learner at the centre, is well on its way to being developed.
Exhibition
In my last blog post, I spoke about how we collaborated with our learners in preparation for the PYP exhibition in April. The exhibition presentations were a proud moment shared by students, teachers and parents. Throughout the exhibition journey, students collaborated closely with their group members, teachers and mentors to address the key aspects of the inquiry cycle. In the first few weeks, students created their central idea, lines of inquiry, identified key concepts and learner profile attributes to focus on. They also identified the most appropriate transdisciplinary theme for their inquiry. Our learners were knowledgeable and articulate when sharing their knowledge with the learning community: their peers, other schools and their parents. The students presented a variety of issues that were of personal and significant interest to them. They presented their findings in a range of ways, from dance, drama and singing, to audience participation. They had support from students who had their exhibition the year before, and M1 (Grade 6) students exhibited their leadership skills when teaching our exhibition students a dance they had created. The students personified the elements of the PYP and demonstrated what action they were taking, personally or community-wide.
Read more:
Part 1 of our story: The learning community
Part 2 of our story: The learner
Anthony Hamblin is the PYP Coordinator at Stonehill International School in Bangalore, India. During his 7 years experience in the PYP, he also worked in Azerbaijan as an Early Years teacher and leader. He is passionate about student and teacher agency, collaboration and encouraging performing arts in all aspects of a student's learning journey.
Connect with Anthony on twitter: @stonehillPYP