Nancy Snyder is currently the PYP coordinator at American International School Dhaka, an authorized PYP school in Bangladesh. She recently joined the school as the coordinator after teaching and leading at International School Ho Chi Minh City for seven years. In addition to coordinator, she has served as a classroom teacher and literacy specialist. She tries to support teachers and students to apply and make learning real and relevant within any context.   
The recent PYP enhancements and additional publications of PYP: From Principles into Practices (IBO, 2018) has helped define and explain what student action can look like by giving schools five examples of action to improve how we might explain action and observe students applying learning: 
participation

 

advocacy

 

social justice

 

social entrepreneurship

 

life choices

  

 
 Another addition that has benefited our student and teacher understanding of learning and teaching is the spotlight on student agency (voice-choice-ownership). At the American International School Dhaka (AISD), these updates have given us a chance to understand more about our learners and celebrate small successes. We are displaying many kinds of action as well as seeing the power and possibilities for ownership.  
 Like many, since March 2020, our elementary school students were out of our brick and mortar school building and in online learning from their backyards, bedroom floors, dining room tables, from homes here in Dhaka and their home countries. With this physical separation, we learnt that community is not reliant on proximity. In a normal year we are a school with a well-used health clinic, fitness facilities and coffee shop on campus and with clubs, sports and afterschool activities constantly taking place… a strong connected community, a community school.   
 Teachers adjusted and worked to meet the needs of the students in many academic, developmental and social arenas even though our students might not be attending school in the same ways or spending the same number of hours as in previous school years. We found challenges with knowing about learning happening at home, giving students authentic experiences, making meaningful learning engagements, and more. However, we have also succeeded in many ways that we did not expect.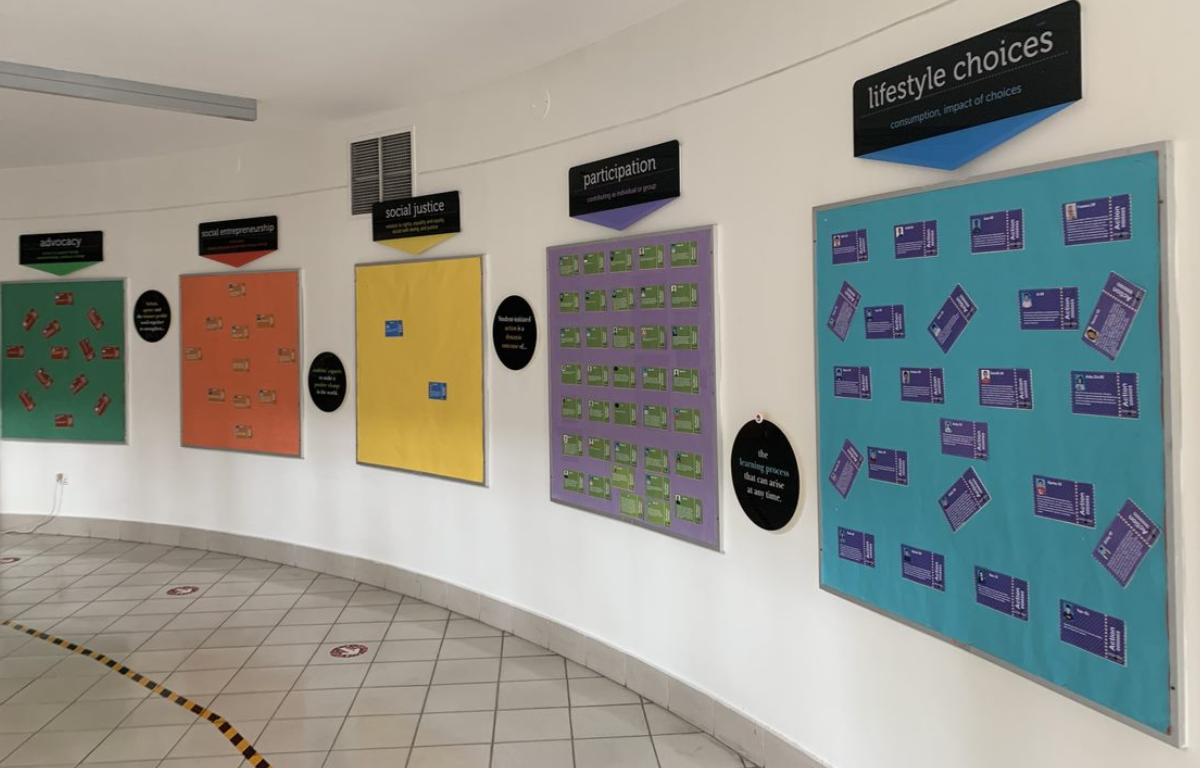 Student Action: Creating Virtual Community Connections 
 We did not expect it, yet we started noticing early-on that students were taking action and finding opportunities to step forward in order to practice skills and dispositions that they have learned and are learning. Throughout the year, students' action, initiative, and self-belief continued to grow. Ideas and innovation addressed the needs of students and spread from class to class and student to student.   
 In September, we did not expect it when two students wanted to create a virtual Halloween carnival, "Spooky Pumpkin." They emailed, met online with the principal and the PYP coordinator to come up with a proposal for action. Their ideas became more organized and more caring, thinking about those students who were not able to leave their homes. Eventually, they were ready with a set of activities, interactive posts and a place to share photos engaging students in a virtual celebration. They bravely sent this out and shared it with our elementary school.   
 More students started contacting teachers and (virtually) coming to the elementary school office staff to propose – and later lead – different initiatives. 
A student sent out a virtual celebration, teaching about Diwali's traditions and asking students and teachers to light a candle and set it on balconies for all to see, with the intent of connecting our separated community visually. 

 

A pair of students planned lunchtime lessons for their own and other grades about how to make origami.

 

A group of students wrote, edited and published a short online newspaper.

 

Students planned clubs and "lunch bunch" gatherings about science experiments, comics, coding and pet ownership. 

 
Although students were in different physical spaces, they focused on the shared community that "prioritizes people and their relationships" and "assumes shared responsibility for learning, health and well-being." (IBO, Principles into Practice, The Learning Community, 2018 p. 1)   
Technology Understanding and Purpose 
 Another positive consequence is an understanding of technology's purpose and power. During virtual learning, devices and software are a necessity and students are creating, critiquing and using technology purposefully. To quote a third-grade student, "I didn't even know the iPads had Google Slides last year." Now she is explaining how visual and useful Google Slides are and using it to take notes, plan, and then share the information/instructions with her grade for a pet club initiated by her classmate.  
We were not expecting it, yet one student has taken his love of coding to planning and running a coding club. He also figured out how to send a screencast video of himself teaching others in order to review the lesson for a club meeting. Unexpectedly, this inspired another student, who is organizing a fun science experiment group, to send off instructions on what students need via a screencast. By sharing her screen, she worked through a short coaching session on what software to use. After working independently, she explained that she practiced and persevered until she made a video. These are just a few examples of how students are using technology to fit their real-world needs.  
Students and Teachers Alike  
 All over the virtual elementary school, students and teachers were not expecting it, yet have felt and noticed the unintended positive consequences of virtual learning. We found ways to connect, adjust and work together.  
Our counsellor has had a chance to connect with many students she might have only seen in passing in the hallway by offering "Cub Club" (optional weekly social meeting times between grade level cohorts). 

 

Our librarian has become quite creative in teaching students how to connect to the library through virtual class visits, instruction sheets and emails. She has inspired students to request books electronically and borrow E-Books and answers questions through email, online meetings, and hangout chats like she would at the library desk. 

 

Our music teacher has organized and directed an online musical with students working together and contributing from all over and then editing clips together into a virtual musical (not to mention putting together multiple iterations of the school song with teachers and students for our regular school assemblies). 

 
 Our students and teachers took action to be a community during our experience of virtual learning and we did things we could have never expected. We have plenty of models of voice, choice, ownership and action that will help our students find new ways to innovate and act if virtual learning was to return.