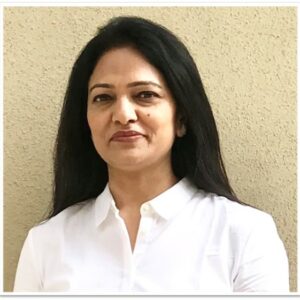 Anita Mohan is a PYP grade four teacher at DPS International, Gurgaon, which is an IB continuum school in India. She has more than nine years of experience as a form tutor. Anita is passionate about breaking up difficult things into simple basics and presenting them in a clear and logical manner to her students. The learner in her looks forward to contact time with students to investigate topics, formulate questions, proceed with research and find suitable responses to their questions.
What was the situation in your school like at the time of writing this blog?
With a nationwide closure of schools due to the Covid-19 pandemic, we had been discovering newer ways of remote learning. I thought remote learning would last a few days or maximum, two weeks. Little did I know that the weeks would turn to months and months to a year. Our school was very proactive in providing much-needed support and decided on Microsoft Teams as the virtual learning platform. We teachers had many collaborations with the information technology team to figure out the nuances of online teaching.   
How did you approach developing learning engagements differently than in normal situations
i.e.
face to face learning and teaching? 
Making students aware of the approaches to learning at the beginning of a session is one of the essentials on my to-do list. To make that feasible in online classes, I created a poster and uploaded it to the collaboration space of Microsoft Teams. This way students were able to revisit the skills and sub-skills regularly and stay more aware of them. It helped them become independent and self-regulated learners.  
We introduced the unit to the students through a visual presentation on 'What life on Mars might really be like?' and they were also shown a few pictures related to the universe. They were very quick in guessing the unit and reflected on their prior knowledge. Keeping the remote learning scenario in mind, I wanted students to reflect on their learning in the most suitable way possible. I used Mentimeter to gather reflections to engage with. Students brainstormed and wrote their understanding through open-ended 'speech bubbles.' They enhanced their critical thinking skills by comprehending relevant information to draw conclusions. 
At the onset, we teachers of grade four along with the single-subject specialists planned the unit of inquiry under the transdisciplinary theme How the world works with the central idea Changes of the universe can be unravelled by human exploration. The lessons, as well as the engagements, were planned around the following lines of inquiry and key concepts: 
Changes in the universe (change)

 

Ways of space exploration (form)

 

Impact of space exploration on our daily lives (perspective)

 
 Virtual experiences like conducting experiments on occurrences of day and night/seasons, sharing models of celestial bodies in the virtual platform and taking students through the virtual tours of the international space station were the highlights. This helped students inquire into space, solar system, space shuttles, and different missions undertaken in space exploration. Creating and using the models and simulations helped students develop conceptual understanding of the universe. This further helped them comprehend complex information to carry out discussions, debates and assignments.  
 The integration of the unit with other subjects like Hindi and Art provided the opportunity for students to develop thinking skills and research skills. In their art classes students explored art spaces and analysed the role of perception in the interpretation of positive and negative space. This gathering of data and recording of information helped students enhance their research skills. During their Hindi classes, students developed their critical thinking skills through discussions and debates. They analysed and evaluated issues like 'impact of space exploration on the environment' and put forth their perspective.  
Engagements and assessments happened through interactive task sheets, quizzes, assignments based on podcasts recorded by teachers. Students were also encouraged to take a break from typing, writing answers to the questions in the assignment, in their physical journals and upload the pictures on the Microsoft Teams page. This was done to encourage writing practice and spelling reinforcement.  
The unit progressed, and students explored the central idea 'Changes in the universe can be unravelled by human exploration'. They used their critical thinking skills to read, interpret, and process it in their minds. A Padlet board was created and shared with them to write their ideas and comments on the central idea.  
ICT teachers worked on developing thinking and research skills with students by exploring and engaging with technological tools to provide a variety in the choice and use of tools. Students explored different tech tools including: 
Microsoft Forms

 

Canva

 

Book Creator

 

Adobe Spark

 

WIX online tools. 

 
Students learned to add text, photos, layout, and template to create a poster on the solar system using Adobe Spark Post. They also understood how to conduct surveys through MS Forms. They found their voice in technology as their fingers navigated the platform smoothly. Students enhanced their communication skills by communicating using technology to gather, investigate and share information. 
How did the structure of the learning engagements and tools used, help with enhancing ATL skills?
Students came up with a brilliant suggestion of maintaining a book log in the collaborative space of Microsoft Teams to keep a track of the unit-related books being explored. Through this activity, students displayed their self-management skills where they managed an organized logical system to document resources related to the unit. Furthermore, they have been demonstrating their self-management skills by getting up early, logging in on time, keeping their systems charged prior to the classes, fixing internet connectivity issues, making sure the camera and microphones are working, navigating through different channels, completing, and turning in the assignments on time, and most importantly, managing their emotions and being resilient during these adverse times. 
Students enhanced their social skills while collaborating through the tech tool Kialo-edu.com, a platform for discussion and debates, and during their dedicated circle time where they shared their new explorations, learnings, and achievements with each other. The students were creative in sharing their interests in topics related to the unit of inquiry with their friends. They created quizzes using Kahoot, Microsoft Forms, and presentations and games.  
It was a great feeling to see them bond well, closely listen to different perspectives, understand instructions to watch the presentations, and play the quiz/games.  
Some of the students took action by making posters and PowerPoint presentations, sharing them on the virtual platform to spread awareness. They also mentioned the skills, such as research and thinking skills they used in their work. 
What tips would you give your fellow educators who might be going through a similar experience? 
Since students did not have access to physical classroom resources (fact sheets, articles, PowerPoint presentations, videos) related to various concepts, these were uploaded under the Teams files. This helped students revisit concepts whenever they wished to.  
Also, setting realistic goals and targets helped students deliver more efficiently. A set of 10 quiz questions or a 200-word limit answer was sufficient to engage students for a duration of half an hour. This restriction of task or time is also important keeping in mind the demands of virtual learning, which might result in some students having a lesser attention span. These goal-oriented tasks helped students build on their self-management skills. They could do short- and long-term tasks in a time-bound manner and complete tasks as agreed. 
Technology has provided learning continuity for remote learning during the current pandemic. That is why we thought it was crucial to sensitize students about digital citizenship. They were educated about responsible use of technology while using computers, the internet, and digital devices to engage with society on any level. They used their critical thinking skills to suggest ways of countering carbon footprint. 
This entire journey has created a picture for teachers and students about the skills that are regularly addressed and the ones that are challenging for the students to grasp and hence, rarely use. As teachers we continue to challenge and explore different approaches to remote learning and teaching and support the ongoing development of the ATL in students. We help them in identifying and focussing on their passions and interests, facilitating their process of learning. With our daily distance learning experience, we know how indispensable these skills are during these times. Students need to put these skills into practice not someday far in the future, they need these skills now.