Members of the PYP team attended the IB Asia-Pacific regional conference in Hyderabad, India from 17 to 19 March 2016.
Many PYP educators attending the conference joined our session and stopped by the PYP table to meet the team, to ask questions about the programme, and to make new connections with the PYP team members. We enjoyed talking to all of you in Hyderabad!
Terri Walker, Curriculum Manager: "Several IB educators visited our table to collect information for their coordinators who could not attend the conference. We created a simple handout to help them be up to date with the latest information about the PYP. It is also an easy piece of material for the coordinator to post on the notice board in the teacher room."
IB Regional Development Manager Priyamvada Taneja: "There is a growing interest of PYP in India. It was good to see so many schools already offering the PYP in this region and hear their success stories."
Product Manager Rupal Arora and Head of PYP Professional Development Sue Richards delivered a session on Playful inquiry in early learning communities: A provocation. "In this fun filled session, 60 educators engaged in different forms of play as they explored the image of the child/learner, the importance of relationships, and the learning environment in building empowered learning communities."
Download our new Stay up to Date with the PYP handout  
You can download the new handout here. We will be updating the handout prior to every IB conference. The next updates are scheduled for publication in July and October.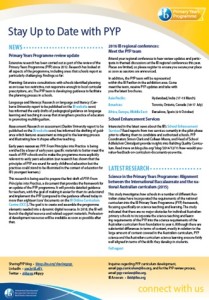 We look forward to seeing you at the next IB regional conference from 14-17 July 2016 in Toronto, Canada.
PYP development team