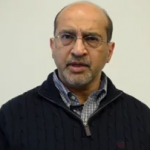 IB educator Mahmoud Sayani gives a video update about the fourth and final School Enhancement Service to pilot in groups of schools in 2015. Strengthening Leadership of Groups of Schools is designed to support superintendents, group-level coordinators and executive directors who are either new to the IB or to their role, particularly those with one or more schools at the consideration or candidate stage. Led by a coach and composed of webinars and learning modules, Strengthening Leadership allows group leaders to allocate structured time for learning about the IB, and subsequently, to develop a blueprint for successful IB programme implementation.
An action project embedded in each of the service's learning modules enables group leaders to develop a blueprint for IB programme implementation piece by piece. An IB coach walks each group leader through four core modules and the action project. Along the way, the group leader learns about the key elements of specific IB programmes, their pedagogical aspects and what the most common challenges are likely to be as a school's IB journey begins. At the conclusion of their time together in the service, each group leader is prepared to support individual school leaders in their own group.
The service pilots continue until the end of June 2015. Each group leader invests 10 hours or less to complete 2 introductory webinars and 4 core modules—2 additional modules are available and optional. Each session is spent with a coach in an interactive session online, facilitated through WebEx.
"The presence of a live IB senior educator/presenter makes all the difference," observes Mahmoud. "Knowledgeable people talking about practical issues and challenges can make group leaders' jobs easier."
Personalized service online overcomes time-management and logistical challenges group leaders associate with attending a workshop, Mahmoud notes. Group leaders have six months to participate in the webinars and to complete the learning modules with their assigned coach.
Summing up the value of Strengthening Leadership, Mahmoud says, "It helps school-group leaders successfully lead, coordinate and support the implementation of IB programmes in their schools."
Watch and listen to Mahmoud Sayani describing the essence of the new Strengthening Leadership service:
Hear what the Strengthening Leadership coaches are saying about this new support service for leaders of groups of schools:
Anne Grisham:
Diane McAlister:
Marjorie Henningsen: