IB teachers speak to IB World about how their classroom-management systems encourage and celebrate growth and potential, and why the student voice is key
Effective classroom-management tools are essential for creating successful learning spaces for all ages. But, working with students to develop an 'agreement' or a set of 'values' is crucial to success.
Two IB educators share with IB World how their new classroom-management techniques inspire students to become the best version of themselves and give them a sense of ownership in how their class culture is developed.
The Pygmalion Effect and positive expectations
The idea of 'self-fulfilling' prophecies and positive expectations has a long history. For example, researchers Rosenthal and Jacobson found that teacher expectations influence student performance after their experiment at an elementary school in 1968.
For the experiment, students took intelligence tests, but researchers gave teachers the names of 20 per cent of students who were showing "unusual potential for intellectual growth" and would bloom academically within the year. Unknown to the teachers, these students were randomly selected with no relation to the initial test.
When students were tested eight months later, they discovered that the randomly selected students scored significantly higher.
They called this the 'Pygmalion Effect'. The experiment highlights the powerful role a teacher plays in setting classroom expectations and how they impact on student engagement and learning. Rosenthal insists that the effect also applies to higher education.
PYP educator Matthew Scott at Rivercrest Christian College in Australia, was reminded of the Pygmalion Effect at a Project Zero Conference in Melbourne. "Harvard researcher Daniel Wilson suggested that the role of teaching and learning was really about working with 'human potential'," he recalls.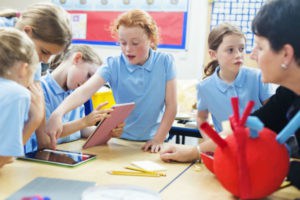 "This idea resonated with me as I considered how my classroom culture was geared to inspiring students to strive for more, or to be more. I was familiar with research conducted about the effects of positive expectations on learners and intrigued by the implications of Rosenthal's work."
Scott has applied the concept to his classroom essential agreement, which he calls the "oxygen" in the classroom. "The agreement is used in everything we do," he says. "It is used for individual and group goal setting. At times, we will focus on one specific line and inquire as to what it can look like and sound like in our context."
Positive expectations and the Pygmalion Effect has shifted the agreement from being a more traditional teacher-driven set of rules to a negotiated set of values, says Scott.
His students wrote the agreement using positive phrases, reminding them of their potential and what they are all working towards, says Scott. It breaks down elements of classroom conduct and is also used to encourage, inspire and motivate students. "The agreement is pivotal in giving all students a voice and a sense of ownership in how the class culture is developed and maintained," he says.
It's not about the basic rules, but more about the kind of people students want to be and how they can strive to be internationally minded
Students now see learning as a challenge and an ongoing process. "The students have embraced the positive aspirational nature of the agreement and it has positively affected our classroom culture and their attitude towards learning," he says.
Positive expectations and the Pygmalion Effect have also enhanced Scott's teaching. He says: "I proactively plan and teach elements of our classroom essential agreement and weave it into units of inquiry and the fabric of the classroom life.
"Now, I spend far less time managing student misbehaviour and much more time supporting students in motivating themselves to be more caring, peaceful and contribute to a better world."
Punishment- and reward-free classrooms
Mike Mackenna, MYP and IB Diploma Programme (DP) English Teacher at IB World School CIEDI, in Colombia, soon learned from experience that being "too strict" did not result in better student behaviour. He switched from punishment-and-reward classrooms to help build relationships and trust with his students.
"I spent my first six years of teaching getting progressively stricter," he says. "I embraced the principles of exacting discipline, outlined in books like Teach Like a Champion by Doug Lemov and Assertive Discipline by Lee Canter, trying to create a perfectly designed, uniformly enforced system of punishments and rewards. I was going for that '100% rule' – all students follow instructions at all times."
But some students didn't like this approach. More than a hundred recess reflections proved it was not resulting in better behaviour. "For class feedback, students frequently wrote comments such as 'Do more fun activities' and described my class as 'boring and repetitive'," says Mackenna. "The more charitable students tended to write comments like 'Classes are complete and informative, but monotonous'."
He decided to try the other extreme and researched the argument behind not punishing or rewarding students. Now, rather than giving out a list of rules at the beginning of the year, he asks students what they valued and what they should do in class to honour those values. Students named values like 'respect', which would lead to actions like listening to each other.
"This kind of classroom management fits well with the IB's mission of building a 'more peaceful world through intercultural understanding and respect'," says Mackenna
When students misbehave, Mackenna focuses on emphasizing the logical consequences of their actions. "I frame their behaviour as a choice. For example, 'Read the book and learn more, or don't read it and learn less. It is your choice, but I recommend reading'."
He says punishment- and reward-free classrooms encourage honesty. "When you do have to correct student behavior, students are much more likely to accept the correction and move on, rather than fight it, since the correction doesn't come with a punishment they want to avoid."
He's since not given out a single punishment, and says it was "the most enjoyable year of teaching" of his career by far. Student feedback has been much more positive, too. "Now I receive comments such as, 'Mike always tries to make every activity as fun as possible' and 'Mike is cool and polite'," he says.
Punishment-free classrooms could go a long way to improve boys' learning and engagement. As IB World magazine investigated in the September issue, boys are often perceived as disruptive and undisciplined, which can reinforce their negative attitudes to school.
Makenna has noticed a difference, he says: "Boys are more engaged than they've been in the past. Being able to just talk and sometimes joke with them about misbehaviour, without having to apply punishments, has made my relationships better with them, and that leads to more engagement."
He has also learned that class management can't be separated from engagement and morale. "If you teach more interesting lessons, misbehaviour generally goes down. I have put a lot more focus on making my lessons engaging by using the greatest variety of activities possible, giving students some form of choice in every assessment and frequently offering extra help to struggling students. To boost morale, I focused on making the workload reasonable and by frequently asking for, and acting on, student feedback," he says.
Simply removing punishments and rewards wasn't enough. I had to replace that sort of system with one in which students were challenged to honour their own values. I had to acknowledge that students, just like anyone else, react best to leaders who treat them well and try to make their work stimulating and enjoyable.
How do you manage your classroom? Email your stories to editor@ibo.org