IB Diploma Programme students create a safe space for those who may be exploring their gender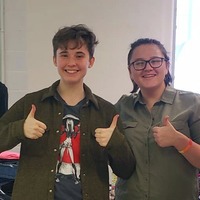 The goal is to create a safe and validating space for teenagers while providing gender-affirming clothing and accessories. Clothes are donated to The Rainbow Jacket Project from people in the local area and other schools.
Emme says: "We're providing a place for trans and queer children to feel like they belong. It's an important resource for our community to have."
Nick recalls the first time he wore male clothing in middle school. "It's not the kind of thing I would've normally picked to wear, but I wore it every day for a week because it was the first and only thing I owned that matched my identity."
Years later, when he heard a transgender classmate mention that they didn't have clothing that matched their gender, he realized that this problem was more widespread and thought about how he could help.
"I have devoted so much time and energy to this project – creating something that didn't exist before, and then promoting it throughout the community," says Nick. "I have never stopped feeling incredibly proud and happy with what I am doing, and I enjoy all of it.
"I've developed a sense of planning and initiative: nearly every move we make requires intensive short- and long-term planning due to the time and availability constraints we face."
Nick and Emme are constantly thinking of new ways to try and grow this project and will be hosting an art competition in June for 'Pride' month.
"Many small LGBTQ+ groups in Evansville have reached out to us and offered to help. We are banding together to create something big – a very positive change for Evansville. We still have lots of outreach left to do, especially among youth, so I expect the response to be heightened in the coming months," says Nick.
LGBTQ+ is based on the following terms: lesbian, gay, bisexual, transgender, queer, questioning, intersex and asexual people.
This article is part of a series of stories from IB World magazine that bring to life the wonderful initiatives undertaken by IB students and educators from around the globe. Follow these stories on Twitter @IBorganization #IBcommunitystories. Share your great stories and experiences: email editor@ibo.org