From August 2022, Diploma Programme (DP) teachers will need to ensure they are using the recently published theatre subject guide (first assessment 2024). 
 To mark the launch of the new subject guide, we asked an educator who was involved in the development of the curriculum to speak about the course and how the key updates will benefit both students and teachers.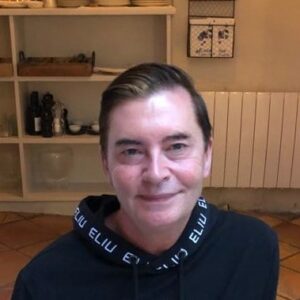 Anthony Cunningham is a theatre teacher at the American School of The Hague, who began teaching theatre in 1989. Anthony has been involved with previous curriculum reviews and his students have been actively involved in testing new ideas in the curriculum through practical workshops that the IB has delivered. 
Tell us about your experience of teaching theatre?
I began in Toronto, Canada and found theatre to be a wonderful way to address social issues and to encourage confidence, courage, and self-growth in learners. Through ISTA (International Schools Theatre Association) festivals and workshops I have met and learned from so many amazing artists and educators who have helped me to grow. I love and value the power that theatre has in teaching us about ourselves and our world.   
How were you involved in reviewing the course guide and why did you get involved?
Once upon a time I was at an ISTA festival for IB students in London. I was seated next to the head of DP Theatre at a dinner. I had no intention at that point of becoming involved in IB beyond being a teacher. I still recall when she asked me: "Why aren't you an examiner? Do you know what a difference you could make for your students and students everywhere?" That truly resonated and I have been fortunate to be involved with the IB since.  
This connection led to being part of the curriculum cycle for the past course and for the new one. My school became a pilot school, and my students were even actively involved in testing new ideas in the curriculum through practical workshops. I enjoy the curriculum revision sessions very much. I have learned so much from other educators. We all have the same goal; we want the best course and experience possible for our students. Of course, it also must be a curriculum that can be delivered around the world with outcomes that are measurable. The new course has gone through many stages of development and has been authentically tested by a large pilot group of teachers and students. 
What are the key changes in the new subject guide?
As the new course was being developed many voices were heard during the process. There is still a focus on both the individual and the ensemble. Students are invited to be directors, performers, designers, and creators. The through-lines for developing each assessment in the new guide clearly connect throughout the syllabus. Simply put, there is less work to do and especially far less writing required than previously.  
The Director's Notebook that was 20 pages maximum with no set word count in the previous course is now the Production Proposal with a maximum of 12 pages/4000 words with an even greater emphasis on including visuals from the perspective of a designer. Students no longer need to do in-depth external research into the meaning of the play but are invited to share and to support their own insights based on the playwright's ideas. 

 

The Production Proposal is now our Internal Assessment and may allow teachers to be even more objective.  

 

The length of the Collaborative Project performance has been significantly reduced as has the portfolio. Previously it was 15 pages maximum and now it is 10 pages/4000 words maximum with certain process stages no longer required. The assessment criteria have also been significantly rewritten for this task. 

 

The Solo Theatre Piece is still only for HL (Higher Level) students with a reduced word length requirement for the accompanying report. 

 

The Research Presentation no longer requires the performance of a moment of theatre but is much more based on the student's discoveries and learning in their experimentation phases. Students no longer are required to perform it in "one take" and have the option to record the three components of the presentation over time. That is much less pressure on the learner. 

 
When I say there is "less work to do" what I really mean is that there is more time for students to be practically engaged in the process of each assessment because of the reduction of requirements.  
How will these changes benefit both educators and students?
I am sure that teachers who are just beginning to teach the new course will see how the course has morphed in many wonderful ways and retained much of what we valued in the previous guide. Names of assessments may have changed in some cases, but their essence is still very much there. The language of the guide and the assessment criteria is clear, consistent, and accessible. The requirements have been simplified in ways that should make all aspects much more attainable for teachers to deliver the course and for students to feel far less overwhelmed. There is a wonderfully rich range of support materials and examples of assessment available to teachers. I think they are really going to appreciate them.