By Steven Auslander
As educators embrace growing trends and transform mobile apps into effective learning tools, we are interested to hear how IB teachers use technology in the classroom. We recently considered how gaming can be educational and now, in a follow-up to the post The Skype's the limit, by Skype Master, Steve Auslander, we hear how he thrives on bringing his classroom to life with Skype in the Classroom.
Steve's goal is to connect his students directly with experts and students from diverse cultures around the world. He is a Primary Years Programme (PYP) teacher at Allisonville Elementary School, Indianapolis, USA and is one of only one hundred Skype Masters in the world. Here, in the second of two articles, Steve shares practical tips about using Skype and Twitter to let your student's imagination roam free.
Take the plunge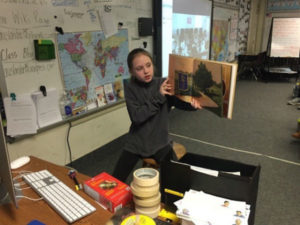 I heard about Mystery Skype six months before I tried it. It sounded incredible and I was very much open to taking risks and trying new things. I was afraid until I watched a Mystery Skype promotional video. It just looked too amazing not to try. On the first week of school the following year, I showed my students the same video. They were excited and on board to try it, even though I told them it was probably going to be a disaster, but we were going to keep trying it until we figured it out.
Our first Mystery Skype was with a third grade class in Utah. It wasn't our best game of the year but it was not a disaster. The teacher, Mrs Robin Farnsworth complimented us and told us she couldn't tell it was our first time. After the Mystery Skype, we formed a circle and discussed what went well and what we could improve. One of my students took notes and by the end of the meeting, my students had tweaked some of the student jobs, modified the classroom arrangement for Mystery Skype and we kept improving. By the end of that same school year, my students were asked by Microsoft to teach a conference of teachers in Florida how to Mystery Skype. I think my students appreciated that I was taking a risk by trying this, and as a team, we learned and grew together.
Practice, practice and practice
Before your first real Skype call, whether it be a Mystery Skype or a virtual field trip, it's imperative to outline your expectations. We first set out to discuss body language and how our body language tells so much to the participants on the other side of the camera. We then practice eye contact when talking into the camera and speaking with a confident and loud voice. Doing this before your first call will help make it run much smoother.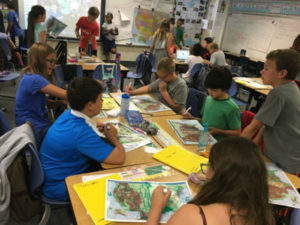 We also practice the necessary skills needed to succeed in Mystery Skype. We study solid questioning strategies that would help my students eliminate many states or countries. Sometimes, the questions don't even have anything to do with geography. If there are six possible states left and three of those begin with a vowel, a great question might be: does your state begin with a vowel?
Knowing when to ask those questions comes with a little bit of experience but practice is helpful, too. Another tip would be to do a dry run. This August, I placed my students in their assigned jobs and called my parents who pretended to be in Iceland. This allowed my students a chance to feel comfortable with their jobs and with playing Mystery Skype in general. I feel that it presented them with confidence and success when they later played it against another class.
Learn from an expert
Skype in the Classroom has many Skype Guide lessons where educators can sign up for a live, small group or even one on one virtual training on how to Mystery Skype and much more. I also provide these training courses on Thursday afternoons, 3:45 pm Eastern Standard time.
Use Twitter
I use Twitter to brag about my students and share their great work. When someone in the Twitterverse compliments them we call it "Twitter Love." I'm their teacher, I'm supposed to praise them but when @Starwarsintheclassroom calls my student a genius, it means so much more!
Twitter Love can also lead to a Skype adventure with a little luck. Last year, for International Dot Day, my students created an awesome cape for me which I wore around the school. I posted a picture of me wearing this cape and Choose Your Own Adventure commented how they wish they had a similar cape. One thing lead to another and we shipped them seven custom made capes for their staff. In return they sent us two cases of books and Skyped with us to help us create our own Choose Your Own Adventure story! This all started with a tweet.
Twitter can also be used as a platform to make connections with other educators. Just type in "Mystery Skype" in a Twitter search and you'll find several teachers who just posted about an exciting Mystery Skype call. You can follow some of these educators and reach out to some to see if they'd be willing to play when you're ready. Following inspired globally minded educators also gives you a heads up about exciting events to try with your students. This leads me to my next tip.
Participate in global events and collaborative projects 
The Global Read Aloud, International Dot Day, and the Global Cardboard Challenge are just a few of the exciting global events you and your students can enjoy. With Skype-a-thon in 2015, my class travelled over 30,000 virtual miles in 48 hours!
Whatever you do, give it a shot. Start somewhere. Take the plunge! It transformed my classroom.
Tell us how you use Skype or any other technology in your classroom by posting your comments below or sending an email to communications@ibo.org.
---
Steven Auslander is a Skype Master Teacher, Microsoft Innovative Educator Expert, PBS Digital Innovator, Jacobs Educator and Class Dojo Ambassador. He can be reached on Twitter @sauslander and via email sauslander@msdwt.k12.in.us. Find more information on the Skype Master Teacher programme and Skype in the classroom.