They are helping to bring lasting, sustainable change to a village in need of clean water
When Primary Years Programme (PYP) students at Lewis and Clark Elementary, in Montana, US, read that a local high school graduate, named Usifu Bangura, was trying to raise money for his home village, they were determined to help.
Bangura was born in Sierra Leone, but through a series of tragic events – the death of his father, and an 11-year civil war – his mother was forced to give him and his twin brother up for adoption. Bangura has since returned to his village Kambia and started a non-profit organization called The Bangura Project to help those in desperate need of clean water. During his return he was reunited with his mother and brother.
The Lewis and Clark Service Club – a group of PYP students who promote eco-friendly projects around the school – raised $2,335 for The Bangura Project by simply collecting change from each of the 23 classrooms.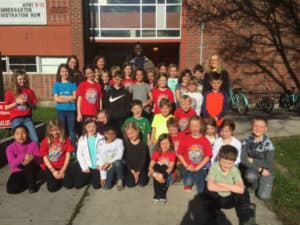 Students were studying a unit of inquiry, entitled: "Where We Are In Place and Time", inquiring into the central idea: Society is shaped when influential people put their ideas into action.
Susan Anderson, Principal, Lewis and Clark Elementary, says: "This unit of inquiry has essential questions around what motivates people to make a choice to take action and what can we do to make a positive impact in our community or world. Throughout this unit we studied people from the past and present who have had a positive impact on society."
Bangura's main focus is to purchase hippo rollers and filtration straws for the village, which will help make the transporting of large amounts of clean water possible. In Kambia it is almost entirely the women who collect heavy buckets of water and carry them long distance home.
Bangura says: "Water rollers allow women to transport more water at a time to their homes, saving them additional physical labor and time that instead can be spent on other things such as contributing to the village and economic growth of the village. And for children who would otherwise be helping transport water, they can focus on educational opportunities instead."
This article is part of a series of stories from IB World magazine that bring to life the wonderful initiatives undertaken by IB students and educators from around the globe. Follow these stories on Twitter @IBorganization #IBcommunitystories. Share your great stories and experiences: email editor@ibo.org.