What is civic-mindedness? How does the IB play a role in encouraging individuals to reach out and help their community? A recently released research project examines these questions.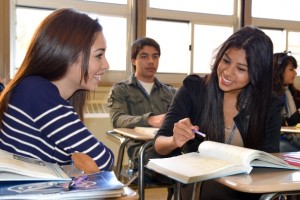 The researchers set out to explore the extent to which participation in the Creativity, action, service (CAS) requirement helped DP students to develop civic-mindedness and experience a variety of other social, personal and civic impacts. You can examine the full scope of the study and its findings at www.ibo.org/en/about-the-ib/research.
Civic-mindedness has multiple definitions in theoretical and research literature, most of which have to do with the individual's sense of identity as a citizen of a community, his or her sense of responsibility and attachment to that community, and the actions that the individual takes on behalf of the community.
The study explores the types of experiential learning activities and service that students perform; the ways in which various sites and students conceptualize and operationalize civic-mindedness; students' motivations to choose their particular types of service; whether students think they can impact local, national or global issues through their efforts; the perceived impacts that participation in CAS has had; and variations by country.
Surprisingly, the study found that students did not always have a clear understanding of civic-mindedness, but that didn't mean they didn't grasp the principles of the concept. Most students believed that they should engage in activities to help the community and the majority of students and alumni were motivated to serve for altruistic reasons rather than for practical ones, such as improving one's resume.
Additionally, students felt most effectual when they served in local settings, where they believe they could make a greater difference than at the national or global level. One student commented:
It's much easier to contribute locally. It's certainly easier physically and you can have a visible impact. It makes a big difference in some people's lives and you can see it…
Students most often undertook CAS projects related to education and fundraising. Also, IB alumni involved in the study expressed a greater ethic of service, and reported that they anticipate continued engagement in service activities in the future.
Want to learn more about the impact of IB programmes? Browse completed and upcoming diploma programme studies at www.ibo.org/en/about-the-ib/research/.