Findings from exploratory study suggest IB Middle Years Programme has a positive impact on students' social-emotional well-being.
---
Social and emotional health plays a key role in determining students' social and academic outcomes, not only in schooling but also later in life. In a new study conducted by Flinders University, researchers explored this issue by studying the well-being of students, ages 11-16 in Australia, who were enrolled in the International Baccalaureate Middle Years Programme (MYP), an educational framework in which social emotional learning plays a significant role.
Read the research summary; download the research report.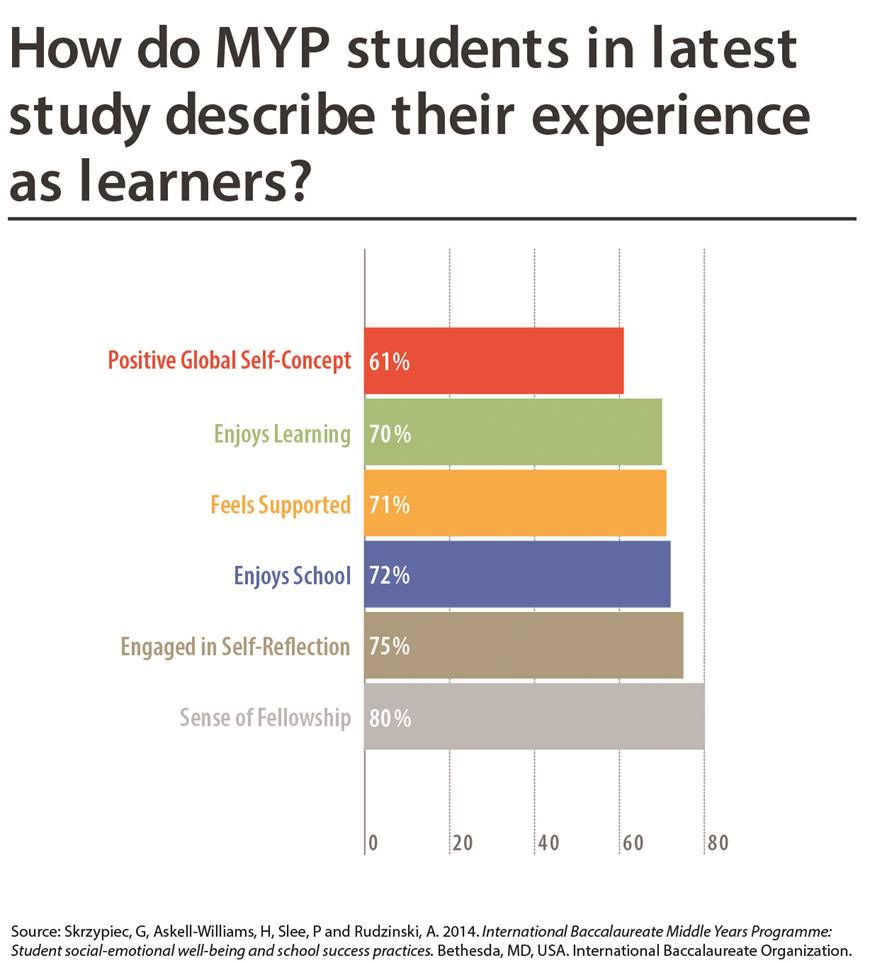 In this particular study, researchers examined students' social-emotional well-being using three different scales to assess student self-perceptions of their mental health. The researchers found:
Majority of MYP students are flourishing: Researchers used several different metrics to determine whether students were flourishing—defined as the ability to function effectively and feel good about themselves. Over 50% of students were considered to be flourishing.
Males in MYP are more likely to have better mental health than females in MYP, particularly in the upper years: Researchers found that males were more likely to flourish and have a positive outlook and a positive emotional state, while females were more likely to languish or have moderate mental health. These findings are consistent with a growing body of research indicating that adolescent females nationally and internationally are reporting more mental health challenges than boys.
More than half of MYP students have a positive outlook and emotional state: 52% of all MYP students surveyed experience a positive emotional state "quite a lot" or "all of the time."
Majority of MYP students have a positive sense of global self-concept, are engaged in self-reflection and feel resilient: 61% of MYP students reported a positive sense of global self-concept "always" or "most of the time"; 75% indicated that they were engaging in self-reflection; just over half of students reported that they felt resilient "often" or "nearly all the time".
MYP students are satisfied with school: Most MYP students were found to be happy (approximately 70 percent) and satisfied (approximately 80 percent) with school. The researchers found that most MYP students reported that they enjoyed school (72 percent), enjoyed learning (70 percent), felt supported by their school (71 percent) and had a sense of fellowship at school (80 percent).
This study is released just as the Middle Years Programme relaunches in September 2014 following an update that enhances its focus on social and emotional outcomes and its enrichment of a concept-driven curriculum that encourages teaching and learning for understanding.
Read the full study: IB Middle Years Programme (MYP): Student Social-Emotional Wellbeing and School Success Practices