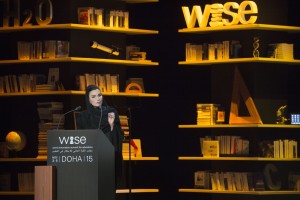 IB World editor Sophie-Marie Odum reflects on her time at the 2015 World Innovation Summit for Education (WISE), in Doha, Qatar, which discussed the challenges that education faces in today's world
"The reason for poverty is a lack of education. If every child had education, there would be no war. Education is the duty of every individual, not just the right," said 2015 WISE Prize for Education Laureate, and Founder of the Afghan Institute of Learning (AIL), Dr Sakena Yacoobi, during her special address at WISE.
A bold statement from Afghanistan's 'Mother of Education', who has spent 20 years working persistently to rebuild her country's educational landscape, devastated by decades of war. It summed up the numerous conversations and debates had over the three-day summit about the challenges education faces today and in the future.
There was a lot to discuss. There are 124 million children and adolescents who have never started school or have dropped out; 1.7 million displaced children worldwide; in 26 countries, girls have a greater chance of getting married before the age of 18 than enrolling in secondary school; and USD$39 billion more is needed each year to provide a full course of schooling by 2030. The summit made strides in formalizing effective plans.
An initiative of the Qatar Foundation, WISE (World Innovation Summit for Education) 2015 welcomed 2,000 delegates from 121 countries to Doha, Qatar, in November 2015. With its theme 'Investing for Impact: Quality Education for Sustainable and Inclusive Growth,' decision makers, influential experts, educators and students came together to discuss quality and access to education. The main focus of discussions was a way forward for the millions of children out of education and how the Sustainable Development Goals (SDGs) will help.
Including the Middle East, 30 countries, in 5 continents are affected by conflict. Sheikha Moza bint Nasser opened the event by warning about the educational challenges the Middle East faces amid wars and societal challenges. "In this region, we are not only paralyzed, but going backwards at the speed of light," she said.
Making sure education doesn't suffer during times of conflict is a shared responsibility, said Dr Mark Richmond, Director, Protect Education in Insecurity and Conflict (PEIC): "We need to get out of the mindset that it's inevitable for education to suffer during times of conflict. We need to put a sense of global citizenship into education."
Let Girls Learn
The First Lady of the United States, Michelle Obama, opened the event and addressed the issue of the 62 million girls who are out of education. When it comes to secondary school, girls lag behind. She called on the world to fund and promote societal change to support girls' education.
"If we want to get girls into the classroom, we need to have honest discussions," she said. "Education is more than reading and writing, it's about empowering girls."
Every day, girls in societies that hang onto outdated laws and traditions are harassed, kidnapped and assaulted on their way to school. And if they do finish education, they struggle to find an opportunity in the workplace.
In 2015, Michelle Obama joined the President to launch Let Girls Learn, a US government-wide initiative to help girls around the world go to school and stay in school. Obama used WISE as a platform to call on countries across the globe to help educate and empower young women.
It wasn't a talk just aimed at women. In a plea to the men, she said: "It's not just an issue for girls and women – men, we need you. This is your struggle too, we need you to speak out."
Sustainable Development Goals 
While the Millennium Development Goal of primary school education for all got 58 million more children back into school, quality education still needs to be addressed.
The fourth SDG addresses quality, but Tom Fletcher, Director of Global Strategy, Global Business Coalition for Education, UK, believes we're stuck in a 2005 mindset, where we expect governments to do more. He says the developed world needs to make education more citizen-focused.
Fletcher suggested education needs a more human approach, where individuals donate their time. He believes that more online content will bring education to more children. He used Spotify and Uber as examples. He also suggested that tablets be given to every refugee child, similar to Sugata Mitra's Hole in the Wall experiment.
The third SDG promotes well-being for all at all ages, and states: "By 2030, reduce by one third premature mortality from non-communicable diseases through prevention and treatment and promote mental health and well-being."
The World Innovation Summit for Health (WISH) held a special debate on education and well-being at WISE, and discussed the need for schools to put more emphasis on children's mental well-being.
WISH CEO Egbert Schillings said, "Investment in education will not achieve its goals if a society is unhealthy. In turn, only an educated population can make the right choices in their personal health care and become co-creators of health and well-being together with the system that serves them."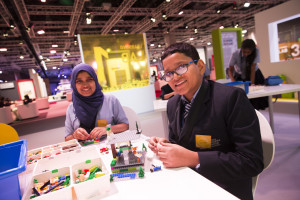 Young innovators
Students from Qatari schools showcased what they had been working on over the past year as part of its Young Innovators Program. The initiative strives to attract bright young Arabic minds and talent, and encourages gifted youth to reach their full potential. It awards educational scholarships to students of secondary school and undergraduate age.
Innovations included a model that provides access to primary education, addressing the education crisis in refugee camps; a school bus that goes from village to village in underprivileged communities; an online clearinghouse (information source) for children with special needs; and a festival that promotes empathy.
An award-winning end
The closing event saw Dr Yacoobi win US$500,000 and a gold medal for her tremendous efforts. She started working in Afghan refugee camps in Pakistan, where she trained teachers, opened schools for children, and learning centers for women. When the Taliban banned girls' education in the 1990s, this did not deter Dr Yacoobi from her mission. She ran an underground school for 3,000 girls across the country.
More recently, Dr Yacoobi opened private schools to provide high quality, affordable education. She also set up a radio station to deliver AIL educational content to people living in remote areas. Her future plans include a television network and a university for women.
"Education changed my life. It transformed me. It gave me dignity, status and stability," she said. "People ask me if I'm tired after 20 years of working, but when I see children smiling, I forget the tiredness and it makes me happy."