We invited IB Diploma graduates to reflect on post-IB life and offer perspectives on topics of their choosing. Alumna Ruth Donaliya Mwangase is one of this year's cohort of alumni contributing authors.
By Ruth Donaliya Mwangase
I could not contain my tears last month when my youngest sister, who also happens to be in this year's IB graduating class, got admitted to her first-choice university. I am sure that she, who by now is accustomed to me breaking off into monologues of counsel, was astonished when I did not offer my two cents about the new adventure she is about to embark on.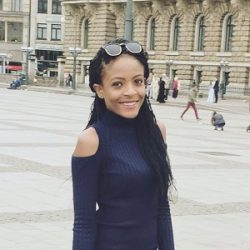 After going through university to earn both my bachelor's and master's degrees, I would like to take this opportunity to share my personal top 5 lessons from university with my sister and her fellow IB graduating class of 2016. Some of this may be advice that you have heard before—but take it as "old soup in a new can."
1. It's all about the skills you acquire
When I graduated from university and entered the employment market, I quickly realized that very few recruiters paid attention to what I had majored in. In most cases—95% of the time—the spotlight fell on my skills. I was frequently asked questions about which software tools I was familiar with, which languages I speak fluently, which programming languages I am proficient at, what my presentation skills are like, and the inescapable question "Have you done any internships in the industry?"
With more and more students graduating from university annually, landing an internship or even a full-time job as a fresh graduate is a highly competitive endeavor. Go beyond getting good grades in university and acquire practical skills that will distinguish you from the crowd. Find out what profile is needed to land your dream job and work towards becoming the ideal candidate; the types of skills you choose to develop should reflect the career path you hope to follow after graduation. With the rate at which many industries are evolving, keeping abreast with emerging skills should be second nature.
2. Stay connected
The network of professionals and intellectuals I collected while at university has proven to be among my biggest assets. Alumni and professors have been very helpful post-graduation. Be it career advice or job referrals, everyone has been so eager to help—even the people I barely knew. Coming from international universities, my personal favorite experience is meeting up with alumni around the world when I go on vacation (city-guides from locals are always the best).
3. Develop Yourself – Make progress with your personal life
Working on becoming the best version of yourself should not be put on hold whilst at university. Make time to do the things you love.
While pursuing my first degree, I thought I had no time to balance my academics, the few clubs I was part of, and the stuff I loved doing like traveling. However, in the last 2 years I have been pleasantly surprised at how I have been able to juggle studying for my Masters, a full-time job and other miscellaneous side projects like learning a new language and learning how to play the violin. That said, I wish I had been just as productive with my time during my bachelor's degree as I am now.
4. Do not forget who you are
Peer pressure is at its peak at university and students are sometimes pressured into activities they are not comfortable with. While it is very important to be open minded and to develop new perspectives and philosophies, it is even more important to stay true to yourself and what you stand for. Every time I'd be tempted into going astray, I'd remember the words my mother said to me the first time I left home for boarding school when I was 12, "Do not forget where you come from." My understanding of that statement has changed over the years but the underlying message I take from it is basically "Be true to yourself".
5. Have Fun (of course it made the list)
I think this one deserves to go without saying because you all have it on your agenda. But in the unlikely event that you don't: Please have some fun. You know what they say about all work and no play.
Ruth Donaliya Mwangase completed the IB Diploma Programme at Sussex Coast College Hastings. She is currently pursuing an MSc in Business Administration at Hamburg School of Business Administration following her BA in Economics at Jacobs University in Bremen. Ruth loves classical literature, traveling and engaging in conversations about global issues.
To learn about the IB alumni network, visit ibo.org/alumni and read about our 50th anniversary featured graduates to see where other students have taken their studies and careers.