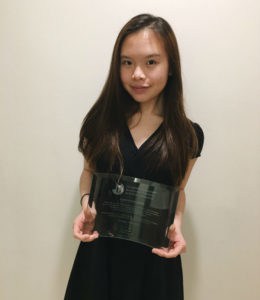 In 2016, we invited students from the Middle Years Programme (MYP), Diploma Programme (DP) and Career-related Programme (CP) to take part in the Academic Honesty Competition. Students were asked to submit a poster or short film either individually or as part of a team. The results were outstanding and the standard of films and posters was exceptional. Choosing the winners was a very difficult task for our panel of judges but we are delighted to share with you the winning entries along with an interview with those winners. A huge thank you to all those students who participated in this competition with such enthusiasm.
To kick off our series of interviews with the winners, we spoke to Melissa Lam, a DP student from Overseas Family School (Singapore) and winner of the DP film category.
What inspired you to take part in this competition?
It's quite funny actually – I found out about this competition around the middle of July 2016. I wanted to enter a film from the moment I saw it, but at the time, I was working on a few of my internal assessments, and most importantly – my extended essay. The deadline for entries was also originally on 31 July 2016. I figured that I didn't exactly have much time to create and submit a video that I would be completely proud of, therefore I decided not to enter. However, around September, I was notified by one of my teachers – Ms Aida, that the competition was still open, and the deadline would be extended until October instead. She knew I loved making videos, and she strongly encouraged me to enter the competition. I suppose I took this deadline extension as a clear sign to enter, and decided to give it a shot.
Did you have a clear sense of what academic honesty is all about?
I think I had a relatively clear understanding of what academic honesty was about when I decided to enter the competition. Academic honesty is something that has always been greatly emphasised within my school community, therefore I knew that it essentially meant 'no cheating', plagiarism or fabrication. However, I also felt that academic honesty was more about being principled, respectful, and truthful, and these are qualities that I believe can, and should also be applied to areas outside of academics.
How did you decide whether to make a film or create a poster?
I've been making videos since I was 11 years old, so it was only natural for me to choose the film option.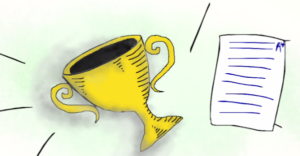 Do you enjoy being creative?
I absolutely love being creative, be it through my art, music, photography, or music. I find that I am most creative when my mind isn't necessarily thinking about anything, because that is when it can wander. The ability to let your mind run free, and to be completely imaginative is an amazing experience. Creativity enables you to stand out from the crowd, and it is what makes each of us so unique.
Have you had experience in making films?
Yes, I have had some prior experience in film-making. My experience began innocently. I was eleven years old, and was at my best friend's house for a sleepover. She told me about a video-sharing website called YouTube, and shared some of her own videos with me. She encouraged me to make my own content, and that is what I did. I taught myself how to operate a camera, how to film, how to edit, and just recently – how to animate. The beauty of any film lies within the process of creating it. The fact that abstract ideas can transform into something tangible using stop-motions, green screens, or CGI effects, with absolutely no limits is arguably the closest I will ever get to experiencing magic.
What part of your DP studies do you most enjoy?
This sounds incredibly cliché, but I genuinely enjoy the majority of my subjects. Why would I choose them otherwise? However, I suppose if I had to choose, it would be language and literature, and music. Both subjects enabled me to improve my presentation skills – in terms of public speaking, and performing. They helped me to realise some of my strengths and weaknesses, and ultimately led me to the realisation of what I wanted to do in the future.
What are you hoping to do after you complete your DP?
Journalism or Film Production. Two completely separate fields. Sometimes I feel as if I should pursue the more practical option. Journalism is arguably safer, and perhaps slightly more realistic. But another part of me is willing to risk everything. I'm extremely lucky, because my family has always been so supportive of everything I've done, and they always respect my choices and decisions. I suppose I'm hoping that I will be able to do what I am most passionate about in the end, even though that might not be where I begin my journey.
How did you teachers / parents react when you told them you had won?
My parents couldn't believe it. They were so happy and excited for me! I was equally surprised, because I didn't think I would win. I remember checking my email throughout the day the winners were going to be announced, and finding nothing. I guess I didn't expect anything because that was only the second time I've made an animation. However, I was even more surprised when my High School principal announced it at our United Nations Concert which happened to occur on the same day. I was so happy – I'm pretty sure I cried tears of joy. All of my teachers, friends, and family congratulated me, and I couldn't be more thankful for all of their support and love.
What do you feel you have learned from this experience?
Well, I definitely know a lot more about academic honesty now! However, this experience also enabled me to develop my animation skills, composition skills for music and my ability to tell an interesting and engaging story. I couldn't be more grateful for the opportunity I was given to be able to enter this competition, let alone to win it. It truly is such a great honour, and I'm so happy that I get to share a snippet of what I love doing with other students around the world in the form of this educational (and hopefully entertaining) video.