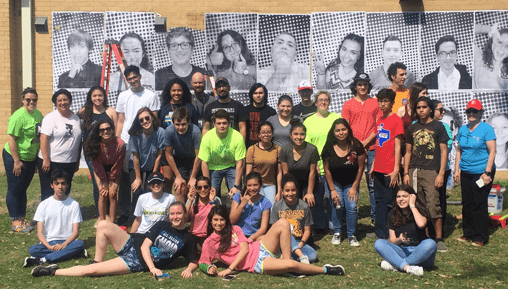 Here's one way to get to know your classmates. At Lamar Academy, an IB World School in McAllen, Texas, USA, students took photographic portraits of one another, printed them on posters, and pasted them all on the exterior walls of the school buildings, creating a huge paper mural of over 200 faces. They called it 'We Choose Lamar'.
It was all part of an international art venture called the Inside Out Project. Teachers and students at the Lamar Academy wanted to promote their school and its IB philosophy to people living nearby.
Among the 95 students, teachers and staff who took part were students from the school's Middle Years (MYP) and Diploma (DP) programmes.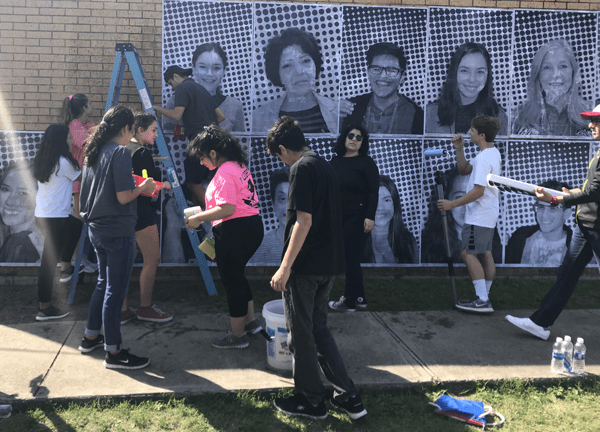 "They helped take the pictures, posed for the portraits, and volunteered on pasting day," said Andrea Gutierrez, an IB educator at Lamar Academy who oversaw the project. It took seven hours in all to paste the posters onto the school walls.
The Inside Out Project, which donated the stationery, is a global art scheme first set up by a French photographer called JR. (He prefers to keep his real identity hidden.) Open to anyone, it encourages people to display large-format black-and-white portraits of human faces on building exteriors and in public spaces. So far there have been over 1,300 poster installations in 129 countries around the world. In all, over 260,000 people have participated.
Some of the highlights include poster portraits on the Pantheon in Rome, on a bridge on the Texas-Mexico border, in New York City's Times Square, on the huge wall separating Israeli and Palestinian territories, at the European Parliament in Brussels, on fishing boats in Malawi, even on the snowy ground at the North Pole.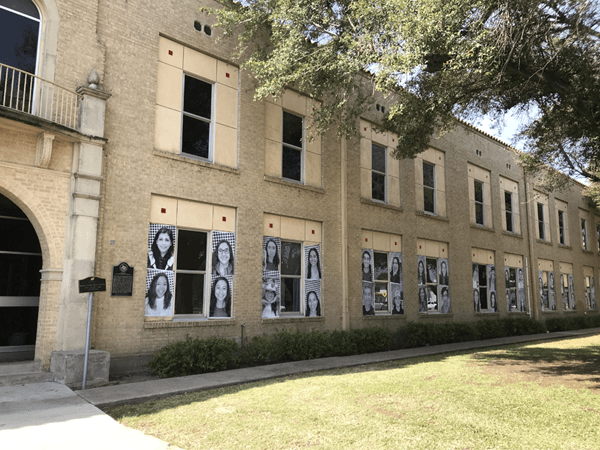 Gutierrez says the project chimes perfectly with her school's IB learner profile.
"Absolutely. Our students grew in their caring and communication by having the opportunity to show their pride for their school through a project that was highly visible in our community," she explains.
What the students thought of the project

"I enjoyed the Inside Out Project because it gave my small school a chance to be a part of something much bigger. Walking into school, and being greeted by a multitude of portraits with familiar faces has reminded me of the reason I choose Lamar Academy: friendships that I know will last me a lifetime."—Valeria Arguelles (11th Grade DP student)

"I liked the unity the project created. It was great that everyone at Lamar was included if they wanted to be included."—Jessenia Herzberg (12th Grade DP student)

"I love to take photos of people and make them feel happy. Also to communicate with different students from different middle schools."—Paloma Juarez (Year 4 MYP student)

"It was tiring but worth it. I had fun with my friends and also met new people. I wanted to show my parents and prove to not only those who didn't believe in me but to myself that I can do more."—Ana Saavedra (Year 4 MYP student)