Tobacco is one of the biggest public health threats, killing more than 7 million people a year around the world, according to the World Health Organization (WHO). There are approximately 267 million tobacco users in India. Just over 14% of 13 to 15 year olds consume some form of tobacco, and 4% smoke cigarettes.
Manav Gandhi, an IB Diploma Programme (DP) student at Dhirubhai Ambani International School at Bandra, India, learned that children who are at risk of forming the habit, are more receptive to counselling and guidance when they are younger. He created 'Dhuandhar Dhoka' (which translates to 'Smoky Lies'), an anti-tobacco Awareness Pledge to help reduce the number of child smokers.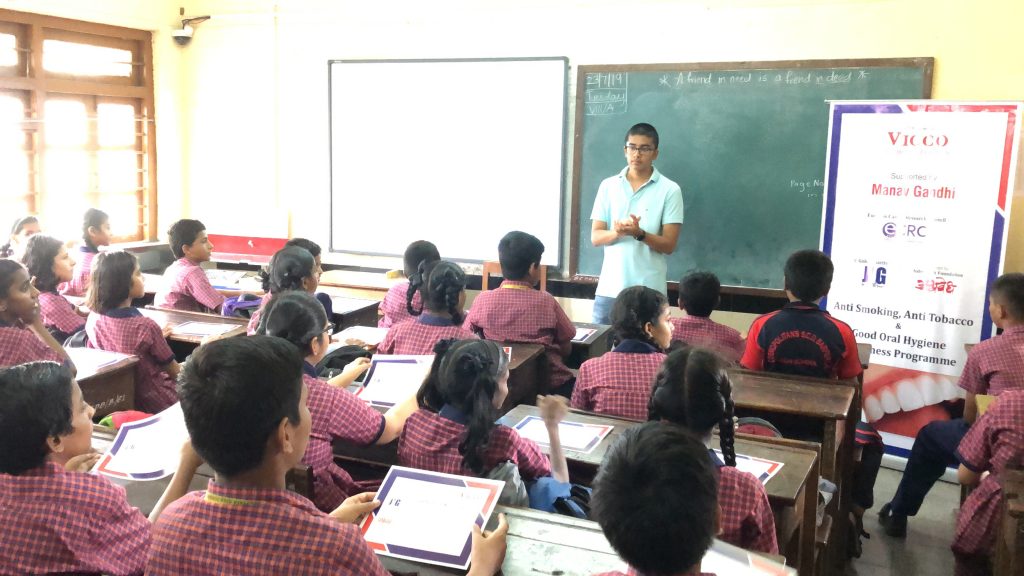 He travels to different schools around Mumbai to educate students about tobacco and its risks, and encourages students to stay away from peer-pressure: "Often smoking is glorified in a way that students get attracted to it," he says. "Peer-pressure is contagious. I establish the fact that, in any case, smoking is injurious – biologically, physically and mentally."
Over 8,000 students have taken the pledge, whereby they promise to never consume tobacco – both in verbal and written form – and they received certificates . Parents are also encouraged to sign the pledge, which ensures that the message is taken beyond the school gates.
"At every school, I also meet with the principal to get assurance that they will follow up with their students, ensuring they go home and talk to their parents."
Although this was not a Creativity, Activity, Service (CAS) project, Manav says he followed CAS guidelines and achieved the learning outcomes. "This made me execute my independent service project effectively and also made my involvement more profound."
Manav is adamant on reaching thousands of more students through this campaign. He wants it to expand beyond Mumbai and eventually eradicate tobacco consumption. But, as he soon heads to the US to continue his studies, he is currently looking for a successor to take the reins and lead the project.