The sharing of knowledge between the very young and very old can be incredibly beneficial for both parties. IB World magazine investigates the science behind Intergenerational Learning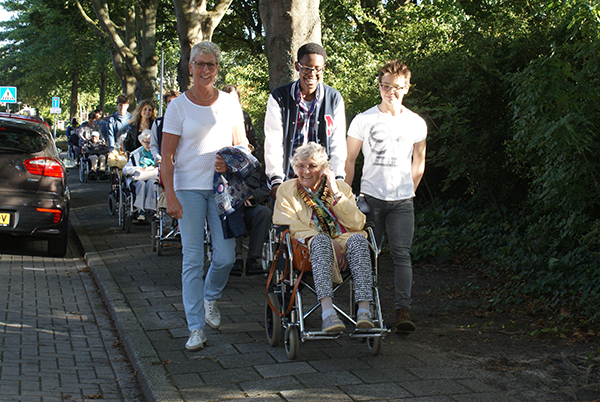 Intergenerational Learning (IL) breaks down stereotypes that surround older people, and promotes greater wellbeing, understanding and respect between different generations. But it's more than just a simple exchange of knowledge and skills between the young and the old. It also shows a commitment to collaboration and respecting cultural differences, according to advocates.
Nurseries that double-up as care homes for the elders are popular in countries like Japan, the USA and Canada, and have been since the 1970s. In the Netherlands, many university students live in care facilities and voluntarily work with the elders in return for free accommodation.  But in many other parts of the world, the benefits of IL are just beginning to gain recognition.
Reciprocal learning
In a recent documentary, The Old People's Home For 4 Year-Olds, which was aired in the UK, researchers set out to explore how IL is a reciprocal relationship.
They set up a nursery at a care home in Bristol, UK, attended by 10 pensioners and 10 lively four-year-olds. The aim was to reduce social isolation and loneliness experienced in the ageing group and improve their mood, memory and mobility. The children also learned alongside their elders, and took part in various activities.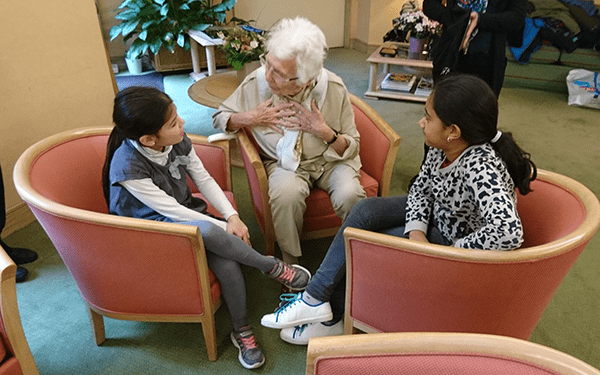 "There were positive benefits on both sides," says Dr Zoe Wyrko, Consultant Geriatrician at University Hospitals Birmingham, UK. "In the older group, we saw a reduction in depression, and an increase in activity. We noticed they were moving around and speaking much more. Nursery teachers and parents also commented on how much the children's speech had improved – and parents who felt their children weren't 'school ready' at the start of the experiment, were ready by the end of it."
Elsewhere in the UK, research has just begun. Age UK Gloucestershire, a charity for the elderly, is establishing a pilot scheme, working with two or three local schools. As part of the scheme, an older person will spend time teaching the class something, for example a hobby of theirs, and pass on their skills. Then, a younger person will do the same in return. In the final sessions, the group will learn something new together.
"We will then evaluate what that tells us about how those two brains work together," says Rob Fountain CEO of Age UK Gloucestershire.
"For the older person, there's a sense of having a value and a purpose in life – and that there's a lot that they can still learn from having shared something with a younger person. For the child, it's having a completely different perspective on the thing that you're learning. I'm really keen to show that IL benefits both young and old."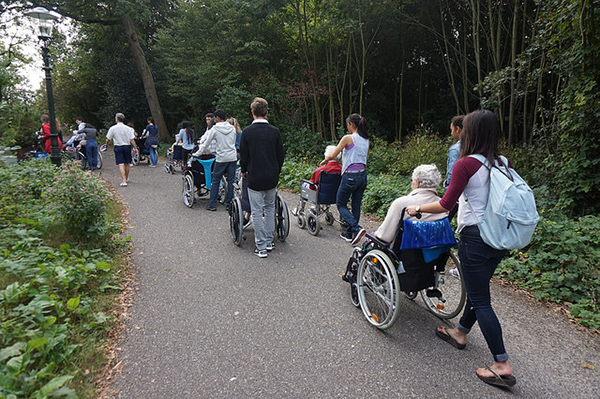 Dr Wyrko adds: "Reports show IL makes older people feel less lonely – and loneliness has a significant impact on cardiovascular health and the onset of dementia.
"Children who take part in IL also have better attitudes towards older people and those with disabilities – they are noted by their parents and teachers to be more considerate and accommodating."
Dr Wyrko says many schools are not adopting IL because of the practicalities of setting it up. She adds: "Some schools just haven't thought about IL because there is very little research available. It's very easy to look at implementing IL and see it as 'too difficult', which it can be.
"But it needs to become normal. We are all so isolated because we are so busy. IL is not just about the very old working with the very young.  It's all ages of education coming together to work with all ages of older people, concentrating on building meaningful relationships. The only way to achieve this is with a real social movement because this needs to be owned by communities."
Swapping and sharing experiences
A growing number of IB World Schools are taking part in IL, reporting encouraging results.
For the past five years, IB Diploma Programme (DP) students at The British School in the Netherlands have organized The Generation Walk. Over two days, students take care-home residents out in their wheelchairs to a local teahouse and for a tour of the school. It's part of a creativity, activity, service (CAS) project and students have learned about life in an era before they were born.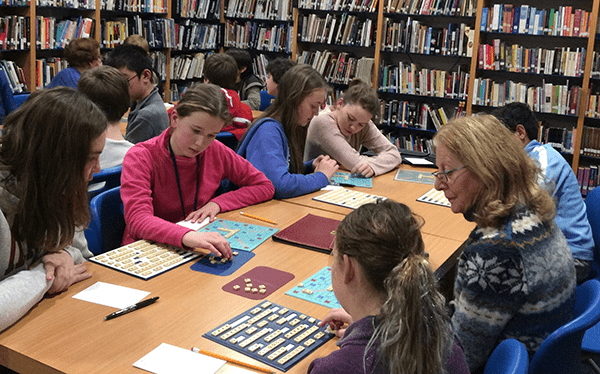 CAS Coordinator Helen Kirkwood says this activity provides a more valuable learning experience than reading a story in a history textbook.
DP student Aline, says: "By talking to the woman whose wheelchair I pushed, I realized how different the lives of girls were 80 years ago. The opportunity that I have to pursue further education and a career is something that has only developed in the last century—this is something she didn't have when she was younger."
In France, the International School of Paris (ISP) is the first international school in the city to include monthly intergenerational programmes in a language class curriculum.
Students in the French Initiation course have the opportunity to engage and learn with local people of all ages. This includes activities such as reading workshops and teaching seniors how to use the internet, playing Scrabble and bingo, organizing concerts for Alzheimer residents in the city and finding out how a French bakery makes bread.
"We've seen changes in young students' attitudes towards older people; improvements in the relationships between students and seniors as the generation gaps between them have been broken; personal development; and increased self-confidence. As a result, students have achieved better results in class," says ISP French Teacher Monica Devos. She is also founder of the ISP intergenerational programme 'Bridges between Cultures and Generations' (BCG).
"These experiences also represent a meaningful opportunity for students learning French to put their language skills into practice with members of the local community, while enriching their awareness of French culture," she adds.
While in India, IL is intertwined in the daily curriculum at DPS International School. "Learning is not one way," says Naghma Khan, Head of Counselling and Learning Support. "There is a lot of learning which the older generation gains from the younger. Nobody can beat the younger generation in multitasking. On an everyday basis we can learn the art of risk-taking."
On Mother Tongue Day, grandparents visit the school and impart relevant knowledge about their mother tongue with the children. "They share the intricacies and details of that particular language with the children, making them linguistically abled. India is a country of languages and each of these occasions is truly enriching," says Khan.
The school also regularly sets up Skype/Google Talk sessions, allowing students to teach their grandparents invaluable IT skills.
Middle Years Programme (MYP) student Megha Misra says, "Things that I have learnt from my elders are mostly about culture, tradition, values and skills. They have passed on to me invaluable knowledge on traditions and values, which were followed by our ancestors. They have taught me to appreciate and care for people and nature. Their fascinating stories have always had a hidden message for the future generation to understand and pass on."
Schools hold the power for change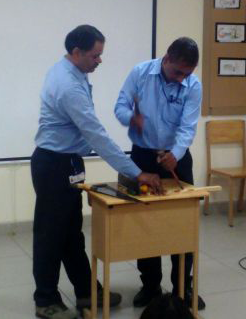 Khan agrees with Dr Wykro that time is the biggest barrier to bringing IL into schools all around the world, but says schools hold the power to change this.
"The lack of time, and the limited availability or inclination to cater to the needs of the other generation, is the biggest hurdle to IL, which leaves the younger generation devoid of the benefits of rich experiences of the elders," she says. "This is where schools can help, providing the ideal platform for bringing IL into children's normal daily lives. The consistent, regular involvement of these generations together contributes to holistic growth."