Alumnus Bao "Terry" Cao writes in from the University of Massachusetts, Amherst to share how his Creativity, Activity, Service (CAS) project at the Australian International School opened the door to a lifelong pursuit.
By Bao "Terry" Cao
As an IB candidate I was always very active when it comes to CAS. I participated in a variety of activities such as playing in sports teams, performing live music during school events and working in non-profit organizations. They were great experience for me to develop as a human being, but none of them were really something that I felt "at home" doing. It was during the beginning of my second IB year that I found my true passion: being a youth soccer coach.
Our school was the prestigious host of an international sports tournament between Australian schools in Asia. As sports and particularly soccer was my favourite hobby I volunteered to help organize the soccer tournament and coach the U16 Boys' team. Initially I considered participating to get my CAS progress off to a good start to the year as well as to do something that I felt passionate about.
After the tournament finished, my work with the team and organizing the tournament did not go unnoticed. I was approached by a youth soccer academy in my area, who was impressed by the work and effort I put into organizing the competition. I was offered to become a coaching intern at the academy, working with children and youths aged 7-14. I accepted the offer almost immediately, and it was a decision that I consider to be one of the best I have made in my life.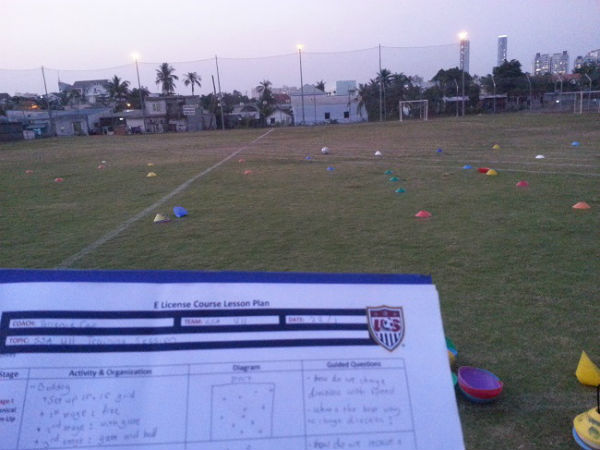 As soon as I arrived at my first coaching session I already felt "at home", something that has never happened before. I adapted to the new role almost effortlessly as I was so passionate about working and coaching children and youths. To have been able to see the progress they made with me as coach was such a rewarding experience. Not only did I gain invaluable experience during my spell of internship, I also landed an official coaching role at a highly reputable sports academy in Vietnam, in which I have worked with for the past six months.
I am now a qualified youth soccer coach and as I prepare to become the head soccer coach of two and potentially three recreational youth soccer teams in Massachusetts, I am grateful for the CAS program which really encourages you to put yourself out there and contribute to the communities around you, whether at school or outside.
The IB isn't just about studying. It's about discovering who you are and what you are passionate about and believe in.
---
Tell us about your experience as an IB alumnus. Send your letters to alumni.relations@ibo.org