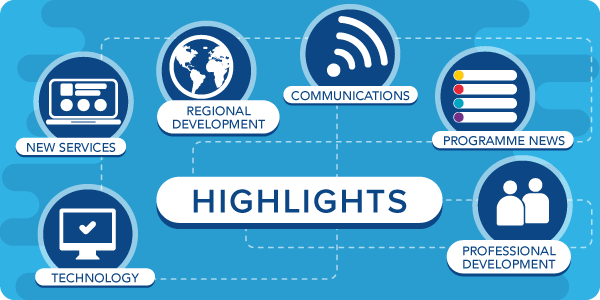 Our five strategic goals
We set five strategic goals for 2015 to provide a balance of short-term and long-term benefits for schools and educators that ensure a sustainable, healthy organization:
1 Setting highly relevant standards for student-centred education
2 Creating and enabling a professional community of engaged IB teachers
3 Providing flexibility to implement IB programmes
4 Giving excellent service to the IB community
5 Creating an IB to deliver its mission
How did we get on in 2015? Take a look at the highlights by clicking on each of the tabs above.
Technology
LIVE My School – Everything to do with your school in one place. Make simple actions like updating school profiles and applying for a new programme. It replaces the part of IBIS that stores school data and feeds into other IB systems for consistency and accuracy of information, 24/7. Find the link on ibo.org or go direct.
LIVE Student Registry – Enables students to build their profile page to attract the attention of universities. Also enables universities to search and recruit DP and CP students. Go.
LIVE IBEN Central – Members of the IB Educator Network (IBEN) can apply for training and assignments, finding the most relevant roles, more easily. 3,000+ IBEN have set up profiles. 17,000 examiners will soon join the system. Go.
LIVE eCoursework – New technology has improved the user experience, reliability and speed to upload e-coursework files – especially important for the assessment of visual arts.
LIVE MYP eAssessment – Following the 2015 live pilot, MYP year 5 students can take on-screen exams from 2016. A series of interactive tasks in a simple on-screen environment will assess one or more criterion and questions cover multiple strands.
LIVE Workshop registration – A new event management system that makes registering for a workshop far simpler and faster!
LIVE Digital content for DP – Diploma Programme educators can access dedicated subject websites for approaches to teaching and learning, global politics and environmental systems and societies. Each website programme resource centre includes subject guide, videos, teacher support material, and practical examples.
IN PLANNING Results extra – An enhanced reporting service providing five-years of DP and CP candidate results by programme, group, subject, paper/component and more. Schools will be able to provide feedback to candidates and to determine teaching strengths/areas for teacher education.
Communications
LIVE Parents page – A new web-page pulls together key information and FAQs to help parents understand an IB education and how it can benefit their children. Go.
LIVE IB Global News – Newsletter re-designed and much more user-friendly. Subscribe here.
LIVE IB blog – Re-launched with great content, and with French and Spanish content too. Go.
LIVE Social media – Far more activity leading to greater visibility and inspiring discussions of key themes. Connect with us on Facebook, Twitter and LinkedIn.
Our Director General @siva_kumari talks of the IB's mission & #education in a global world: https://t.co/xKnFKy4HSY pic.twitter.com/E659jTsCTf

— IB official (@iborganization) December 7, 2015
New Services
IN PILOT Curriculum Connections – Offers additional support to schools in their development of the pedagogy of the PYP or MYP in an environment that has dual-curriculum requirements. More.
IN PILOT Strengthening Leadership of Groups of Schools – Helps schools understand the systems, staff and processes necessary for effective, consistent IB programme implementation within all schools in a group. More.
LIVE Building Quality Curriculum – Provides additional expert evaluation of the quality of a school's curriculum planning and writing. More.
LIVE New IB Store – Get fast and efficient customer service and delivery at the new Follett IB Store.
Professional Development
LIVE New Professional Development (PD) models – With a focus on greater flexibility and affordability, the new models in 2015 include In school, Cluster, Blended, DP Advantage and more online PD opportunities. Watch out for PD for aspiring leaders in 2016. More.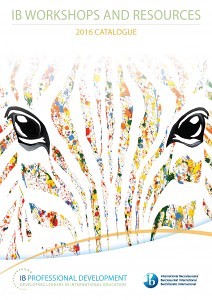 Take a look at the full range of professional development options available in the 2016 IB Professional Development catalogue.
Regional developments
Here are just a few of the many regional developments around the world.
Malaysia: MYP is gaining significant interest in the public sector, making it the second-largest offering in the public sector in Asia Pacific.
Pakistan: From one school five years ago there are now 11 schools offering an IB programme and interest has swelled in 2015 with 17 schools applying for candidacy.
Russia: 12 state-funded schools now offer PYP and 11 offer MYP in Moscow since 2014 as part of The Moscow Schools Project.
Turkey: The 54 IB World Schools are growing with 40 schools in the authorization process.
Germany: MYP officially recognised again in Germany.
US: At a White House Summit on designing Next Generation High Schools, the "Lead Higher Initiative," a partnership between IB, College Board and Equal Opportunity Schools,
was featured. The initiative is dedicated to increasing participation among low-income students in rigorous coursework like IB and AP.
Canada: The newly elected Prime Minister of Canada in 2015 is Justin Trudeau, an IB graduate and former high school teacher, and the interim leader of the Liberal Party, Bob Rae, is also an IB Diploma holder!
Programme news
IN DEVELOPMENT Primary Years Programme (PYP) Review–Teachers will access a dynamic new digital resource that pulls together pedagogical guidance currently found in 18 core documents on the programme resource centre (expected 2018). Includes: refined and enhanced guidance for collaborative planning, language, the role of the disciplines, early learning, assessment and more.
LIVE Middle Years Programme (MYP) – 2015 research by ACER: teachers felt non-MYP students lacked analytical and critical thinking skills required for DP. Students with an MYP background were found to outperform students who participated in other middle year's curricula in total diploma points and specific DP subjects.
IN DEVELOPMENT Diploma Programme (DP) Review – The review is underway and seeks to establish a continuous improvement model, providing more flexibility for accessing and implementing the programme, and refining and advancing the DP curricula and assessments.
LIVE Career-related Programme (CP) – UCAS tariff points have been secured for the CP Reflective Project. CP is also accredited by OFQUAL. Strong global interest with more than 100 schools expressing their interest.