---
Proudly telling the world about #generationIB in our 50th anniversary year
---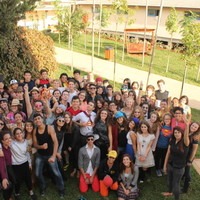 Eastern Mediterranean International School, in Israel, is uniting a diverse range of students to bring peace and tackle real world issues. IB World magazine finds out how…
"Education is the most powerful weapon which you can use to change the world," said the late inspirational leader Nelson Mandela. Learning how to respect, tolerate and understand one another all begins with education.
One IB World School that is helping the leaders of tomorrow foster positive relationships, which they can encourage in their countries, is the Eastern Mediterranean International School (EMIS), which is part of Hakfar Hayarok (Hebrew for The Green Village) educational campus and youth village, near Tel Aviv, Israel. It offers the IB Diploma Programme (DP) to 140 students from 40 countries.
Students from Israel and Palestine learn together and help EMIS achieve its mission: 'To make education a force for peace and sustainability in the Middle East'.
There is an ongoing struggle between the two countries. Thousands of lives have been lost, but the team at EMIS aims to help students from Israel and Palestine find a path towards resolution. "By having a large proportion of the student body come from the Middle East, we encourage a process of building bridges. Palestinian and Israeli students are learning about each other and how to respect each other, and they're learning how to hopefully bring peace one day," says Oded Rose, EMIS Founder and Chief Executive Officer.
"The first value we teach is 'respect'," he adds. "By allowing our students and staff equal access and opportunity, they learn to listen to each other in a neutral setting and learn that we are all humans."
Increasing access to the DP
Almost all EMIS students receive full or partial scholarships, which are funded by Israel's Ministry of Education, foundations and private donors. "Our philosophy is that good education should be available to anyone based on merit and not on a student's family income," says Rose. "In addition, we look for diversity that includes social and economic. We want to have the ability to offer places for students from refugee families and other disadvantaged groups."
Rose's personal experience shaped the concept for EMIS. Originally from Israel, Rose attended Pearson College UWC in Canada and completed the DP. He received a full scholarship and, just like Pearson, his school is uniting a diverse range of students from every corner of the globe to bring peace and tackle real world issues.
With such a bold idea there has been a backlash from some in the more traditional communities. But, in true IB fashion, students and their parents are risk takers and remain undeterred: "They are courageous and believe in the mission of the school and in the quality of the education we provide through the IB and our extra-curricular programme," says Rose.
A school for change
All DP year one students are involved in a three-year ESP (Entrepreneurial leadership, Sustainability, Peace) programme, which was launched this year to further promote understanding and a peaceful future.
The programme is integrated with CAS (Creativity, Activity, Service) and made of three parts: a series of lectures and workshops, which teach entrepreneurship, sustainability and peace and conflict resolution; student projects that implement what was learned in year one; and voluntary work. This will be carried out after the DP and students are encouraged to take a gap year in which to implement their newfound knowledge and experience.
"Later, we hope to turn this into an integral part of the EMIS programme, thereby all our graduates will continue to a gap year before going onto higher education or other walks of life," says Rose. "We feel this is an important aspect of EMIS being a 'school for change'."
EMIS encourages Arabic students to learn Hebrew, and vice versa, as another means for building bridges. The Hebrew Club meets once a week for two hours, and is led by Principal Tamar Haviv, while the Arabic Club runs in addition to the DP Arabic Ab-Initio classes, and is hosted by Arabic-speaking students. Both clubs are social hubs where students can practice the languages and discuss politics.
Future plans
Rose has bold plans for the future, such as growing EMIS to 220 students in two years and opening more space for the additional students. Also in the planning is another school similar to EMIS, which will be located at the heart of the triangle region – a predominantly Arab community that is close to Palestine. The school will focus on the Arab culture and community, and have strong links to higher education establishments in Palestine.
How is your IB World School contributing to world peace? Let us know: email editor@ibo.org