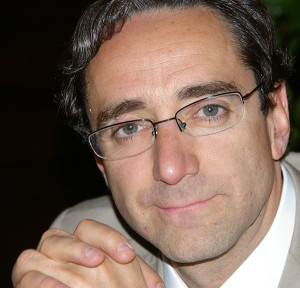 Javier M Valle suggests that in a postmodern society, with globalization as a main characteristic, different human groups—with particular values and cultures, but living in a very close interdependent world—face two risks. On one hand, absolute relativism, and on the other hand, the imposition of a unique thought.
Ahead of Javier's keynote speech on this topic at the IB Conference for Africa, Europe, Middle East in October, here's a little more about his work.
What are Supranational Policies of Education?
They are the analysis and outcome predictions of activities and proposals coming from international organizations (UNESCO, EU, OECD, OEI) in the field of teaching and learning – I have a Ph.D. in Educational Sciences and my research focuses on this topic.
What educational projects do you work on?
I am very interested, particularly, in the European Union Educational Policies, such as Bologna Process, ERASMUS mobility, key competences implementation, etc.
I've lead the Research Group on Supranational Policies on Education since it was founded in 2011. During these years, we have investigated diverse topics of research interest as, for instance, the relations between ERASMUS mobility and equity, the impact of the accountability global trend in education among the educational centers, and the analysis of the benefits of taking part in IB Programmes for students, teachers and parents.
Internationalization of education has always been one of my central areas of interest and that is the reason I am going to talk about this topic in my keynote at the 2016 IB AEM Regional Conference in Barcelona.
Tell us about one of the most significant developments in education you have seen in your time with the University
As a Professor for 15 years in the area of Theory and History of Education at the Teacher Education College of the Autonomous University of Madrid, I have seen many changes. Social globalization (and, as a consequence, educational internationalization), on the one hand, and the Bologna Process on the other, have changed drastically the mission, the structures, the curricula and the methodologies in universities.
Universities have had to modify the way they establish relationships with other universities in a global educational context. They have also had to find new paths for dealing with co-optation of foreign students. In addition, internalization; forced to design a new framework of standardized international quality indicators for universities. Dealing properly with these indicators has implied numerous changes.
The Bologna Process has been revulsive for the university, an institution that was heavily linked to old-fashioned medieval inspirations and actions. Now a new way to face challenges is needed. Universities have reformed the structure of academic degrees (to adapt them to a shared and harmonized higher education area – in Europe, of course, but also all around the world). They have also changed the curricula to adapt it to a more practical vision and making them more linked to the labour market. Finally, they have completely modified the teaching/learning methodologies to move them towards a student-centered learning.
There have also been many changes at non-university levels of the educational systems in most of the countries. Teachers trained during the 20thcentury now have to deal with students who are digital natives. Information and communications technologies (especially internet) constitute an important part of the learning process for young generations. The way teachers incorporate them to their lessons is a big challenge; the one who owns the information is no longer the task of the teacher. The main role of today's teachers is to help students to transform the information from different media into significant knowledge for their students. The paradigm of learning by competences and not only by information is a new framework for education. Nevertheless, teachers are not used to working into that paradigm yet.
Other changes have to do with the internationalization of assessment and quality standards. Studies like PISA (OECD) are pushing educational systems into new ways of competitiveness.
I believe that in a global social context, a real internationalist education is crucial. Schools have to incorporate the teaching of international values as one of the most important pillars of their education.
What does the IB conference theme 'Learning Together' mean to you?
For me, Learning Together means precisely that. To make education the easiest pathway for people to be able to face the complexity of an interdependent world, with a mixture of cultures and with close international relationships in which supranational political structures are reaching a more important role day by day.
UNESCO and the European Union, for example, have proposed common core values that should be shared by all persons in order to make real a peaceful connivance.
Describe the highlights of your anticipated keynote session and the connection to the conference theme?
The topic of my conference speech will be "Education in internationalist values for a global society." I will explain the common core values proposed by international organizations as a crucial part of current schools' curricula. In a postmodern society, with globalization as a main characteristic, different human groups (with particular values and cultures, but living in a very close interdependent world) face two risks. On one hand, absolute relativism, and on the other hand, the imposition of a unique thought. To face these risks, it is important to foster in the next generations the competence for critical thinking and the intersubjective way of building common core value. A good proposal for an intersubjective way to achieve that is provided by some international organizations and this will be the topic of my presentation.
Why is this session important for IB and non-IB educators?
For today´s schools it is crucial to face the internationalization of values. Schools are no longer mono-cultural. In that context, to promote critical analysis of the common core values proposed by international organizations is an enriching and unavoidable exercise.
How do you feel about IB's approach to international education?
From my experience as researcher in comparative and supranational education, I would say that IB's approach to international education is one of the most effective and powerful ones we can find all over the world. There are specific keys for its success: the IB's way of dealing with diversity; how the IB faces the differences between countries; and, most important, how the IB fosters, at the same time, a global point of view on the main current problems in all its schools around the world. The best materialization of the "think globally, act locally" idea in the field of education is, in my modest opinion, the IB.
Register to see Javier speak at the IB Conference for Africa, Europe, Middle East in Barcelona, Spain in October.