We are delighted to introduce this new series of stories from IB World magazine that bring to life the wonderful initiatives undertaken by IB students and educators from around the globe. The stories focus on community activity and really bring service learning to life. Follow these stories on Twitter @IBorganization #IBcommunitystories. Share your great stories and experiences: email editor@ibo.org.
A series of speaking events by inspiring individuals who have taken action to help others is empowering PYP students to do the same in Texas
By witnessing how people, in seemingly desperate circumstances, have been able to improve their lives and those of others, PYP students at the International School of Texas, US, now realize that anything is possible with the right attitude and the determination to succeed.
The school's Trailblazer Speaker Series invites pioneers to share stories of how they have taken action. To date, gold medal swimmer, Brendan Hansen and William Kamkwamba, who created electricity for his village in Malawi during a famine, have taken part. The class was particularly inspired by Kamkwamba's story.
"Last year, students read The Boy Who Harnessed the Wind, William Kamkwamba's autobiographical tale of how, as a young boy, he built a wind turbine out of some wood scraps and an old bike in order to bring electricity to his family," says Head of School Tim Reilly.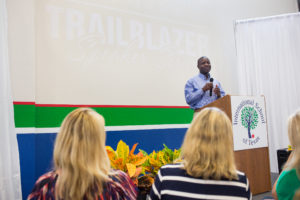 The series began last year when students were exploring a unit of inquiry surrounding the idea of games and the class "fell in love with the Olympics," recalls Reilly. "After doing a bit of research, we discovered that Brendan Hansen actually lived here in Austin. He immediately accepted our invitation and was on campus the next week.
"He shared the importance of hard work and dedication, which is what we try to instill within our students on a daily basis. He even let everyone try on his gold medal."
Reilly says the speakers have inspired and empowered students to take action of their own and to make a difference to other peoples' lives. "They are becoming more aware that taking action can be so much more than simply a passive gesture, and can be dynamic, meaningful and impactful," he adds.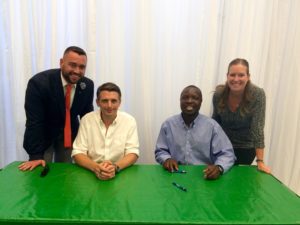 Due to the popularity of the Trailblazer Speaker Series, it's now open to the local community. And while Reilly doesn't want to ruin the surprise, he shares that he is currently speaking to NASA for the next speaking event.
"There is an innate fire within our students and they have a passion for making the world a better place."