It's a leading cause of ill health and disability worldwide, so why is it still a taboo subject? IB World magazine investigates
One in four people in the world will be affected by mental or neurological disorders at some point in their lives – a finding that debunks the myth that mental health issues are reserved for the Western world.
Currently, over 700 million people suffer from a mental health problem, according to the World Health Organization (WHO). While it is included in the organization's definition of health, the silent crisis of mental health is deafening.
Depressive disorders are the leading cause of global disability (or non-fatal disease burden), but outdated attitudes, misunderstandings and stigma means mental health is still classified low priority.
In many parts of the world, it receives little funding and support. For example, in close to half the world's countries, there is only one psychiatrist per 100,000 people. In a few African countries, there are no psychiatrists available.
This is especially worrying in conflict zones where individuals are exposed to various forms of stress. For example, Iraq has 30 million people, yet there are only 100 psychiatrists available, according to Iraq's Psychiatric Society.
However, organizations are working to shine the spotlight on children and adolescent mental health.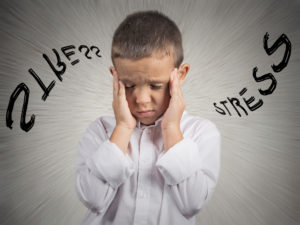 Twenty per cent of young people are affected
One-fifth of the world's young people have mental health problems – neuropsychiatric disorders are among the leading causes of worldwide disability in this group, according to WHO.
This has increased over the last five years but so has awareness, according to a Lancet commission on adolescent health and wellbeing. The Global Strategy for Women's, Children's and Adolescent's Health 2016-2030 is also working to create change.
Chiara Servili, Medical Officer, Department of Mental Health and Substance Abuse, at WHO, says: "UN agencies and other international organizations, which are dealing with public health, have focused on sexual and reproductive health, or HIV. But now the recognition of noncommunicable conditions and mental health, and the need to address those in particular age groups, has increased. That provides unique opportunities to take action.
The Lancet report looks at what interventions can be delivered in different settings – schools are highlighted as one of the best opportunities we currently have for promoting psycho-social wellbeing and the mental health of students."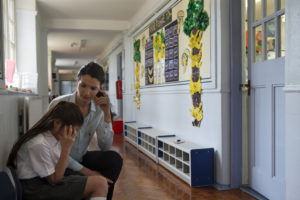 Early intervention is key
Schools not only have the best opportunity to reach out to adolescents and promote mental health, it is also their duty to ensure there is a different perception around the stigmatized topic.
"Teachers and schools should broadly take a proactive role in terms of making sure that the language around mental health is used in a way that is not stigmatising and really considers it as a part of health, along with physical health. It's something that everyone should be concerned about and should strive to improve for themselves," says Servili.
She adds: "At the same time, the school offers a platform for early detection or intervention of any problem or difficulty. The evidence behind successful school interventions is high across regions."
Depending on age, the most common types of mental health problems reported in the classroom include development difficulties and disorders – including ADHD – and emotional disorders – such as anxiety and depression, according to Servilli. In older age groups, children may also face issues with substance and alcohol abuse. Self-harm and suicide are particular concerns.
Essential life-skills training
Equipping young people with the life skills that will help them cope with a number of adverse situations and difficult circumstances that may occur in everyday life, is a great example of early intervention, says Servili.
Improving self-awareness and empathy, and providing strategies to help deal with emotions, stress, problem solving and creative thinking, are life skills that can be delivered by trained teachers, or other school staff. This will help young people develop useful skills and competencies, says Servili.
"Trained school nurses can also detect problems and disorders, and can make sure that the family or student receives appropriate support and care," she adds.
"It is this set of skills, in relation to the environment that the person is in, that result in better mental health for life."
Servili hopes that these interventions, if delivered in classrooms and framed as part of the curriculum, will go a long way to remove the stigma surrounding mental health. "The life-skills training is about improving the competencies of the child rather than focusing exclusively on mental health," she says.
We want to destigmatize mental health. It is important for children and adolescents to frame the life skills as essential tools. We want to make sure that whenever a difficulty or particular problem in behaviour is detected, the appropriate resources are available to the children and support is available in all the appropriate settings so that it can be dealt with."
As we're talking about children and adolescents, it makes sense to address problems before they qualify as disorders. We want to have a preventive approach and not wait for the disorder to manifest. The school can act as a very good connection between the community, the families and the health system."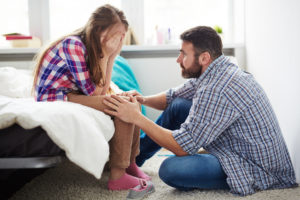 Continuing the conversations at home
Teachers can do all they can to be supportive in the school environment, but outside of the school, it's up to parents to continue honest and open conversations, and provide safe environments.
Just as teachers' stress can be contagious, as a recent study found, so can parents' stress. "Mental health for children cannot be taken in isolation," says Servili. "Teachers also need to look at parents and assess their environment, sources of distress and the resources available in their environment.
"This is especially true for young children – if they are emotionally distressed it is usually a reflection of a dysfunctional environment or some difficulties around them."
And while Servili encourages schools to work with parents, in some cases this can do more harm than good. Different cultural beliefs surround mental problems – children with difficulties are taken to a traditional healer in some parts of the world. "That could be harmful, depending on the practice, but also causes delay in accessing other healthcare services," she says.
This delay has knock-on effects, adds Servili. "Children are deprived of opportunities for receiving appropriate healthcare, including vaccinations, because of the stigma. The school has a role in terms of influencing their communities and raising awareness."
Teachers also have the duty of promoting inclusive environments in school, making sure every child has access to educational opportunities and social participation," she adds.
This article is part of IB World magazine's "A deeper look at mental health'" series. Look out for part 2 where we speak to an IB World School about why its 'wellbeing programme' is different from many others