---
Proudly telling the world about #generationIB in our 50th anniversary year
---
Students from all parts of the world unite to make a difference in their local communities  
Since the age of 11, IB Diploma Programme (DP) student Valeria Wu has attended a Global Issues Network (GIN) Conference every year. The organization, which champions student-led projects and sustainability, brings together students from all over the world to discuss local and global issues.
However, Valeria wanted to turn those discussions into meaningful action and make a difference in her local community, in Peru. As a result, she founded the Global Ambassadors Program (GAP).
GAP, which is part of GIN, is a virtual, global platform that connects 80 students (aged 14- to 18-years-old) of 30 different nationalities. The Ambassadors regularly communicate via Skype, creating research projects and developing toolkits to improve their communities.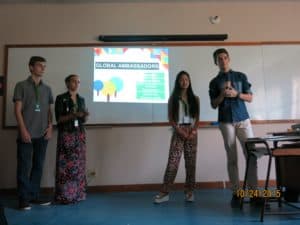 The programme aims to create a network of student leaders at every international school, who will promote service, develop action and broaden accessibility to GIN. Ambassadors work with local schools in their region, as they recognize that schools have a responsibility to act as catalysts for change and social justice.
For example, the GIN Local Schools Case Study encourages schools to create a community of stakeholders that are supportive of student action.
Valeria, from Franklin Delano Roosevelt, the American School of Lima, explains: "Currently, we have over 40 students working on the case studies across the world and, at the end of June we want to analyze the progress and see what worked and what didn't. This case study will tell us what are the exact obstacles hindering student action in different schools and give us a sense on how to tackle that."
For students who have great ideas for how to instigate empower and implement change, but don't know where to start, the GIN Project Workbook is a step-by-step guide on how to identify local issues and take action.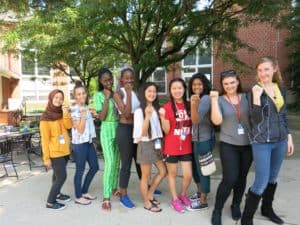 Valeria has gained many lifelong skills since founding the programme, including project management and leadership. "Being tolerant is key to being an effective leader in a programme of such an international scale. This is a programme that works with students that each have their separate issues, agendas and commitments. This demands a huge amount of time, from responding quickly to emails to solving special concerns," she says.
This article is part of a series of stories from IB World magazine that bring to life the wonderful initiatives undertaken by IB students and educators from around the globe. Follow these stories on Twitter @IBorganization #IBcommunitystories. Share your great stories and experiences: email editor@ibo.org.