---
Proudly telling the world about our philosophy in our 50th anniversary year
---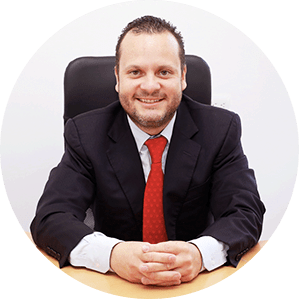 "A school's effectiveness requires the development of international-mindedness"
Oscar Leyva is Principal of UPAEP Huamantla in Mexico who offer the IB Career-related Programme (CP) and a member of the IB Educator Network (IBEN). His greatest satisfaction is being able to interact with students and teachers every day and share with them his firm belief that it is possible to change the world through education.
When information on all topics explored by humanity to date is contained in the cloud, and in the palms of our students, we must ask ourselves about the role of schools and teachers, their relevance and effectiveness. Anyone who believes that schools and teachers will survive in the next decade by simply repeating the formulas that proved useful 20 years ago will have to re-evaluate their position. It is not enough to organize multinational fairs replete with flags and traditional dishes, or to promote the learning of multiple languages, nor is it enough to appreciate different styles of music and dress. To some extent, all of that merely exists on the periphery of the true development of international-mindedness, which has much more to do with the ability to listen to learn, to talk and to recognise common humanity, including in what is different.
Here are five key aspects that I believe are indispensable for developing international-mindedness. If your teachers explore these aspects in class (or outside class), you are in the right school.
1. Know yourself
Exploring the world begins with exploring your starting point. According to a Chinese proverb, if you want to change the world, first you must look around your own home three times. If you want to consume the world in slices, start with what is closest to you: your own history, tradition and values. Learn to appreciate all the constituent parts of your identity, your language, family, customs etc. You can only objectively appreciate what is different when you have established your point of reference. You will not understand others until you understand who you are.
2. Develop empathy
Your capacity for imagination is almost unlimited, but this does not mean you can embrace all perspectives at the same time without help from others Learn to listen to others and see things from their perspective. Remember that discussions are for learning, and the more you develop the ability to put yourselves in others' shoes, the greater your ability to understand the reasons behind the actions of others.
"Humans are not as good as we should be in our capacity to empathize with the feelings and thoughts of others. So maybe part of our formal education should be training in empathy. Imagine how different the world would be if, in fact, there were reading, writing, arithmetic, empathy"—Neil deGrasse Tyson
3. Be a champion of intellectual humility
Making mistakes is as natural to human beings as the fear of doing so. What a paradox. Nobody is immune to mistakes; we have to grapple with this idea. The best way of doing this is to always admit the possibility of being wrong. Once you welcome this possibility, those little stumbles will hurt less. However, this does not mean renouncing reason altogether; rather, it means renouncing the need to always be right, as if mistakes were not possible. Here's a tip: be prepared to be wrong, just as you're prepared to be right. Always research, consult, compare, reflect and put your assertions into practice. This is the best way to increase the chance of being right. But even then, when everything seems safe, always be ready to be wrong.
4. Learn languages
This is the first thing we think of when we talk about international-mindedness, but it is not the only ingredient. It is, however, an important ingredient. Those who learn several languages soon realise the inseparable link between thought and language. It is a fact that learning other languages gives us a more complete vision of reality, helps us think in different ways and provides solutions to the same problem from different perspectives. As if that were not enough, it comes in very handy when it's time to go on holiday.
5. Do not fear conflict, and learn to negotiate
Conflict is a part of life. Accept it. Do not run away from it; it's better to learn to face it head-on. But we must do this in ways that are respectful of each other as human beings: human relationships are not zero-sum games in which one of the parties loses everything and the other wins. In reality, all moderately intelligent negotiations start from the premise that nobody will get everything they want, nor lose everything they have. It's not easy, but this is precisely what negotiating means.
School is not the only place where we can acquire these skills, but it is the perfect opportunity to learn in a controlled and safe environment. Nowadays, personal and professional success necessarily entail these skills, and only those who demonstrate an ability to master some or all of them will stand out as competent citizens who are up to the challenges of the 21st century.
---
A longer version of this article was first published by UPAEP in their magazine Experiencia.
As part of the IB Educator Network, Oscar has served as reviewer of applications, a translator, leader of visiting teams, teacher trainer and IB workshop leader.