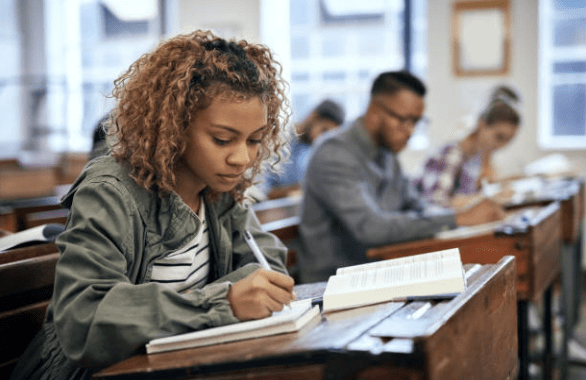 Every year, approximately 300,000 IB students from across the Middle Years Programme (MYP), Diploma Programme (DP) and Career-related Programme (CP) take exams and submit assessments to receive their results after years of dedicated study.
But how does the IB take on the massive task of marking the exams and assessments students have worked so hard to complete? The IB recruits educators from around the world, with various specialities to become IB Examiners mark or moderate students' work.
We spoke with three IB Examiners to explore their experience and find out why they would encourage others to become involved.
Why did you become an Examiner?
Helena Runelid: I wanted to "pay back" since I found it so rewarding to work as an IB teacher, but I also wanted better insight into the IB way of thinking and also a possibility to influence the process of marking.
Kaoru Shimomura: I wanted to acquire the skills of making IB papers and gain greater confidence in asessing my students' work.
Paola Piacenza: I became an IB Examiner because a friend from work recommended the position. I was moved by hearing her talk about her experiences and how she had found not only interesting work but a learning opportunity as well.
What have you learned as an IB Examiner?
Helena: We have interesting discussions and I have learnt a lot during the process. I also get lots of insight into the courses and feel that I become a better IB teacher. It is also interesting to get an insight into changes in language and performance of the candidates through the years.
Kaoru: I find great value in collaborating with experienced examiners who assist me in answering any inquires I may have. Marking has not only granted me a deeper understanding of how to proficiently apply the markscheme but has also provided insights into the underlying philosophy of IB marking.
Paola: The greatest benefit of being an IB Examiner is that we are able to broaden our perspectives by comparing and contrasting different ways of teaching and learning through the correction of a nearly infinite number of ways students can answer questions.
How has your teaching improved?
Helena: My teaching has improved since working as an examiner makes me constantly evaluate my own teaching but also gives me great ideas on how to improve my courses and classes.
Kaoru: For mathematics, I have developed an emphasis on the importance of mathematical communication within my classroom. Not only does this aid students in their exam prep, but it also allows them to communicate concepts more effectively.
Paola: Working with the IB has played a fundamental role in shaping and enriching my own personal teaching skills. The work done on the different components and a careful reading of the students' answers have allowed me to delve into and to question, from a comparative standpoint, my understanding of what is being presented.
Would you recommend being an examiner?
Helena: I would recommend applying, since you improve a lot as teacher, it is interesting, and you also fulfil a very important task. I think the model of marking in IB is well thought through and feels reliable. However, you have to be aware that it takes a lot of time during certain periods and be able to adjust to that.
Paola: "I would absolutely recommend becoming an IB Examiner to my co-workers. If they were to become IB Examiners, it would provide them with an excellent opportunity to grow professionally and also give them the opportunity to expand their professional development horizons."
Kaoru: I would also recommend, especially to anyone interested in the IB.
Kaoru Shimomura is an experienced educator, serves as an IBDP and MYP Maths teacher at the International School of London, United Kingdom. She has been teaching IB for over 10 years where she has shared her experience in various nations including Japan and Thailand. Currently, she works with the IB as a moderator and examiner.
Helena Runelid has worked as an examiner for Swedish A Literature and Language and Literature for many years. She studied at the University in Uppsala and Gothenburg and hasworked as a teacher since 1991. Her subjects are Swedish, German and English. Helena has been an IB teacher, since her school began offering the Diploma Programme in 2007. Besides working as a teacher and examiner she give lectures about literature and loves reading, singing and knitting.
Paola Piacenza holds a Ph.D. in Humanities with a concentration in Literature from Universidad Nacional de Rosario (Argentina). She is the Head of the Master's in Language and Literature Teaching program at Universidad Nacional de Rosario and the Language Department Chair for primary and secondary education at Colegio San Bartolomé de la Asociación Churchill de Rosario. Ms. Piacenza has also been an IB Examiner for Spanish A: Literature since 2014.