Participation in a Model United Nations (MUN) group allows students to be the change that they want to see in the world, as they explain to IB World Magazine.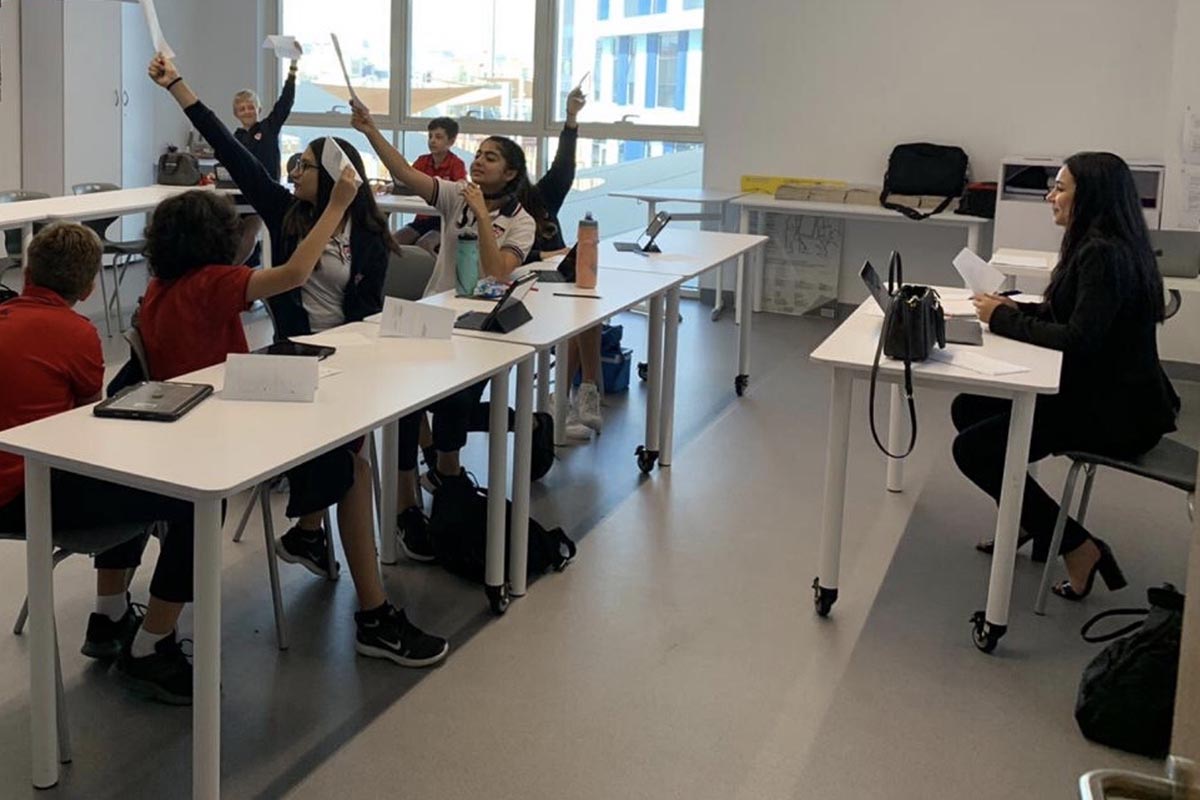 Model United Nations (MUN) groups work hand-in-hand with the IB's mission statement of developing inquiring, knowledgeable and caring young people who help to create a better and more peaceful world through intercultural understanding and respect. It is an academic programme that allows students to assume the roles of national ambassadors and representatives who debate and solve global issues. It offers invaluable experience in developing and demonstrating key skills such as public speaking, teamwork and negotiation.
Every year, more than 400,000 people from primary schools, secondary schools, universities and beyond take part in an MUN conference and put themselves in, 'the shoes of world leaders'. They learn about politics, international relations and the UN.
Below, two students explain how they have inspired other students to get involved in MUN.
Ayah Elwannas, Middle Years Programme (MYP) student at Dwight School Dubai in UAE created and taught an MUN unit at her school.
Through my MYP personal project, I have transformed my passion into an MUN unit, which is now taught to MYP 2 students at Dwight School Dubai. I created daily lesson plans to encourage student agency. As we focused on different UN committees, giving students a choice between relevant points of discussion was of paramount importance to make the curriculum enjoyable and academically enriching. I taught lessons in an informal, interactive and discussion-oriented environment.
While pursuing my project, I displayed various IB learner profile attributes. Teaching a class required me to be mindful of every student's individual, academic and social needs and I developed into a caring individual. Additionally, I displayed pertinent communication skills to ensure students understand the subject they are learning.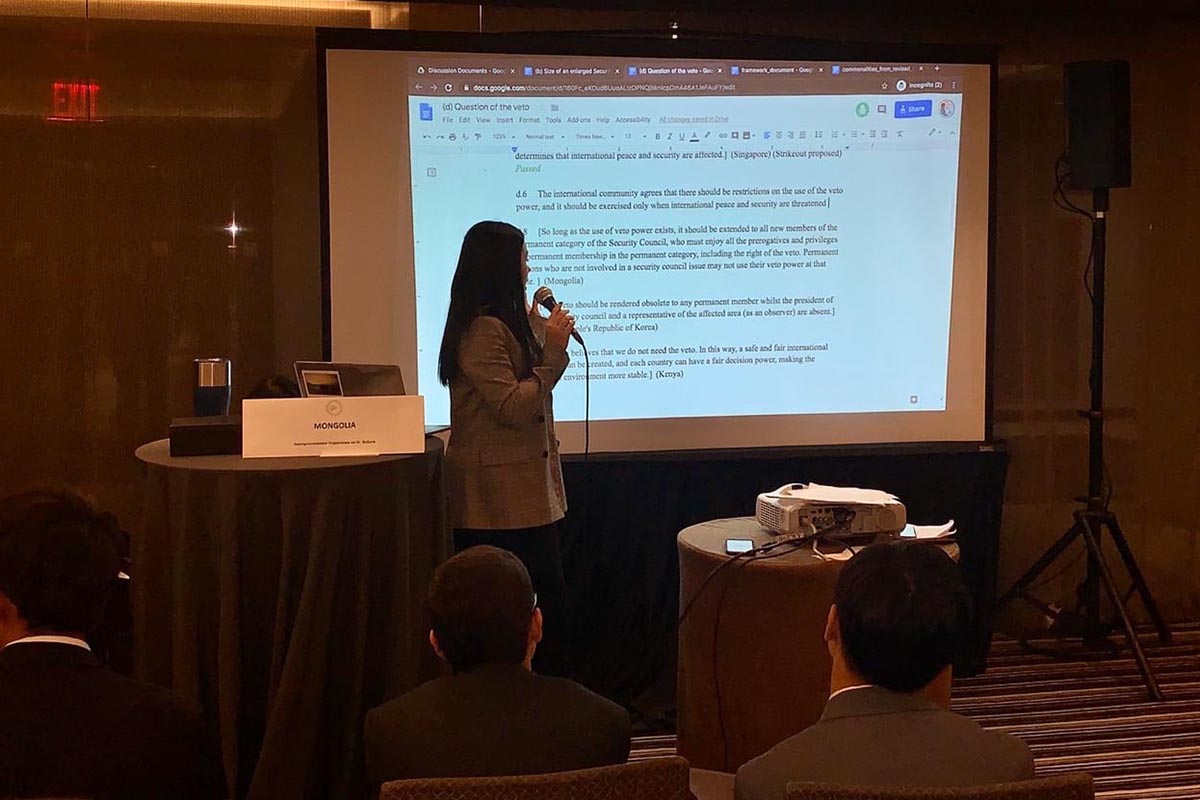 I am truly grateful to my personal project supervisor, head of individuals & societies (I&S) Mr Adams, and the MYP coordinator for giving me this opportunity. I would also like to thank the amazing students that were always eager to actively participate in the discussions.
Mr Adams says: "The unit has been a great success. The students are engaged and excited and view the world through a different lens while assessing a country's viewpoint on global issues. A shift in perspective generates compassion and empathy. This, in turn, instills a sense of responsibility in students making leeway for them to develop leadership skills."
As an MYP student, taking charge of your learning is encouraged. And my passion for formulating solutions to global issues and maximizing my involvement within MUN conferences across the globe has influenced this. (The conference is a larger MUN gathering.)
"As Mahatma Gandhi says: Be the change that you wish to see in the world."
MUN has given me insight into injustices and an array of issues around the world. The unique perspective MUN gives its participants has developed my passion for volunteering and advocating for the betterment of societies worldwide. MUN has shaped me into an unstoppable dreamer with a compelling vision for the world. As Mahatma Gandhi says: "Be the change that you wish to see in the world."
Ethan de Sa, a student at the Heidelberger Privatschulcentrum in Germany, which runs an international prep programme for the Diploma Programme (DP), created a website that gives advice to MUN delegates.
I really enjoy MUN and it's a fantastic extra-curricular activity to pursue. I get to learn about other countries and their situations and practise valuable skills such as:
I decided to create a website for my personal project because I wanted to help students that were new to MUN. When I was starting out with MUN, there were no websites that inspired me; they all made it look really complicated and difficult, when in reality it is a really fun activity.
MUN Explained aims to be a friendly website that encourages students to explore and pursue MUN. I had to learn the technical aspects of building a website, analysing data and incorporating suggestions into a product. But the most important skill that I have refined, which will benefit me the most in the future, is being organized. The challenges of the personal project, such as planning, setting goals, time-management, budget management, etc. were new experiences for me.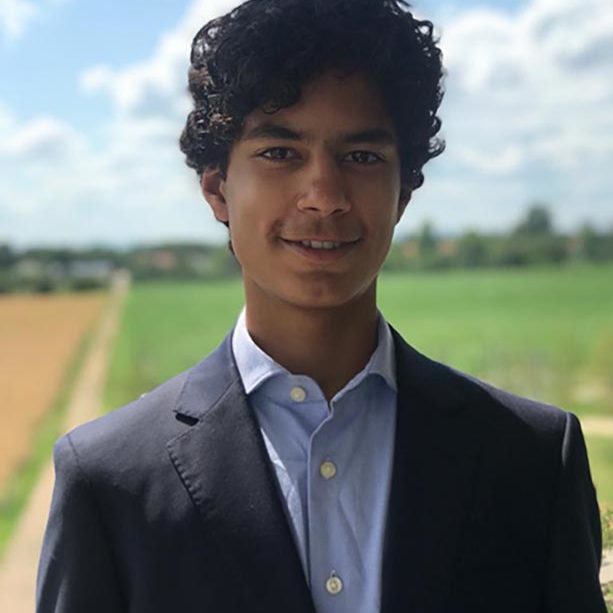 By completing my personal project and being involved in MUN, I have developed several IB learner profile attributes. I was a communicator as I spoke with a lot people and shared my ideas and opinions; a thinker because I came up with ideas and solutions for my problems; open-minded because I worked with other countries and learned about the situations they're in; and balanced because I learned to manage my time efficiently at whatever I did and devoted equal time to both subjects.
My personal project teacher Douglas Marchetti says: "I am pleased with the product that Ethan was able to create—a clean and simple website, which aims to support students who are participating in MUN. More importantly, I am thoroughly impressed by his approaches to learning (ATL) skills and his dedication to completing such a project and sharing it with others, all while maintaining a positive and productive attitude."
I hope my website will inspire students to participate in MUN. So, what key piece of advice can I offer future delegates? It would be to just enjoy yourself and have fun. Speak what you want to say and remember to base your arguments on your country's policy rather than your opinion.
This article is part of a series of stories from IB World magazine that bring to life the wonderful initiatives undertaken by IB students and educators from around the globe. Follow these stories on Twitter, LinkedIn and Instagram and feel free to email us your story.
If you enjoyed this story, consider reading more below: