Curiosity. Conservation. Community. Three C's that encapsulate 14-year-old Peter Tolzmann, an MYP student from Pulaski International School of Chicago.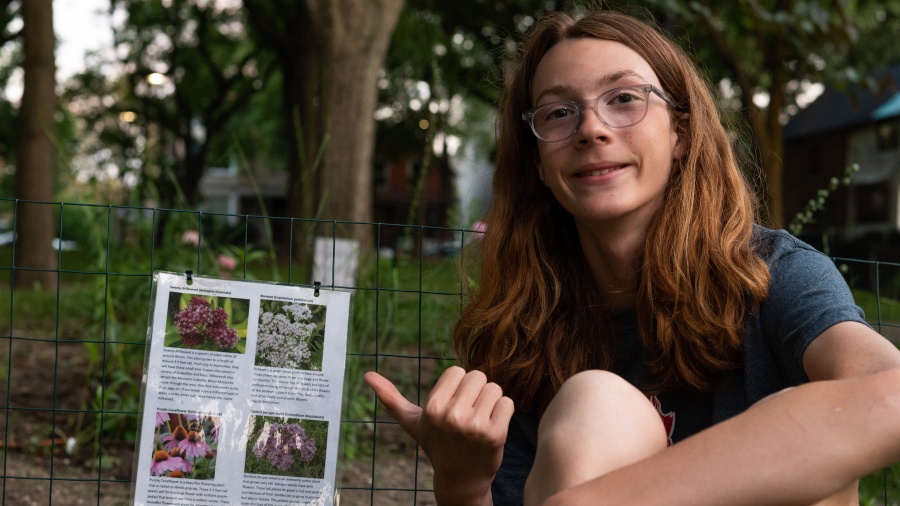 Peter loves wildlife, especially birds and reptiles. As an avid birder he has seen 558 species in the United States and mourns the loss of almost 3 billion birds since the 1970s. He wants to do whatever he can to help birds recover. Family trips throughout Peter's childhood were almost always planned with palaeontology and nature in mind but even living in the urban jungle of Chicago hasn't kept him from seeking out nature closer to home exploring nature in and around the city every chance he can get.  
Peter's interest in birds is mainly what catapulted him into the world of conservation and his interest in native plants – which in turn motivated him and his school friends to transform their Chicago neighbourhood into a safe haven for local wildlife as part of their MYP Community Project. 
Peter and his classmates put in months of effort which involved drafting a proposal; reaching out to local authorities; gaining approval and funding; selecting the appropriate plants; and planting and nurturing their garden. All the hard work was worth it, with a section of Peter's local park now boasting 100 plants made up of 36 species native to Illinois.  
We spoke to Peter and his father, Matthew Tolzmann, about their experience with the IB and how it has supported Peter, who has always been naturally curious, to become an independent and inquisitive thinker. 
Can you tell us about your MYP Community Project?
Peter: The best thing about being an MYP student was the IB Community Project. It was my favorite because I was able to take one of my interests and incorporate it into my learning at school and get other students involved too. 
It was fun collaborating with my teammates, Caleb and Jacob Lugo for the project. I was thrilled that they liked the idea when I mentioned the native garden to them. Collaborating was easy because everyone was in favor of the idea including the Chicago Parks District.  
The goal is to educate the community about the importance of native plants. But my hope is that people will be inspired to take action on their own by planting native plants in their yards. I also hope this leads to people caring more about wildlife and the environment as a whole. 
As a parent what would you say to other parents considering an IB education?
Matthew: Peter has been in PYP and MYP at Pulaski International School of Chicago from the start of his education. I love that the IB teaches children that they are not just important members of their school and neighborhood communities but that they are also important members of the world community. The IB projects that each of our sons have completed have taught academic, critical thinking, and social skills, but they have also inspired them to think beyond the classroom. Peter's native garden is a perfect example. 
Peter and his older brother are each some of the most curious people I've ever met and I love the way their IB schools have encouraged their curiosity and also challenged them to share their discoveries inside and outside of the classroom.
A high-quality education prepares students for a life of learning. A high-quality education encourages curiosity and independent thinking, fosters an atmosphere of open-mindedness and tolerance, and rewards creativity. A high-quality education feeds the mind, body, and soul and embraces the arts as an integral component to academics.  
What skills have you learned as an IB student?
Peter: I learned that communication is a really big part of being able to get things done. I learned that perseverance is important in MYP to accomplish goals. At Pulaski, there is a design class which teaches important skills like problem solving and troubleshooting. I learned how to figure out new software on my own. I learned how to build various things using power tools which will help later in life.  
What are your goals for the future?
Peter: Actually, I hope to do something similar with native plants at Amundsen High School, where I will be a freshman and where I hope I'll be able to study the IB Diploma Programme (DP) as well. After high school I hope to get a degree in the field of natural resources. I want to work in wildlife conservation and wildlife photography and hopefully inspire others to be conservation minded and have more of an appreciation for nature.  
The IB has taught me so much about the world and I'm grateful that it gave me the nudge to turn my dream of an educational native plant garden into reality.
*Photography credited to Simon Tolzmann