This year's MYP 2 and MYP 3 classes showcased the projects they created as part of their interdisciplinary units through an exhibition called 'Synergy'. The exhibition was a celebration of the collaboration shown and highlighted how students had developed skills and combined ideas from different subjects to find solutions to various problems.
Promoting sustainability
The goal of the MYP 2 unit was to learn about sustainability. Students explored subjects like the carbon cycle, greenhouse effect, and sustainable fishing from a scientific perspective. They also incorporated integrated humanities to delve deeper into sustainability and ways to support it, with a focus on the sustainable development goals (SDGs).
Their final project was creating sustainable 2D and 3D city models using design tools. Working together in groups, they showcased their models during an exhibition. This project was made possible through collaboration and planning between teachers and students, making it easy for everyone to participate and contribute.
Researching global health disparities
In the MYP 3 unit, we learned about global health disparities caused by differences in development between countries. We collected data on health differences, both close to home and around the world, using math tools and considering different perspectives from integrated humanities.
For our final project, we created three street plays to raise awareness about health disparities. The plays focused on the effects of an unhealthy lifestyle, mental health, and menstrual hygiene. We performed these plays in front of our school community. It was exciting to see how our work showed our understanding of different subjects and, most importantly, how we worked together as a team.
Collaboration and planning
To successfully navigate interdisciplinary units and achieve our evaluation and reflection goals, we followed key factors. First, we planned our units by focusing on specific subjects.
Then, we provided opportunities for students to understand why collaboration is important. They were able to connect facts and concepts from different subjects that we studied. Every week, working together across different disciplines helped us plan our lessons and assessments effectively.
Learners' ownership to create products
In order to meet the diverse needs and preferences of all learners, we gave them the freedom to plan and showcase their own projects in exhibits. Working together in groups and collaborating with others helped students create excellent work of high quality.
 A new celebration of learning
This year's exhibition display of our learning journey through various lenses helped the school community reflect on the development of interdisciplinary understanding to demonstrate various approaches of learning and to display learner profile attributes.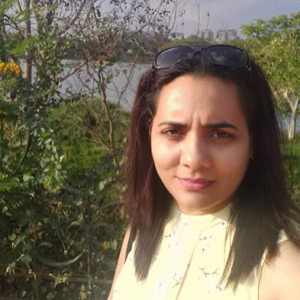 Ruchi Joshi is a MYP science educator and IDU coordinator at One World International School Bangalore. Holding a master's degree in genetics she has been passionately teaching science for more than a decade. She is currently pursuing a master's in counseling psychology to foster a positive classroom environment. Her Motto is to learn with a learner and discover the endless possibilities of knowledge. She strongly believes that interdisciplinary learning promotes collaboration and teamwork as students work together to solve problems and explore complex issues.
Celebrate the power of learning – showcase your MYP projects online again using #MYPX2023