Two schools tell IB World magazine about what they're doing to help the environment and protect the planet
San Diego, US
Pacific Beach Middle School students in San Diego were inspired by 2015's Global Youth Service Day to create a number of environmental projects.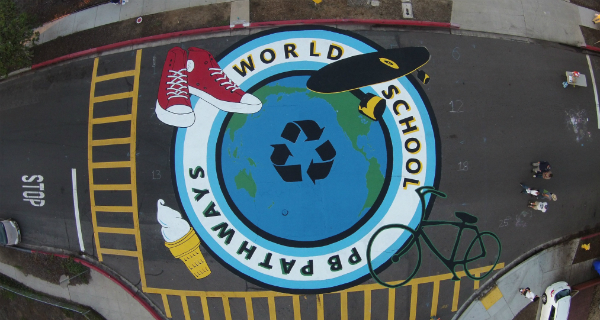 MYP student Chloe Pardo launched a webpage and social media pages, encouraging residents to let their lawns 'Go Brown' to conserve water during California's historic drought.
"My dad turned off the water in our front and back yard because of the severe drought and now our lawn is completely brown. Not watering our yard saves water and money, and I wanted to share this with others."
Chloe's mission received positive feedback. "Most were convinced to stop watering their lawn, and all assured me that they would try to save water in as many ways possible. I plan to continue my work."
Fellow MYP classmates Ellie Legg and Krista Peterson created a 'Service Learning Opportunities' webpage where students can match their interests with service learning opportunities and organizations throughout the community.
MYP Coordinator Jennifer Sims says: " Ellie and Krista were looking for a project they could work on in the summer. I showed them an old guide to youth service opportunities in San Diego that was no longer being funded and was out of print. It was a wonderful resource and very much still needed. The girls decided to create a digital updated guide and their two-year project was born. The webpage was so much work that they recruited a third person, Devin Pelletier to help."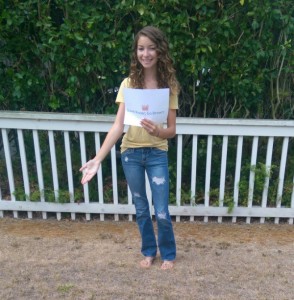 "The project has been very successful," says Ellie. "I always reflect on my work and I'm now working to improve the website by adding a sign-in page, allowing students to sign up for events right from the site. This will improve the functionality as students can better interact with the website."
Meanwhile, Ciara Gray and Sonja Cayetano's murals, called PB Pathways, are currently lining the streets of Pacific Beach to raise awareness of road safety. The idea arose after Pacific Beach Middle School and Mission Bay High School students asked for safer routes to travel to school.
Sims explains: "The community had been looking at ways to make the area more eco-friendly and sustainable. As part of the consultation, students were asked for their views. At an EcoDistrict meeting, where volunteers from all over the US came to the Pacific and Mission Bay area to discuss long-term community plans, we presented the student-survey findings which demonstrated that students wanted safer routes to travel to school."
Following the meeting, the Interim-Mayor of San Diego, offered to fund a project that could implement the suggestions. In response, the Beautiful PB organization – a public non-profit charity formed by a group of PB residents – and school representatives, decided to hold a contest, asking students to design a mural to encourage drivers to slow down and pay attention to newly installed cross-walks near the middle school.
The winning murals were designed and installed by Ciara and Sonja. Both worked with MYP parent Lorie Friet to make modifications to their original artwork so it could form a PB Pathways street mural. Sonja says: "The red Converse shoes, the skateboard, and the bike represent the environmentally friendly forms of transportation. The ice cream cone is for the local ice cream store, Mr Frosties, which is located very close to the mural.
"The environmental concept and significance is portrayed by the globe, which is the focal point of the mural and represents one of the most important themes in the mural," she adds. "The earth symbol also portrays this message on a wider and more global standpoint, meaning that not only should we preserve the health of the PB community and its environment, but we should spread the same message to all countries and areas of the world."
Neighbors, teachers, and fellow students love the mural. "The dramatic impact, aesthetic improvement, and powerful sense of community the mural provides has greatly affected the lives of those in my community and allowed them to become aware of the needs of our neighborhoods," says Sonja.
Cairo, Egypt
In Egypt, over 26 millions tons of garbage are generated every year but only 20 per cent is collected and recycled. The rest is left in a pile on the streets.
While Zabaleen (meaning "garbage people") have informally collected the rubbish, Wasil Rezk, an IB Diploma Programme student at the International College Spain, felt more needed to be done.
"Being born in Cairo and frequently visiting every summer, I found trash everywhere," he says. "For many years, I wanted to help change this issue but I always hesitated. Even though I did community service work in over 10 countries, I felt Egypt would be a completely different experience."
However, following the 2011 and 2013 , which saw protests against the government, Wasil was inspired to create the Clean & Green Egypt campaign. The initiative, which later became a Creativity, activity, service (CAS) project, aims to eliminate the country's excessive garbage problem by transforming the culture's mentality towards how 'trash' was dealt with, both in terms of its disposal and the potential for recycling.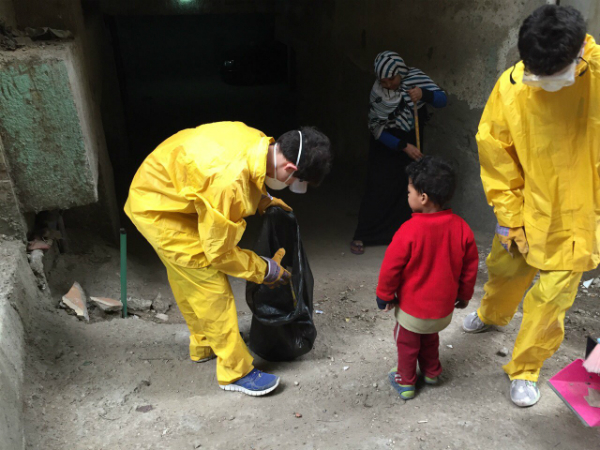 Wasil viewed these protests as a sign of change. "Many locals were in high spirits and motivated to progress. It was a great time to start the campaign," he says.
In preparation, Wasil researched previous campaigns. He found they were unsuccessful because they encouraged people to just clean, rather than an attempting to change the mentality first. Wasil decided that the main target would be the younger generation as they can better influence the next generation.
"The objective was not to just clean but to create an inspiration for everyone to clean, at least in front of their houses," he says. "However, more importantly, the long term objective was to establish a functional and sustainable waste disposal system that involves recycling."
Wasil traveled to Egypt with two friends and held several fundraising events to buy cleaning equipment. He also met the Consul-General of Egypt to Madrid to discuss security concerns and what official procedures or permissions were needed to clean in public places.
When the team first started cleaning a neighborhood in Giza called El Omraniya, the residents were confused. Wasil says: "Our yellow coveralls were quite bright in contrast with the concrete jungle of Giza. The idea that people were cleaning the streets voluntarily shocked them. When we told them that we were cleaning for the community and not for money, they were inspired to help."
By the end of day one, the team had collected massive amounts of garbage and helped the garbage collectors load it on to their truck. "The next day, the number of collectors doubled," recalls Wasil.
With the money leftover from the fundraising, the team bought four garbage boxes for neighbors' homes, as well as bins to leave in their cars to avoid littering. To accomplish the 'green' part of the campaign, the team planted several plants in the neighborhood.
"In one day, we were able to encourage many residents to help clean with us and show appreciation to the garbage collectors," says Wasil.
Their work didn't end there. In 'Garbage City', where the garbage of Cairo ends up, the team started an initiative with energy company Solar Cities to implant bio-gas units which are generated by organic waste.
"Now the garbage collectors can use the organic waste for a heating system. The long-term goal is to implant bio-gas units for an entire village – we have already started planning this."
The project continues its fund-raising efforts and many IB schools around the world offer Clean & Green Egypt as a CAS opportunity.
"I'm planning to continue this project after the DP," says Wasil. "When I attend university, I will have an even bigger network and more resources to continue my campaign. I'll also make the campaign a registered foundation so it can become a more recognized organization. Then it will be easier to expand projects on a much larger scale."
---
What environmental issues has your school tackled? Let us know: email editor@ibo.org