IB World magazine speaks to several schools about how they express international mindedness in new and exciting ways 
IB World Schools across the globe teach their students the importance of understanding the diverse cultures and traditions the world has to offer. But a handful of schools have taken the concept even further by teaching students how to be internationally minded in unconventional and enjoyable ways.
The mosaic
Wilton Manors Elementary School in Florida, has created a tile mosaic in its courtyard that lists the IB Learner Profile attributes. The mosaic aims to encourage students to have these traits in the backs of their minds and embody them.
Lori Goldsmith, Primary Years Programme (PYP) and Magnet Coordinator, believes that the project has "laid the foundations for developing a lasting reminder of the IB Learner Profile."
The project began when the school's Principal Melissa Holtz announced that she wanted to make the courtyard more visual, and art teacher Cindy Tkach brainstormed how to go about it.
Tkach knew she wanted to get students, parents, guardians, and the local community involved, and as the courtyard had a focal point of several pillars, she decided that this would be the ideal spot to dedicate the pillars to the attributes of the learner profile.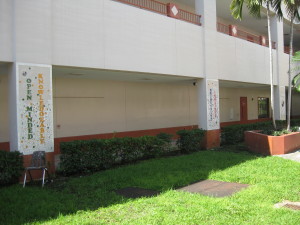 "It was a truly collaborative effort. Every student and many adults in the school and community took part," says Goldsmith. "Students were thrilled to be creating a representation of international mindedness that will last for generations."
The school's student council is currently looking into more ways to utilize the mosaic, perhaps allowing students to self-assess by standing near the attribute of the IB Learner Profile they demonstrate best, or the one where they feel improvement is needed.
The news programme
News stories also help Belvedere Elementary School students, in Falls Chuch, Virginia, become internationally minded. Fifth-grade students become news presenters and host a show each Friday morning, covering news that may affect, or be of interest to fellow students.
The show features an international mindedness component, and students research an international news story and create a slideshow with photographs to deliver to the school.
One of the stories covered, for example, was the Ice Hotel in Jukkasjärvi Village in Sweden being built and opened to guests in December 2015.
"Teaching international mindedness is just like anything else; if you make it fun, students will remember it. Although international mindedness isn't really something to remember, but rather a way of thinking, so it does need to be engaging," says librarian Marcie Atkins.
"Knowing that there is a broader world outside of our community helps students to think about their place in a global society. That will ultimately help them become successful," she adds.
How to foster international mindedness in your classroom
The International School Ruhr, in Essen, Germany, and Seoul International School in South Korea share tips on how you can make learning international mindedness fun
Where to start?
Students in the 2nd Grade at the International School Ruhr are introduced to international mindedness through a combination of activities and conversations.
Celebrate diversity
The 'Who We Are' unit at International School Ruhr encourages students to research their cultural roots, helping them understand why people are different, as well as people's attitudes towards those differences.
The school also has a unit on celebrations, which touches upon how people celebrate special events in different countries.
Yuniarti Santosa, PYP Class Teacher, explains: "Through the units of inquiry, students develop the understanding of international mindedness and are encouraged to make a connection between what they learn to their lives."
Professional development
Seoul International School introduced a professional development programme around teaching international mindedness for every member of staff. Amy Valerio, Middle and High School Vice Principal, says: "We had discussions about what we believed international mindedness is at our school, and created a definition of international mindedness for us."
Curriculum design
Teachers at Seoul International School identified areas in which they could teach international mindedness and aspects of the curriculum that could foster growth for additional discussion. The main areas include: being able to think from different perspectives, being open-minded, empathetic and reflective, communicating respectfully, and considering your impact on the wider environment.
"Being open-minded, empathetic, reflective, respectful, and considering their impact on the environment, are attributes everyone should have," adds Valerio.
Santosa outlines that International School Ruhr takes every opportunity to promote international mindedness in the curriculum. She says: "During our collaborative planning, we ensure that the learning experiences we plan promote international mindedness whenever possible. We have to make sure all students have equal opportunities to share their beliefs, ideas and opinions in any ways they feel comfortable with."
Social media and technology
Students at International School Ruhr connect to other schools around the world, using Skype or Padlet, so they can comprehend how others speak and think differently.
---
We are going to be engaging with members of the IB community about International Mindedness over the coming months. Please share any thoughts and ideas you may have about this topic and look out for opportunities to share your stories with us! Email: Editor@ibo.org