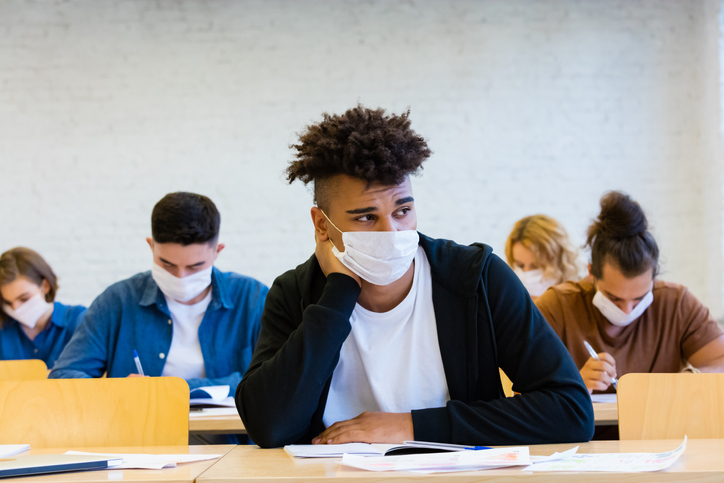 The COVID-19(Coronavirus) outbreak has created the largest disruptions in teaching, learning and assessing, the world has ever seen. The massive school closures and lockdowns in response to COVID-19 have had a severe impact on education worldwide. Traditional learning methods and face-to-face learning were replaced by online learning and virtual classrooms. The global educational community joined forces to overcome the new challenges not only to maintain the continuity of learning but also to conduct the examinations.
In this framework, most of the IB World Schools were able to administer the November 2020 examinations successfully by following the government mandates and local conditions to ensure the health and safety of all candidates and all persons tasked with supporting the delivery of IB examinations.
"Firstly, we ensured that our students arrived at the exam venue on the correct date and time, considering that parents were reluctant in terms of COVID-19 SOP's and arrangements", commented Hina Fakhar Chaudhry, the MYP coordinator at TNS Beaconhouse. She continued, "school management ensured the health and safety of students and staff involved. The teachers made themselves available beyond their working hours to facilitate the students virtually and conduct practice e-assessments. The students and families were anxious before the assessments, however, they shared positive feedback once the assessments concluded".
"The [Westwood International School] Community (MYP-five teachers, parents and students) were fully prepared for the assessments. We made it the 'Mission Possible' with the cooperation of parents, students, educators and mainly the support staff. The aid of the support staff … made it possible for the students to sit these assessments in a safe, well- sanitized environment with regularly cleaned school laptops", says IB Coordinator, Anandhi Lakshminarayanan.
"Firstly, we held parent and student meetings and emphasized that their safety was prioritized and that the students shouldn't hesitate to be absent from the exam if they had any symptoms of COVID-19". Most importantly, the IB coordinator Kazumasa Aoki notes, "The trust from staff, students and parents to the school leadership team and to the IB organization was a vital factor to maintain safety during the exam".
"Students were surprised by the skills of the teachers in terms of the use of technology and the time in which the team has been able to adapt to the change in order to give them the most effective support for the preparation of the November 2020 session", added the IB coordinator Nadia Salmon.
"It was a steep learning curve," said Deputy Principal/ACS(I) Ms Chock Siew Hwa. "Teachers not only had to transform into filmmakers of sorts, but they also had to learn how to keep the content engaging through a screen".
If you enjoyed this story, consider reading more below: