Tanat (Johnny) Tungsubutra, an International Baccalaureate (IB) student undergoing the Diploma Programme (DP) at Bangkok Patana School, has shared his inspiring story with us. Johnny's journey began with his dedicated research on how rural Thai communities are impacted by climate change. As part of his creativity, activity, service (CAS) experience, he had the opportunity to visit the Suphanburi People Protecting the Environment Foundation – an organization known for its environmental advocacy. This experience allowed him to further deep dive into his research.
In this blog, Johnny carefully explains the remarkable power of rice fields and how using special techniques to grow rice can positively impact the environment. From preparing seedlings in special trays to adopting throwing techniques for planting, Johnny's immersion in the foundation allowed him to observe the potential of rice fields and creativity in agriculture and in environmental preservation.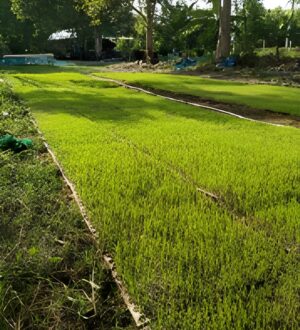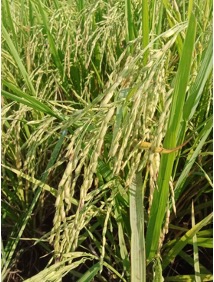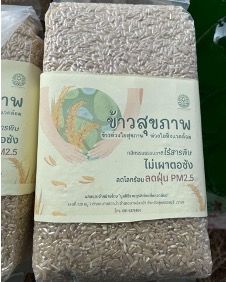 My story begins last summer when I began researching how environmental changes are affecting rural Thai communities. After reaching out to the Suphanburi People Protecting the Environment Foundation, Ms Peerada Patitus (Khun Add) – the organization's founder and a dedicated environmental advocate – kindly invited me to come and see their work first hand.
We left Bangkok on a fresh Sunday morning, reaching Suphanburi in less than two hours. Khun Add enthusiastically showed us around while explaining their mission and diverse projects. The facilities included a space for converting plastic into gasoline using an innovative process called pyrolysis that regulates carbon monoxide emissions by minimizing the amount of oxygen involved. I was especially impressed by the massive fermentation tanks that culture microorganisms for biological wastewater treatment. Khun Add also produces commercial biofertilizers using organic waste collected from fresh markets around the district.
Sounds like a ton of smelly waste, right? As it turned out, the facilities were pristine and the air was gloriously fresh, making it difficult to imagine the smoggy skies of Bangkok looming just over the horizon.
During the meeting, Khun Add mentioned an ongoing agricultural project that immediately grabbed my attention. In Thailand's agricultural regions, rice cultivation occupies the largest area of land use of all crops. After the harvest season, farmers often burn the rice stumps to clear the land – a major contributor to the rising PM2.5 levels already among the highest worldwide. For generations, my ancestors were rice farmers, and I finally had an opportunity to literally reconnect with my roots.
To develop a sustainable alternative to crop burning, and with Khun Add's guidance and support, we spent the past year developing a rice farming pilot project in Suphanburi. The initiative aims to promote sustainable agriculture and generate economic opportunities for local farmers by replacing crop burning with microorganisms that can decompose rice stumps into organic fertilizers. We wanted to support a sustainable transition away from chemical fertilizers, which are not only expensive but degrade soil and crop quality.
With Khun Add's support, we identified a suitable plot of land for the pilot project, measuring approximately four rai. In late 2022, we faced a major setback due to unseasonal flooding, forcing us to dramatically alter our approach. Our original strategy focused on using a microorganism named Rhodosac to decompose the rice stumps. However, after weeks beneath the floodwaters, the stumps had already decayed naturally.
Another challenge stemmed from our focus on chemical-free and pesticide-free farming. The crops were threatened by a fungus called downy mildew, weeds, golden apple snails, and green rice leafhoppers. However, perhaps due to a combination of good luck and the absence of chemical pesticides to throw off the ecological balance, the ecosystem miraculously balanced itself as the pests were taken care of by other natural predators.
We prepared rice seedlings using plastic trays containing hundreds of one-inch wells filled with a special chemical-free soil combined with charcoal and manually added unmilled rice to the soil. The seedling trays were kept in sunlight and regularly watered, and after two weeks we had a batch of four-inch-tall seedlings ready for transplantation. The seedlings' root systems were intertwined in the wells, so we could speed up the process by removing bunches of six to eight seedlings at a time with their roots and soil intact. Ideally, using this technique would produce strong seedlings and reduce the need for chemical pesticides during the planting season.
Finally, Planting Day dawned. We invited primary students, teachers, and farmers from the local community to help. We planted using the 'throwing technique,' scattering seedlings like tiny marbles across the field.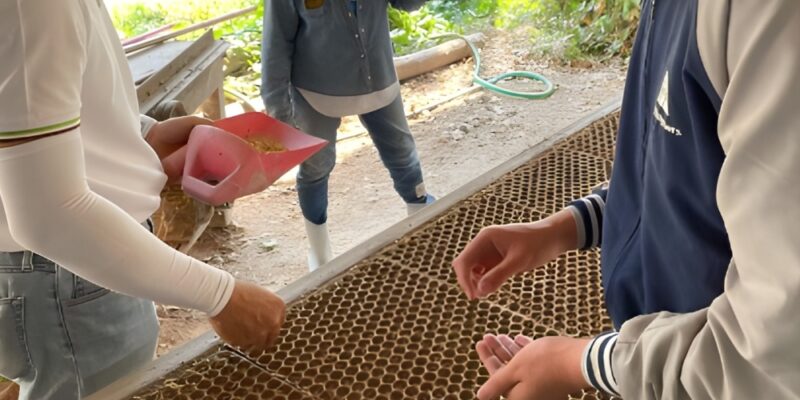 Three months later, the crops were a meter tall with golden grains and ripe for harvesting. Rice yields are traditionally measured in 'buckets' per rai, with one rice bucket equalling approximately 20 litres of unmilled grains. Although we had projected 35-40 buckets per rai, we exceeded expectations, yielding approximately 50 buckets per rai. Encouraged by this promising beginning, we are currently refining our techniques and a second crop is currently underway. We are also developing an educational outreach programme to engage rural rice farmers and persuade them about the benefits of shifting toward sustainable agriculture.
Despite Thailand's rapid modernization and industrialization, in many ways, agriculture remains the backbone of the nation. Unless action is taken, accelerating climate change in the form of suffocating heat waves, extended droughts and air pollution will only worsen in the coming years. Just like farmers require balanced ecosystems for healthy harvest, our society needs a 'learning ecosystem' to promote sustainable practices. Despite the daunting environmental challenges we face, as the ancient Chinese proverb goes: "The best time to plant a tree was 20 years ago. The second-best time is now".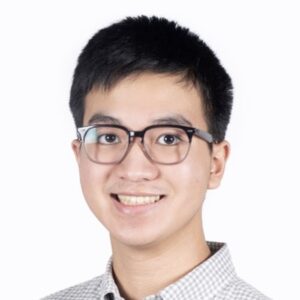 Tanat (Johnny) Tungsubutra is a current Year 12 student at Bangkok Patana School. As Secretary of the Student Environmental Committee (SEC), Johnny has launched school-wide environmental initiatives including the Patana Recycling Pledge and a 'no idling' policy within the school's car park areas to reduce air pollution on campus. Outside of school, Johnny works with the People Protecting the Environment Foundation in Suphanburi province to support a rice farming project aimed at developing sustainable alternatives to crop burning in rural Thai farming communities.
In recognition of his efforts, Johnny was awarded the Global Recycling Hero award from the Global Recycling Foundation in 2023. After graduating from Bangkok Patana School in 2024, Johnny looks forward to applying the knowledge and experience he has gained from promoting sustainability in Thailand by engaging in university research to identify innovative solutions to global environmental challenges.