Determination, passion, a growth mindset, critical thinking, innovation, and action: undoubtedly, key factors to sustainable entrepreneurship and a better world. However, how are they developed in schools across the continuum, allowing opportunities for students to apply them in and outside their learning community? 
Reflective practice
At Sekolah Ciputra, our continuum International Baccalaureate (IB) school in Surabaya, Indonesia, we started our reflective journey by analyzing how impactful student action had been; what inspired students and led them to act, as well as what prevented them from taking a stand and acting. The results from our internal research revealed: 
Lack of skills application: students had creative and innovative ideas but did not carry them through

 

A focus on entrepreneurship to make a profit

 

Underestimation of personal talents: the thought that acting through sports or the arts, for instance, was not as effective as acting through more 'serious and respectable' ways, such as formal presentations

 
The first connection we made was how the IB ATLs are connected to sustainable entrepreneurship – not any type of entrepreneurship, but sustainable: it transcends green business and making a profit. It involves beyond-the-box solutions for economic, social, and environmental development. We also understood that sustainable entrepreneurship is not only a mindset, but also a skillset. It does not only involve the realization that innovating and creating something for the community should go beyond the self; it also requires effective communication, critical and creative thinking, collaboration, principled research, and well-developed self-management skills. 
As a next step, we felt the need to empower teachers to explicitly teach the ATL skills, so we mapped them out across the continuum. By doing so, teachers knew exactly what skills were being targeted at each grade level, and we already started noticing changes in teaching and learning as well as in student confidence to act. Simultaneously, our mindset began to shift towards sustainability as we included the sustainable development goals (SDGs) in our curriculum. Nevertheless, questions were raised as we reflected on our teaching practice: 
What are the specific indicators that students are developing their communication, thinking, research, social, and self-management skills in each grade level?

 

How do we ensure that the ATL skills and subskills are being taught according to their developmental stage?

 

How do we ensure both students and the community understand what each ATL skill and subskill is all about?

 
What we learnt
'I can' statements to teach ATL skills and subskills have proved to be more meaningful and understandable for our learners. In addition, they work as specific indicators based on child developmental stages and are shared with and understood by the whole community, as in the example below. The extra benefit is that they work together with the attributes of the learner profile we strive to develop. 
Investing in the explicit teaching of ATL skills by modeling, supporting students' comprehension and their thinking process, and providing opportunities for real-life application across the continuum is beginning to pay off.  
We have observed more specific, sustainable entrepreneurship around our community, which is the reason for great pride and more food for thought, which resulted in the creation of the following blueprint: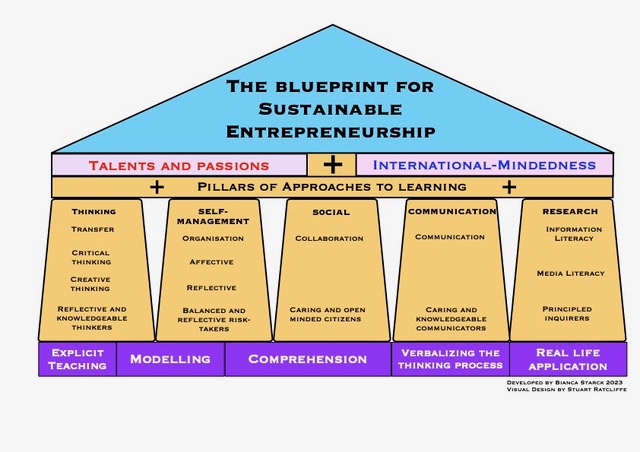 Finally, there was a strong commitment to promote and encourage the abilities and interests of our students, which was revealed through their actions. 
Final thoughts
Expecting students to act without empowering them with a sustainable entrepreneurial mindset and skillset while solely highlighting performance does not make the world a better place. 
Valuing efforts and highlighting strengths, explicitly teaching, and modeling the IB ATL skills clearly for all to understand and providing application opportunities where students can make a difference has strengthened our community and made our bit of the world a more sustainable place. 
This journey has been a whole-school effort that started five years ago and still inspires us to keep learning, unlearning, and growing.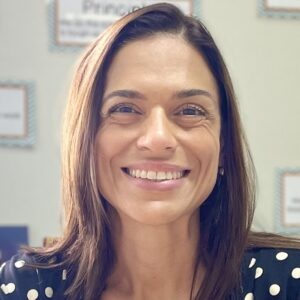 Bianca Starck is a passionate educator who has been a member of the IB educator network (IBEN) since 2015, serving as a workshop leader, site visitor, and programme leader in more than 10 countries. Bianca has been teaching internationally for 20 years, from Early Years to Upper Primary. She is currently the ATL Coordinator at Sekolah Ciputra in Surabaya, Indonesia, where she collaborates with the Programme Coordinators to ensure consistency across the curriculum. Bianca also leads the ATL professional learning community in her school and, together with her team, strives to inspire and empower students to become sustainable entrepreneurs.