As a passionate learner, I strongly believe in the power of knowledge and compassion. I was determined to find a way to make a positive impact while pursuing my own interests. That is when the idea struck me – organising a business conference that would not only bring together experts from diverse fields but also provide invaluable lessons for aspiring young entrepreneurs. 
Planning and implementing
The conference was part of my creativity, activity, service (CAS) project, requiring over four months of meticulous planning and execution. It started with the basics, such as creating a proposal PowerPoint and presenting it to my school principal. To ensure a diverse and multicultural event, I aimed to welcome youth entrepreneurs from different schools and universities. The theme of resilience emerged as the perfect choice to complement our journey into the future. 
Overcoming challenges
Throughout the journey, I encountered challenges that tested my skills and perseverance. Securing a large audience was a daunting task, but with determination, I leveraged LinkedIn to connect with teachers and students from various schools across the UAE. Building a network of over 500 connections on LinkedIn helped tremendously in promoting the conference. Additionally, I had the opportunity to feature in a radio interview, taking the marketing of the event to another level. Arranging for food and beverages required resourcefulness, and my previous job shadowing internship provided a solution as I convinced a company to sponsor the event in exchange for brand exposure. 
Leadership, communication, and learning
The experience taught me invaluable leadership and oratory skills, enabling me to orchestrate the event successfully. I am proud to have created a platform where the audience could interact with guest speakers and panellists. Witnessing the flow of the event, with insightful questions from the audience, was a rewarding return on my investment. Throughout the process, I embraced the attributes of a risk-taker and honed my communication skills to maintain professionalism with CEOs and panellists. Discussing abstract concepts like resilience and sustainability in different industries across the UAE fostered my growth as an open-minded learner. 
Positive impact and looking forward
The post-conference feedback from guests affirmed the success of the event. Students expressed motivation and a desire to implement the speakers' advice into their daily lives. As I enter IBDP 2, I plan to take on yet another venture. After undergoing a meticulous application process, I have successfully obtained the TEDxRWA Youth license for our school. This achievement marks a significant milestone, as it presents another remarkable opportunity for the youth within the Dubai community to share their ideas and experiences on the esteemed TEDx platform. 
Learning from industry experts is a crucial step for the youth of our generation to develop essential entrepreneurial skills and thrive in the future. 
Organising a multicultural business conference provided me with an opportunity to give back to my society while pursuing my passions. It showcased the power of youth entrepreneurship and the impact it can have on shaping our future. The journey taught me valuable lessons in leadership, communication, and resilience. By creating a diverse platform for learning and inspiration, I aimed to empower fellow students to reach their full potential. As I reflect on this transformative experience, I am excited to continue my journey of personal growth and to inspire others to embark on their own entrepreneurial endeavours.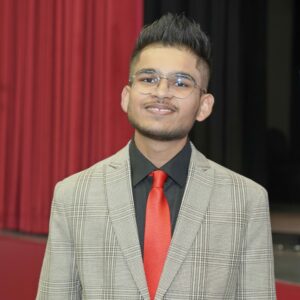 Vatsal Piyush Shah is a dedicated individual with a clear career path in computer science and economics. Not only is Vatsal focused on his studies, but he also prioritizes maintaining a healthy lifestyle. During the pandemic, he successfully embarked on a transformative journey, shedding excess weight, and becoming a more active and healthier version of himself. Vatsal 's drive extends beyond personal growth; he is committed to creating opportunities that benefit not only himself but also those around him.