---
Proudly telling the world about #generationIB in our 50th anniversary year
---
PYP students raise awareness of the importance of being kind and compassionate towards stray cats and dogs 
While inquiring into 'animal welfare' for their PYP Exhibition, students at Gandhi Memorial International School, Jakarta, Indonesia, were saddened to learn how local stray cats and dogs are treated.
In many areas in Jakarta, they're kept in cages 24 hours a day, seven days a week, or they are disowned and left to die on the streets.
PYP students Aleyna and Khareena comment: "Stray dogs and cats are not an issue in the area, but ignorance and the cruel attitudes towards innocent strays is a problem. Many people also lack the basic sense of responsibility towards their own pets, too."
Education is one of the most important tools to change this situation for the better," they add.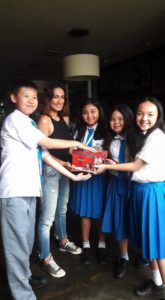 Aleyna and Khareena, and their classmates Jaydee, Ashima, Jahnavi, Nicholas, Tanya and Alexandra encouraged their family members and friends to donate, and also organized school bake sales to raise funds to get 24 local cats sterilized and vaccinated. Students raised approximately USD$300, and donated half to WWF Indonesia.
The students are continuing to raise awareness in the community on the importance of being kind and compassionate towards animals. They have displayed posters around the school to educate fellow students on how to take care of their pets. They are also distributing brochures around the local area, which include information and tips on responsible pet ownership.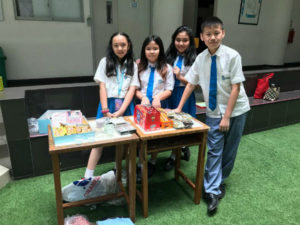 Determined to take their mission nationwide, students wrote a letter to the Governor of Jakarta, urging for strict laws against animal cruelty and to provide effective provisions for strays.
"By feeding and attending to the medical needs of these strays, students are setting a very good example for others to learn from and follow," says PYP Coordinator Rachna Johar.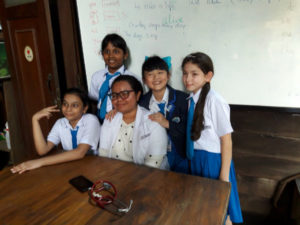 "In addition to being caring, the students have been courageous," she adds. "It's not easy to feed the strays in a community where people consider these cats and dogs as pests and feel that feeding them will only increase their numbers. When someone objects or comments, they politely explain their cause."
This article is part of a series of stories from IB World magazine that bring to life the wonderful initiatives undertaken by IB students and educators from around the globe. Follow these stories on Twitter @IBorganization #IBcommunitystories. Share your great stories and experiences: email editor@ibo.org.