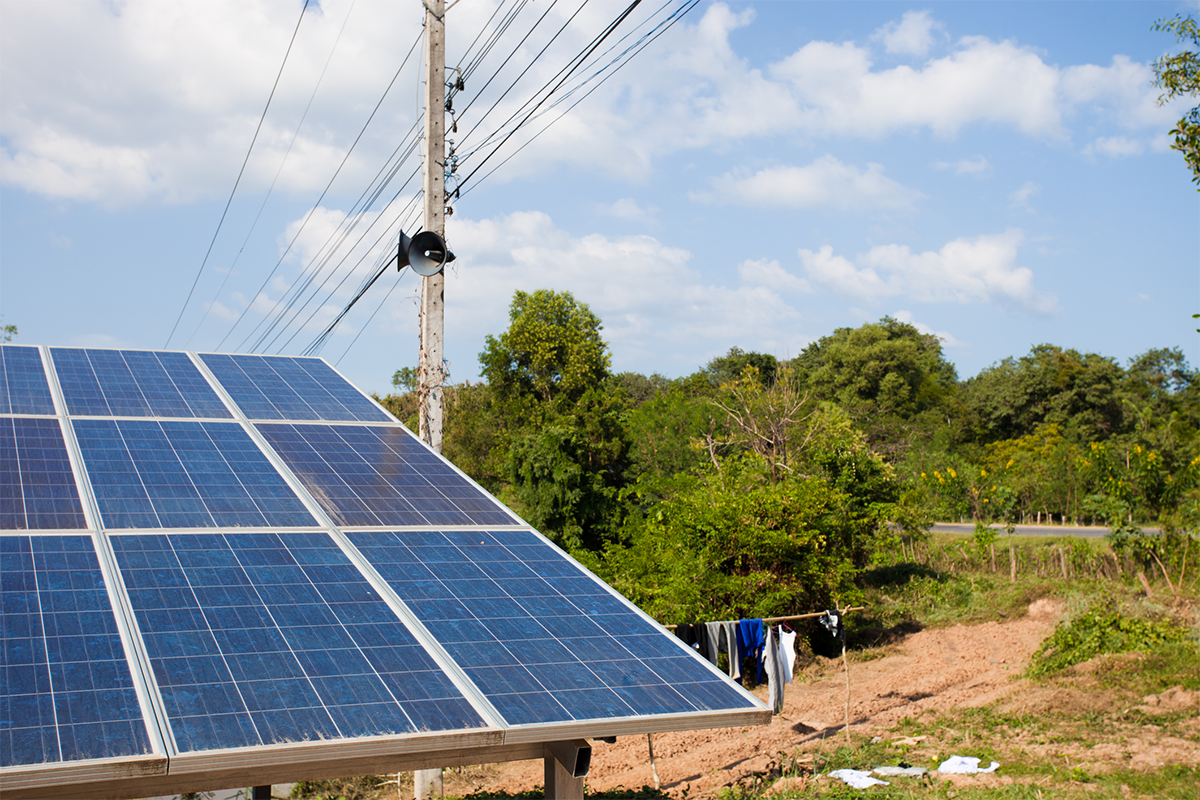 GoSol.solar brings solar thermal energy to small and medium entrepreneurs in developing and emerging markets. They also offer educational courses to train aspiring entrepreneurs, empowering youth leaders to go solar. Urs Riggenbach has been working with GoSol.solar since its founding, landing there immediately after completing his university studies at the College of the Atlantic in Bar Harbor, Maine, USA. He's now the Chief Operating Officer and shared his journey for our Q&A below.
"I realized the need and impact of renewables … and couldn't ignore the fact that the energy transformation in the developing world would mean a more sustainable future for all."
What inspired you to join this entrepreneurial adventure?
While studying at UWC Mahindra College in India, I realized that that most energy consumed in the developing world is in the form of firewood and charcoal, and to a minor extent fossil fuels where affordable. The energy transformation in the developed world is progressing because of the technology, finance and infrastructure in place, but there are two-thirds of the world that is less developed and largely lacking access to renewable energy.
Developing countries need energy solutions that are low-cost and decentralized, yet powerful enough to replace the fires currently used to power much of the economic activity. The high-capital, centrally produced technology that the developed world relies on for renewable energy does not seem viable in this current reality.
Switching to renewable sources of energy is difficult even in the developed world as the return on investment of current technologies can be more than 15 years. The developed world still accounts for most of emissions but has been outsourcing "dirty" industries to the developing world. Having spent two years in India during my IB, allowed me to see this first hand. I realized the need and impact of renewables in the developing world was much higher than in the developed world and couldn't ignore the fact that the energy transformation in the developing world would mean a more sustainable future for all.
I then became a founding member to the diverse team at GoSol.solar. We were all familiar with the reality of energy in the developing world, and each wanted to use our skills, from engineering to social work, to create change.
I am continually inspired by our work at GoSol.solar as we look back at a few years of tireless research and development in both high-tech facilities and in the field. We have built amazing partnerships in the NGO, corporate and government sectors and most importantly have empowered real-world entrepreneurs with our solar thermal technology in Kenya, Uganda, Tanzania and Brazil. What's exciting here is that we have not only developed a new technology but the educational services surrounding the technology that help build the ecosystem needed to scale the solution rapidly. In the coming years, we'll launch our products on the market so that farmers and SME's can boost their income, rely on clean energy and protect the environment at the same time. Currently we are seeking impact investors to join us and achieve that goal.
"If changing the world was easy, it would have been done before. Stay persistent!"
What is the most important business lesson you've learned in the past three years?
One of the most important lessons I've learned is persistence. Having high goals means you'll have to stay motivated to deal with much rejection and failure along the way. You'll be rewarded with learning opportunities, a growing passion and a stronger sense of purpose and confidence as you progress. It helped me to hear that "Yes, it is tough. It is hard to fail. It is hard to get declined and rejected. It's totally normal to feel like this. If changing the world was easy, it would have been done before."
Too often we may feel lonely in our struggles. Perhaps because today's attention seeking media is showing us images of successful change-makers, with easy successes that may not be revealing the whole difficult truth. Images of poster child change-makers that are smarter, faster and more successful than you are going viral. Don't let that discourage you. Changing the world takes persistence first and foremost. So, stay persistent. And as you do so, start building and trusting your team! Having an amazing team full of commitment and energy will in time multiply your efforts.
In what ways has an IB education supported your career?
The IB allowed me to combine studies of economics alongside environmental and social studies at a young age, and in doing so really helped foster a cross-disciplinary mind. The real-world problems we encountered and being able to combine our knowledge on various topics, from economics to cultural understanding, helped me structure my social entrepreneurship path.
Later, during my Human Ecology studies at the College of the Atlantic, USA, I was able to take classes in social entrepreneurship, and deepen my knowledge. I was also keen to expose myself to a wide range of skills and fields since I had been exposed to interdisciplinary studies through IB.
More stories from this series about social entrepreneurship: