Two schools embarked on a learning journey that fostered community engagement and cultural exchange.
Randy Grillo, principal at Mandela International Magnet School in New Mexico, and two colleagues recently accompanied several of their students on a trip to their sister school in Mexico, Liceo Federico Froebel. The Liceo has just over 700 students in grades pre-kindergarten through grade 12.
Randy shared how the life-changing school exchange in Oaxaca, Mexico, brought different perspectives and cultures together, resulting in an even stronger sense of community.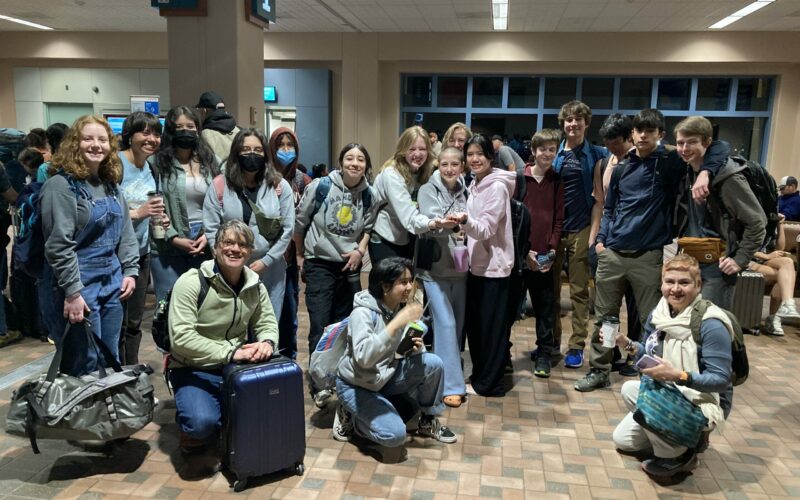 Three of our 15 travellers had never been outside the United States and five had never been on a plane, yet they travelled like seasoned veterans. We were on our way to visit Liceo Federico Froebel, a private International Baccalaureate (IB) school located a few minutes from downtown Oaxaca, Mexico.
After several hours of travel, we landed in Oaxaca, Mexico to sunbaked hills and two of the Liceo's directors, Nancy Villanueva and Azucena Arellano Alarcón, waiting for us with sandwiches, a welcome sign, and a 20-passenger van. When we arrived at the school, our visiting students were received by local families and taken to their homes.
I was humbled by the hospitality of the people that we were coming to know. On top of their regular duties, the directors spent months planning this exchange and ensured a warm welcome for our students, our art teachers, Susanna Mireles-Mankus and Kelly Rider, and me.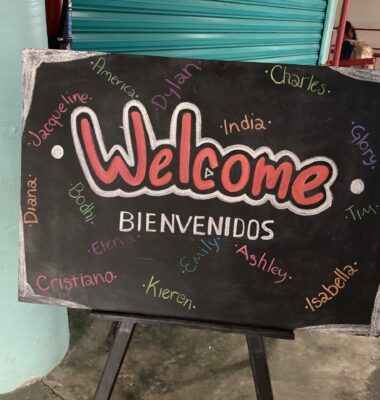 We spent our first two days at the Liceo, and we already felt that we had grown. Our students worked with every grade level in the high school through their English and arts classes. It was fascinating to hear students from both schools and in two languages speaking of the same IB requirements: Theory of knowledge, May IB exams, the extended essay, and creativity, activity, service (CAS).
On the "Day of the Samaritan," the entire school dressed in traditional Oaxacan clothing and handed out natural fruit waters, ice cream, and traditional Oaxacan candies as an act of kindness. We also saw businesses with signs on the street saying, "Fruit water here," a citywide event.
There is much in the Oaxacan culture of community-building that relates to our school's culture of Ubuntu: I am because we are.
I was touched by the concert that the music teacher put on for the high school. The concert was performed by the Liceo's music students and singers together with our drummer, cellist, violinist, guitarist, and singer. We witnessed the first ever bilateral concert in the history of Mandela International Magnet School. It brought tears to my eyes to remember a sign I saw long ago on the Mexican border – Entre amigos no hay fronteras (between friends, there are no borders). By the end of the assembly, the entire high school – Oaxacans and Santa Feans – were line dancing together.
During the course of this two-week exchange, we explored the relationship between art and science in the nearby villages.  In Teotitlán del Valle we saw Zapotec weavers who used natural dyes and who explained their process to us in three languages: Spanish, Zapotec and English.
In the Centro de Artes, San Agustín, we made paper from natural fibres and used seeds, leaves, and flowers to colour our creations.
We have formed lasting relationships with our homestay partners and staff at the Liceo, making the world feel a bit more connected. Throughout these two weeks, we have also made strides towards creating a better and more connected world for tomorrow.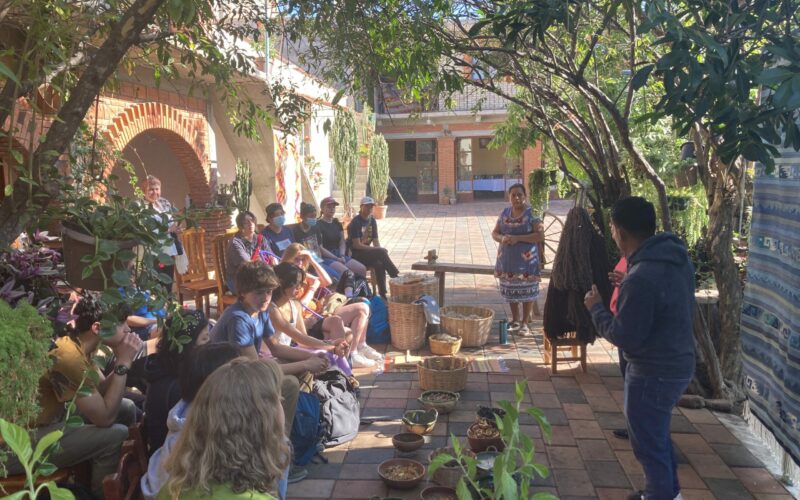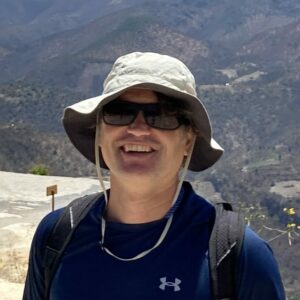 Randy Grillo is completing his fourth year as principal at Mandela International Magnet School (MIMS) in Santa Fe, New Mexico.  Prior to taking on an administrative role, Randy taught Spanish for 22 years, led service-learning trips to Costa Rica and served as Diploma Programme Coordinator.  MIMS – the only public IB school in New Mexico accredited in both the Middle Years Programme and Diploma Programme – enjoys a growing relationship with Liceo Federico Froebel, the only IB school in the state of Oaxaca.