Service learning is a valuable component of the Career-related Programme (CP), encouraging students to create meaningful projects that address the five strands of service learning. One such project is DICE (disability inclusion community for empowerment), undertaken by a team of students at Mahatma Gandhi International School (MGIS) in Ahmedabad.  
DICE is a passionate community committed to empowering and catalysing change for people with disabilities. Their vision is to create an inclusive society that values and celebrates the unique abilities of individuals with disabilities. They focus on promoting inclusion, empowerment, and advocacy through awareness campaigns, skill development programs, a support network, and collaborations with like-minded organisations. Their mission is to unlock the talents and potential of every person involved, providing them with the necessary tools and resources to reach their full potential. 
Through their service-oriented approach, students have acquired recognition and support from government officials, inspiring them to drive positive change. Their commitment to making a difference in the lives of individuals with disabilities serves as an inspiration for all. 
Uniting Students
The challenge of bringing together CP and Diploma Programme (DP) students at MGIS was overcome through the DICE project. By incorporating CP service learning and the service component of DP creativity, activity, service (CAS), it provided an opportunity for CP and DP students to collaborate on a single project. This fostered a strong bond between the two groups, aligning with the IB pedagogy and the values upheld by MGIS. 
Meeting with education minister and chief minister
As the DICE project gained momentum, the team received an unexpected invitation to meet the education minister and chief minister. The meeting served two purposes: to receive their blessings and support and to engage in a meaningful dialogue about the project. The endorsement and recognition from these esteemed figures validated the project's significance and encouraged the team to continue their efforts in promoting disability inclusion and empowerment. 
Exploring government support
During the meeting, the team presented a comprehensive overview of the project, outlining its objectives, strategies, and desired outcomes. They expressed a willingness to collaborate with the government to maximize the impact of their initiatives. The government officials were impressed by the project's potential and acknowledged its importance, leading to official letters of acknowledgment and photographs as a testament to their recognition. 
The team is grateful for the opportunities and resources provided through this valuable connection and eagerly looks forward to making a positive impact in the lives of individuals with disabilities.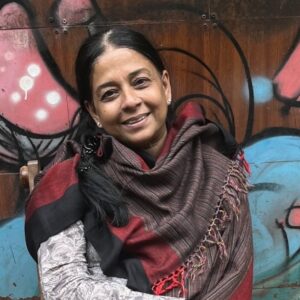 Meenakshi Ganeriwala is IBCP coordinator and BTEC centre head at Mahatma Gandhi International School. She boasts 30 years of experience in national and international corporate and education sectors. She is also an International Baccalaureate Educator Network (IBEN) member, workshop leader and published author.