A PYP coordinator demonstrates his approach to the transdisciplinary theme of 'Sharing the planet'.
As the school's PYP coordinator, I work with teaching teams to ensure that provocations are conceptually based. The notion of teaching through concepts is something that is very close to my own teaching philosophy.
At the beginning of a term the grade 5 classroom teacher was on leave, so that provided an opportunity to involve the students in a new learning direction. Exploring the transdisciplinary theme of Sharing the planet, we created the central idea that "living things need to adapt in order to survive." One of our related concepts is adaptation.
Knowing that adaptation was naturally going to occur in the classroom due to a change of teacher, I thought that the best concept for initial exploration.
Before launching the unit, I repositioned all of the tables in the room and removed all of the chairs. I wrote a note on the board welcoming the children as learners and invited them to embrace the difference.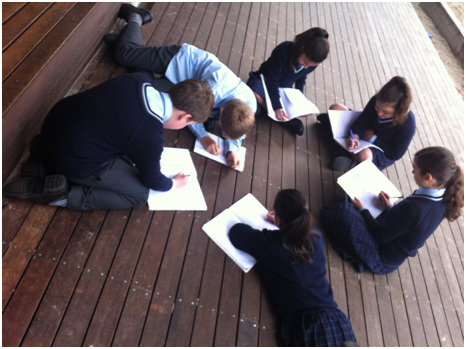 Upon entering the classroom, the students were confronted with an unfamiliar environment. They began to express concern about how they could learn in that space. Anticipating this, I asked the children to follow me to a different place to learn. We went outside to explore various locations, and it was not long before they were ready to express their thoughts on these new learning conditions.
We re-entered the classroom to find it had been altered again (thanks to a colleague). I then let them know it was an adaptation exercise. The students reflected on this and began to ask more questions about why this was happening. Together, we worked to refine their inquiries.
In the next few days, activities were designed for the students to provoke adaptation to new ways of working. I deliberately ensured that the adaptation exercises encompassed different learning content areas. I wanted to reinforce the integrated nature of PYP and inquiry learning in a transdisciplinary manner.
The children experienced and learned more about the concept of adaptation and were now better placed to start tackling the subject of living things adapting to their environment. Not only were they able to experience what adaptation felt like, but they could recall from their own experiences how different factors change or affect the type or duration of adaptation.
—
How do you engage students in understanding complex concepts? Reply below with your own story or send us an article for sharing on this blog. Details for submitting an article are here.
—
Grant Lewis is PYP coordinator at Our Lady of the Nativity Primary School, Aberfeldie, Australia (a candidate IB school). Grant has a passion for learning and loves exploring new ways of engaging children into their learning. He believes that cognitive and affective experiences enhance learning.