This describes my journey into developing a collaborative learning group classroom environment and programme, with a class of grade 1 and 2 students. It outlines the processes involved in helping young students identify and use collaborative learning skills effectively, which was also part of my own growth.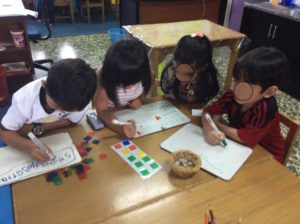 " I wanted a class where all members had more of a stake in co-constructing our learning journey and student agency was significantly increased."
As a Primary Years Programme teacher, I am always interested in ways of promoting a life-long love of learning in students. My journey into collaborative learning and teaching began with a professional development opportunity to study online with two of my colleagues for three months. Our challenge was to learn individually, practice what we were learning in our own classrooms, then build our understanding together through sharing and reflecting with one another in a 2-3 hour meeting each week. This experience of learning collaboratively with colleagues significantly changed my view of learning and teaching and my inquiry practices in my PYP classroom.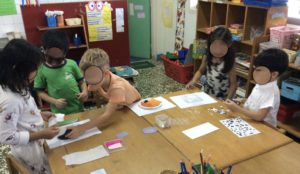 A collaborative approach to learning and teaching seemed to me to perfect fit within the Primary Years Programme.  I therefore decided to build on the exploring I had done during the course and develop a more collaborative PYP classroom programme.  I wanted a class where all members had more of a stake in co-constructing our learning journey and student agency was significantly increased. As a class, my grade 1 and 2 students and I, started by exploring what collaborative learning might look like in our classroom. Questions such as, "How does it feel when we are learning really well?", "How does it feel to help someone else learn something new?", "Who are the people you know you learn well with?" and "How do you know those people help you learn?" were used. These prompted student responses that could be defined in simple behavioural terms, such as "We need to: be an 'active listener' (a skill we also learned), take turns speaking, encourage and help everyone join in, give our ideas, share the equipment and responsibilities, and allow thinking time." From these, we created a class poster we could use when working collaboratively in small groups called Learning Groups.
Unlike normal small groups, Learning Groups are specifically designed for collaboration and the focus is building on, and supporting, one another's learning. As a class, we explicitly practiced collaborative learning by working as much as possible in learning groups, especially on tasks related to our unit of inquiry. We experimented with self, teacher and randomly chosen learning groups of 2-6 students. While students worked independently in these groups they were videotaped. These videos were used to help the class self-reflect on what collaborative learning really looks like when it's happening, including body language, the verbal prompts used, and action taken. The reflective use of the videos also helped us identify how we could know effective learning was happening, and what was most conducive to learning groups working well together, by making comparisons (e.g. about how the groups were chosen and group sizes). Increasingly, I found myself taking the role of an in-depth observer and questioner to aid students in their wonderings and reflections. "I noticed…What might that mean?" was a phrase I used more frequently, especially in relation to social aspects of how the group had worked, but also the knowledge being gained. Reflection was identified as an important part of working collaboratively and making our learning journey more visible. Again, questions such as, "What and who helped you build your learning in this activity?" meant students become more aware of who they learn best with and why. It helped them explore, in a simple way, learning styles, personality traits and individual skills, as well as personal knowledge, and how these can all contribute to co-constructing the learning in a small group.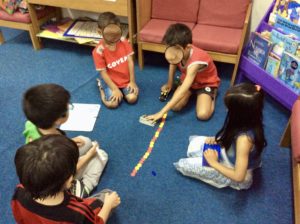 "The shared understanding, that everyone has something of value to contribute to the learning of others, needs to be explicitly developed through discussion, reflections and practical activities. "
What concepts did I learn from this process? Fundamental to effective collaborative learning is the social and emotional wellbeing of all students in the class. The shared understanding, that
everyone
has something of value to contribute to the learning of others, needs to be explicitly developed through discussion, reflections and practical activities. Students who may not normally work best in a group, may not have well-developed social skills or may be more introverted, need special emotional support and encouragement. The whole class needs to be taught to support and value these members of a group effectively, since working with a variety of different personality-types is part of learning to work collaboratively. I found my 6-8-year olds were extremely effective at providing this kind of social and emotional support for one another and learning to work collaboratively. They easily learned to value the huge variety of skills, knowledge and interests that each individual brings to a learning group, and the many opportunities for student agency that this provided. They were able to readily identify and develop traits of the IB learner profile, such as communicator, caring, open-minded and knowledgeable, within the meaningful context of collaboration.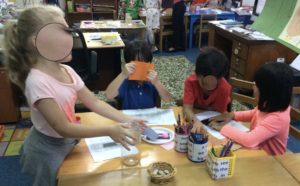 Was collaborative learning really an effective way for students to learn? Absolutely, yes! I was amazed at how much broader and deeper students' learning was when they worked collaboratively in mixed-ability, self-chosen or random learning groups than the groups I would normally have put them in. I noticed dramatic improvements in their skills in communicating, socially interacting, reflecting on their learning and applying the more complex metacognitive thinking skills, as well as growth in their knowledge and higher levels of motivation, whenever learning groups were used. We coined the phrase 'bouncing our learning off one another' which describes nicely the interactive process learners take when starting to learn together from one another. At some point, however, they also become engineers, constructing and building their understanding, so that the sum of their learning is greater than its parts.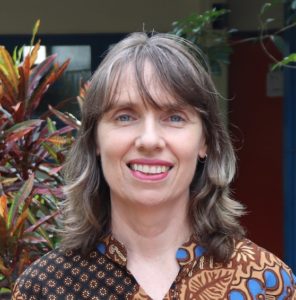 Julie Forman has taught for almost 20 years, 11 of which have been in the Primary Years Programme and 4 of which were as a teaching PYP coordinator. She likes providing a provocative, hands-on learning environment that passes on her passion for caring for one another and the environment. She currently lives and works in Indonesia, with her husband and two children, where she has enjoyed new experiences such as bathing elephants, trekking in the jungle and encountering orangutans.