In this article you will read what and how students learn through play.
Learning through play has undergone a transformation in my lifetime. Young students would formerly have play centres where play was nurtured as the beginning of their life-long learning.The philosophy of learning through play lingers in some schools, but political winds change. A recent article entitled How Finland starts the school year (August 2016) discussed how joy and play are written into the curriculum in the early childhood schools in Finland. Our goal as educators is to create a healthy environment for learning for students of all ages. Inquiry, collaboration, direct instruction, movement and play all have a place.
Lombardi School is in its 4th year as an IB school in California. Transdisciplinary themes require a broad approach to content, driven by students as they use inquiry to explore their world. All of our students are engaging in painting, building and working in collaborative groups which is natural to them as they are allowed to explore their world. Walking through the hallways and visiting classrooms, it is evident that learning through play is what makes our school come alive.
As a performing arts charter, our students play at drawing, sketching, painting, creating, singing, acting or reciting poetry. Every transdisciplinary theme at every grade level includes creativity, whether to study and emulate a particular artist of another culture with 1st graders (6-7 year olds) doing drawings based on Georges Seurat's pointillism style or a project for a summative assessment with 6th graders (11-12 year olds) fashioning their own Egyptian masks.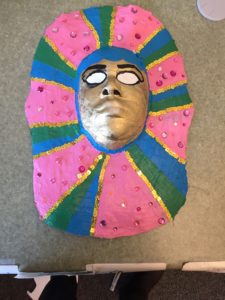 What are students learning through play? They are learning to be risk-takers, to collaborate, to feel and think. They are learning an artist's life and style as they sketch. As they rehearse for a musical play, they are learning to listen to one another for a common performance goal. Hearing the songs being sung during class is common, signalling a joy of learning. During a 100th day of school celebration, 1st graders were challenged to build many different things with 100 plastic cups. In the How we express ourselves transdisciplinary theme, they also designed global landmarks with Legos. These engineering feats helped students learn the necessity of research, balance, design, cooperation and creativity.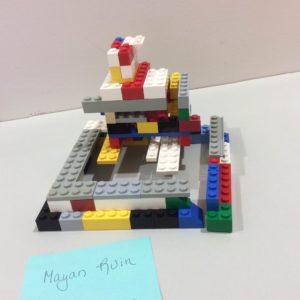 Access to district-provided technology has revolutionized creativity in learning. Apps are available for use with writing, making books, explaining through video and practicing creative mathematics strategies. Our 6th graders learn geometry through creating our school building with geometric shapes. Students learn and create their own presentation on an iPad. Basic research on a tablet or laptop becomes fun discovery. They are learning through play with technology.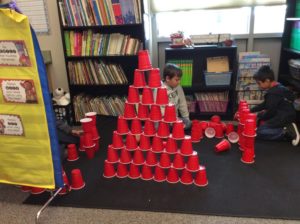 Science and mathematics come alive with play at the centre of the learning. 6th graders recently began a mathematics inquiry into mean, median and mode. To begin the lesson, students wrote down their prior knowledge. At the conclusion of the lesson involving M&Ms candy manipulatives, they wrote what they learned and groaned aloud when the teacher had to stop them from writing after 2 minutes, visibly learning through play!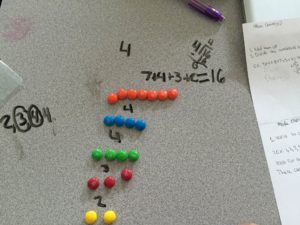 4th graders (ages 9-10) participated in a science experiment by creating a cover to protect an egg from a 2-story drop. Students responded victoriously when their egg survived. They talked about higher elevations and using different materials. Students with non-surviving eggs analyzed what they would do differently, learning problem-solving through play.
2nd graders (ages 7-8) experienced learning through play with their unit on fossils. Simulations helped students learn as they became palaeontologists, learning about reconstructing fossils into skeletons using toothpicks. A field trip to a local museum/fossil dig also brought their learning to life. They "dug" for fossils, identifying what they had discovered. They also created salt-dough fossil footprints.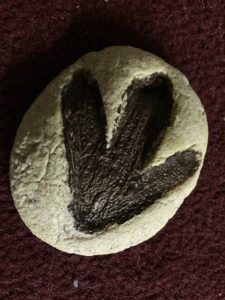 Lombardi students participate daily in active PSPE time, where they exercise, play cooperative games, solve problems to win a game, explore space with their bodies and move to music. They might move about the classroom during work time or pop up or down in response to questions instead of a traditional raised hand. Brain research promotes and supports this type of physical play and movement as essential to learning.
Why are our walls lined with student-created projects, artwork, products of exploration and collaboration? Why do parents line up outside our doors every year to enroll their students in our IB World School? The answer: Lombardi School promotes a daily joy of learning through play.
—
Barbara Gaffrey is a first grade teacher at the Summit Charter Academy, Lombardi Kindergarten-6th grade in the Burton School District in Porterville, California, USA. She has been teaching first and second grade for 31 years, the last four years in the newly authorized Lombardi IB World School. Barbara has been trained in Reading Recovery and is beginning to appreciate the enormous value of technology in student inquiry.