Most teachers probably have some "choice time" built in their weekly schedules. This article looks at how this time can be used to move students toward independent learning and student agency with a few easy adjustments.
The Origin
For several years, I have built pockets of time called "Mish Mash" into my 5th grade classroom. Mish Mash simply meant that "a little bit of this and a little bit of that" was happening at the same time. Generally, a list of choices was put on the board for students, often in a "Must- Do, Can–Do" format. Children who needed to finish things up would, before moving on to the "Can- Do" items which included choices such as Writer's Workshop, Independent Reading, math games, language games, etc. Aspects of Mish Mash varied over the years – the frequency, time of day, format, range of choices, and systems of accountability. But what never varied was the level of interest and engagement on the part of the students. Students would frequently ask, "Will we have Mish Mash time today?" and when the answer was that they would, they'd respond with the proverbial "Yessss!" followed by an exuberant fist pump.
At the start of Mish Mash time, students could be heard asking each other, "What are you doing for Mish Mash?" and then planned out their time together: "Let's do some independent reading for about 15 minutes and then meet to play Bananagrams." During Mish Mash time, students were always very engaged, happily moving between tasks, managing their time expertly. I often marvelled at how enthusiastically the students embraced their learning tasks. What was it about this time that made it so engaging? What was the driving force behind the success of Mish-Mash? Student choice! This became even more apparent when students started to offer suggestions for items on the "Can-Do" list: student voice! This led to even more engagement and more teacher insight into students' interests. Here was the student choice and voice educators were talking about!
Of course, we are all now acutely aware that voice and choice is a part of student agency – a highly valued characteristic we want to develop in our learners. I wanted to somehow build upon what I saw was happening in Mish Mash to create even better opportunities for students to develop agency.
At first, I talked with the students about the importance and value of student agency. I presented the following list: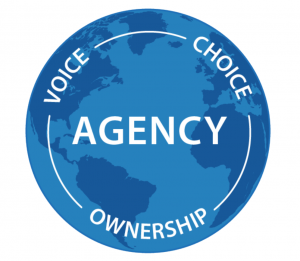 Students demonstrate agency when they:
influence and direct their own learning
make choices
voice opinions
ask questions and express wonderings
communicate understandings
construct new meanings
participate in and contribute to the learning community.
We talked about how these opportunities could be present in an extended version of Mish Mash. We decided to try it out on a Thursday, the day the students are in homeroom the entire day. And that was the start of what the students named Independent Learning Thursday or ILT.
The day starts off with a quick run through of the day's ILT Google Doc. (insert link to sample doc?) The format of the document has been tweaked week after week based on student feedback, but its current format consists of  Must – Dos and Can- Dos. The Must- Dos generally include learning goals, a curated list of learning resources to choose from, and suggested ways to show evidence of learning. There is space for a quick reflective comment upon completion of each task.
Students set about organizing their day, with the aim of completing the Must-Dos and having time for Can-Dos. They make decisions over what to tackle first, what to save until later, etc. This has led to great class discussions in which children share techniques for managing their time:
"I like to start with mathematics because I feel like I have more brain energy in the morning."  
"I like to schedule reading breaks during the day to relax and clear my head."
The children also can create their own "best learning conditions" – in other words, develop metacognition. They are thinking about where to work and with whom to work – alone, with a partner or a small group. During our debriefs, children share what worked and what didn't work:
"It really helped me to work through the fractions task with a partner, but I liked doing the Unit of Inquiry task on my own because I concentrated better on the Newsela article by myself."
"Listening to music, helps me get into my writing bubble."A recent addition to ILT has been for children to plan their homework for that evening. Some children decide to build more Can-Do time into their day and schedule a Must-Do for the evening. Others prefer to have their Must-Dos done and select some Can-Dos for home. Either way, they are accountable to share their plan before leaving school and report back the next day.
The Role of the Teacher
Thursdays have become my most enjoyable and productive day! Often I will offer teacher-led sessions: "Who would like to work on a fractions task together? When shall we meet?" Apart from those sessions, I am floating around, checking in with students, observing and conferencing the entire day. I have found that Independent Learning Thursdays have allowed me to spend so much more quality time with the children, really getting to know them better as learners. But sometimes, I just take a moment to stand back and look around. It is so satisfying to see everyone so engaged. The students are really in the driver's seat, making choices for themselves and in charge of their own learning. To feel almost unneeded and redundant means that children are really on their way to becoming independent learners. How rewarding!
Next Steps
The students are making choices about when, where and with whom, but it is still currently the teacher who is planning the "what". Yes, there are choices built in, allowing for different levels, but it is me setting all of the goals and curating tasks and resources. Eventually, I'd love to move to a system in which children have even more input into their learning by selecting which goals are most relevant to them and involving them in designing learning paths that will best help them to meet their goals.
With Independent Learning Thursdays, students are making more choices, adding their voices to our learning routines, and influencing and directing more of their own learning. And that is a stepping stone to authentic student agency!
___________________________________________________________________
Lauren Grahame has been an educator for nearly 30 years and has been teaching at Istanbul International Community School for more than fifteen.  She is a firm believer that teachers must always be learners themselves and continue to hone best practices. She is also a huge Pearl Jam fan and goes to as many live shows as possible. You can follow her on Twitter @LaurenGrahame11.
___________________________________________________________________