The article talks about the use of social media to connect what is going on in a single-subject classroom with the outside world. It illustrates how Twitter enabled the music teacher at an IB World School to share his lessons with music educators around the world.
In my experience being a single-subject teacher or specialist is a lonely position. There is rarely more than one music teacher in each division of the school and sometimes we work in seclusion. After college I was not surrounded by musical minds and found I was not developing musically, so I went searching for new ways of learning and developing my musical pedagogy. Through my journey I found Twitter and I have never been the same. There are four main reasons why Twitter worked for me:
allows for greater forms of collaboration
gives students a glimpse of cultures around the world
encourages learning "on-the-go" while creating an online professional presence
brings tools the students are familiar with into the classroom.
Although I collaborate closely with the grade level teachers to integrate music into inquiry, my Twitter account helps me to connect with music teachers around the world. My main goal was to share what we were doing in class with other music educators.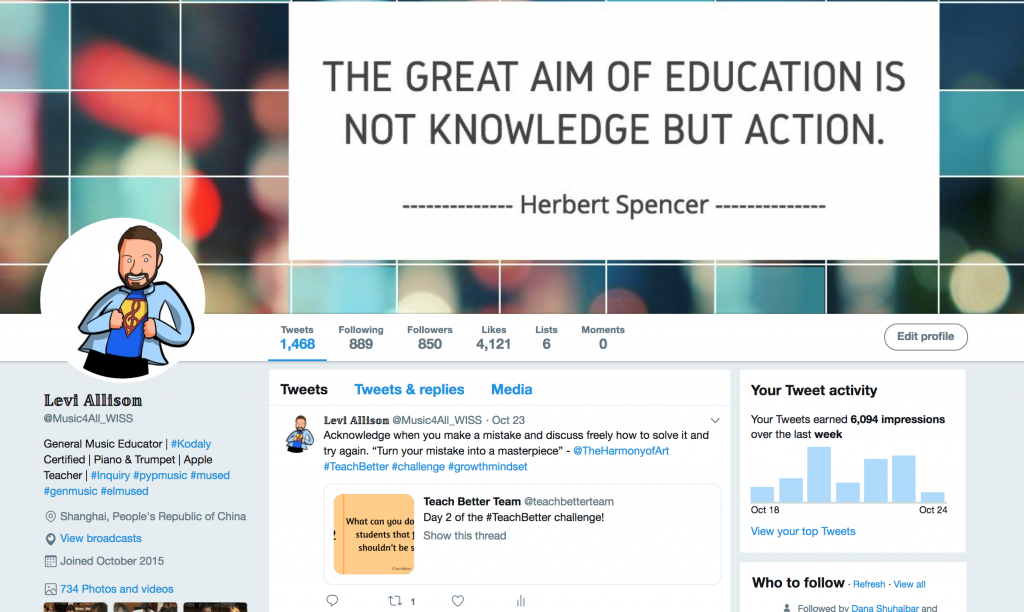 Little by little we started to collaborate across the globe with other music classrooms in doing class sing-pals and exchanging ideas. We would exchange videos of different grade levels singing songs for each other's students to experience other classes around the world and different perspectives that it showcased. I would look through my Twitter feed for musical activities and have my students choose different activities they liked. We would make our own activities to share and ask for feedback of what could we change to make it even better. For example, in a recent integrated  "how we express ourselves" unit of inquiry with the central idea "Different forms of expression empowers us to communicate ideas," we shared how the children were inquiring into long and short which led to the connection of how this creates different sounds in certain musical instruments like the Boom-Whackers.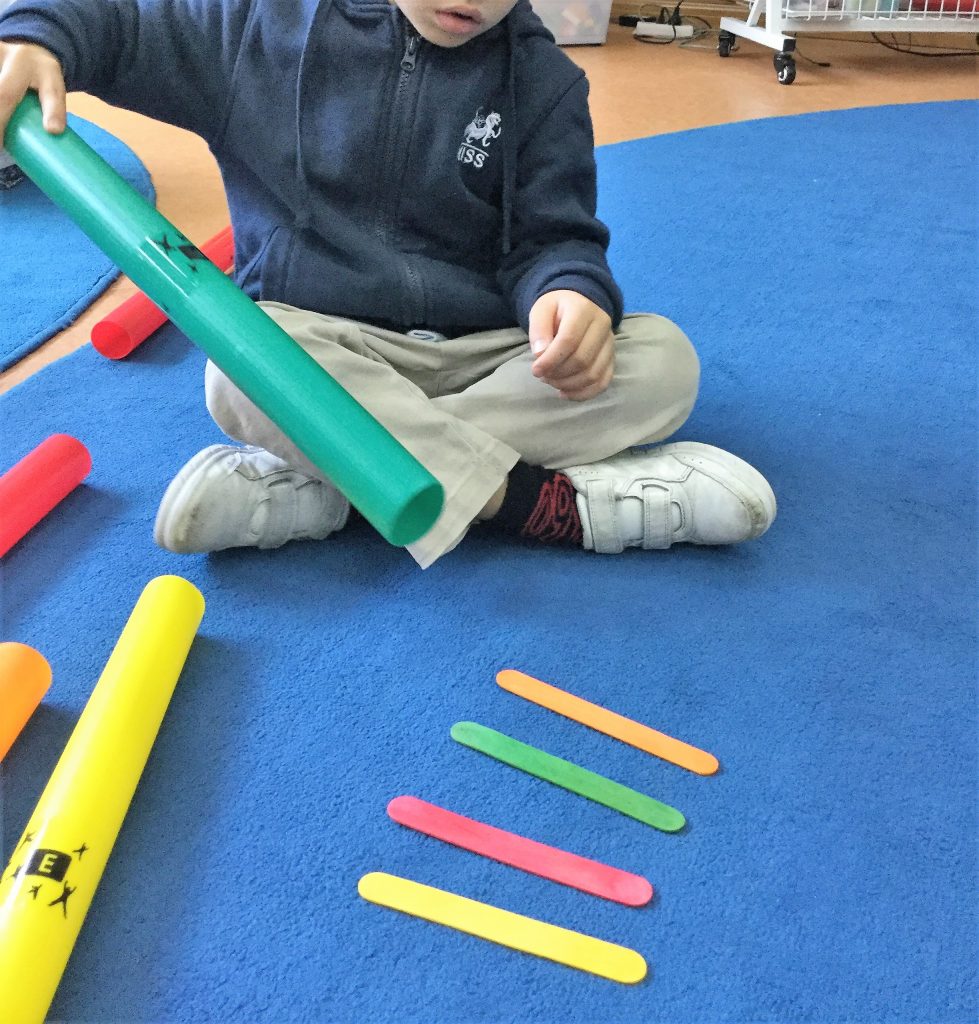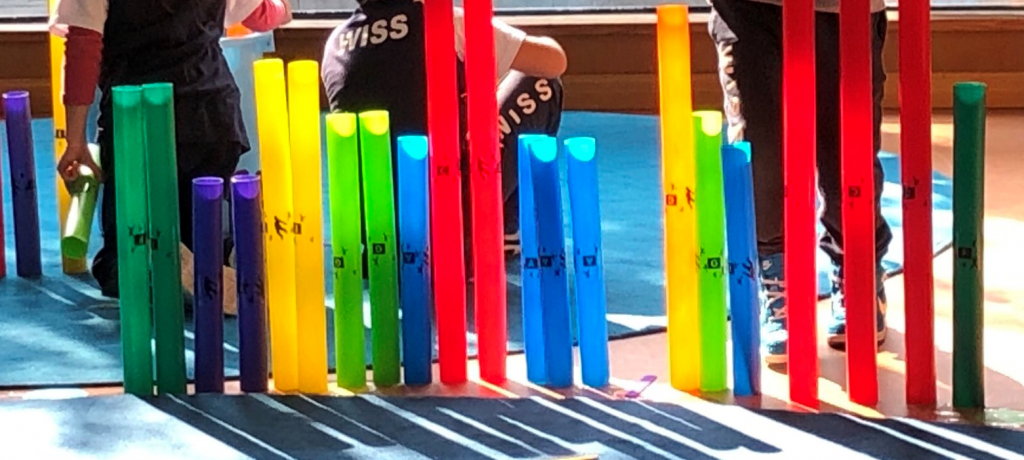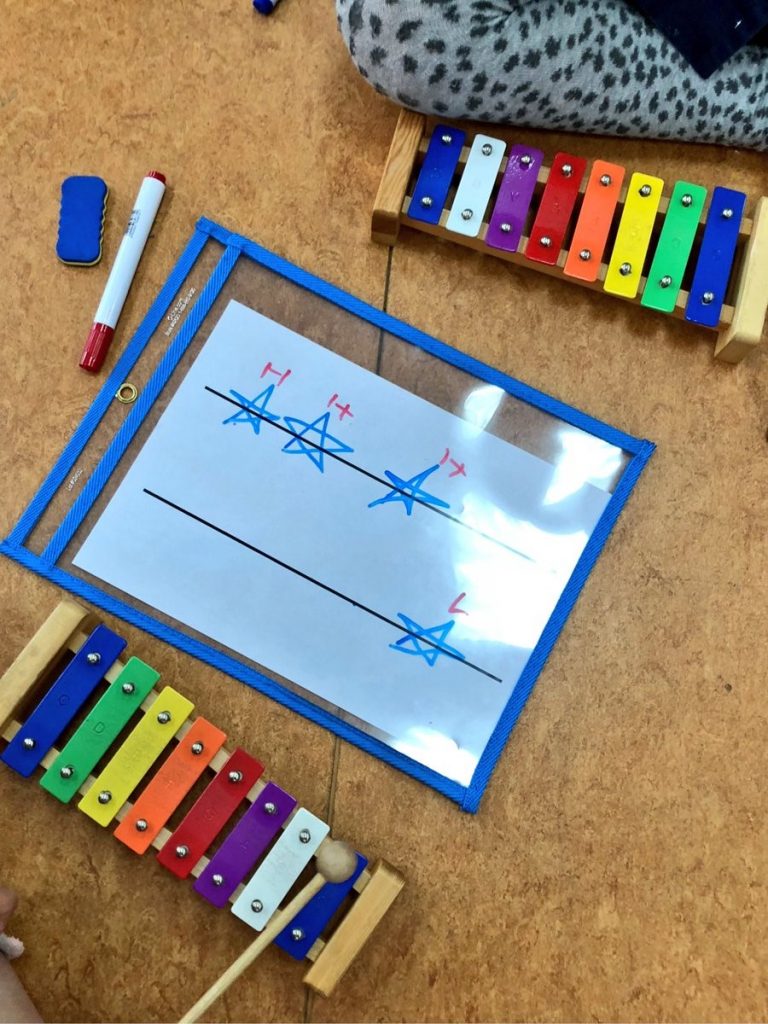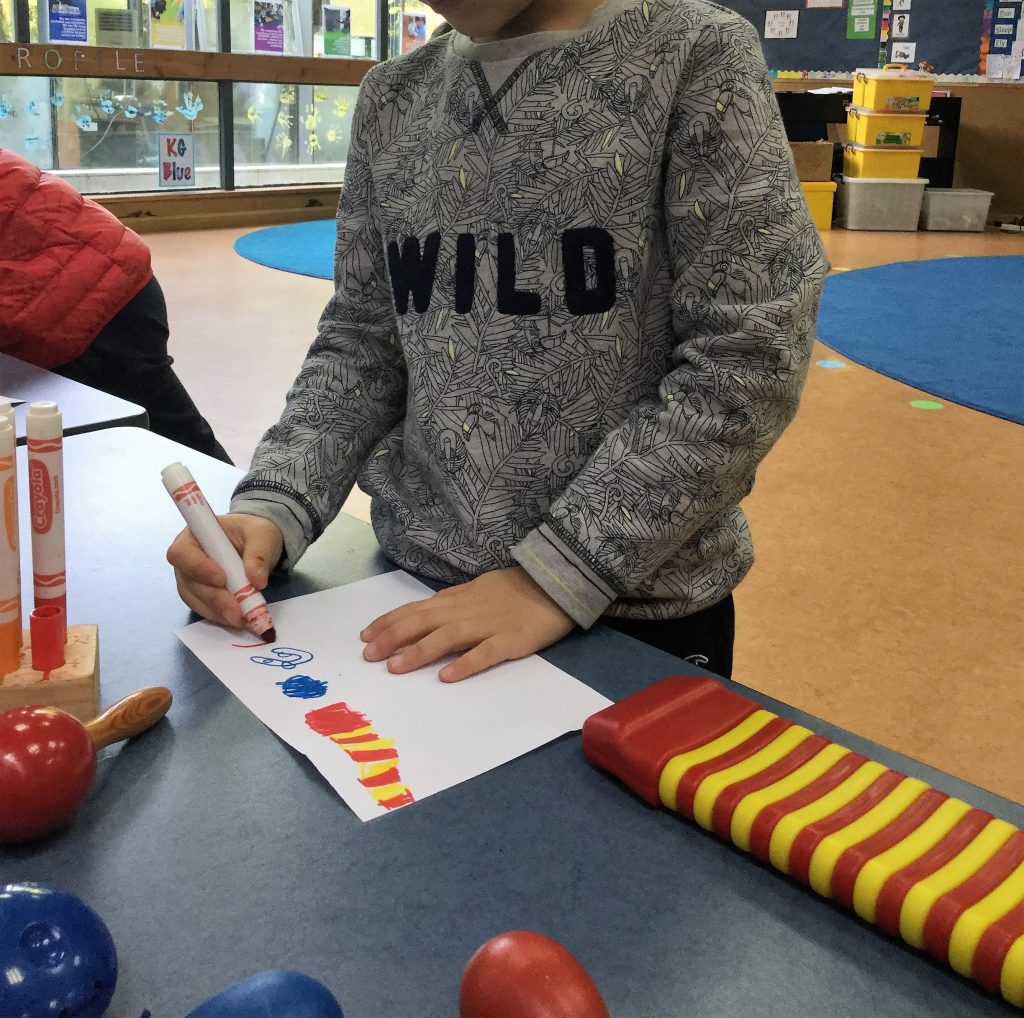 This was a huge success for my students to be able to share what they were learning to the larger community via Twitter. My students enjoyed sharing their culture with others and breaking down stereotypes associated with their culture. Their engagement increased and the level of pride they took in their work skyrocketed. This led us to looking at what thinking looked like in our music classroom and led to reflection on various tweets that they created. When they realized that a single tweet could be seen not by one or two people but hundreds or even thousands, they were sold on integrating technology into their classroom.
Along with the success my students received from using Twitter in our classroom, I appreciated the professional development I received within a 140-character* tweet. Every new educator or leader I followed extended my professional learning network (PLN). Being able to follow favourite authors or extraordinary leaders has proven to be critical in my career.
Working within the IB Primary Years Programme (PYP) framework has offered a tremendous opportunity to converse with other PYP practitioners through slow Twitter chats. Bouncing ideas from one educator to the next within a single tweet changed the speed and scope of our learning. Learning is no longer confined to the four walls of your classroom; social media has changed how we share and learn with the ability of being mobile, and to connect with others outside of our immediate learning network.
With technology gaining speed every day with a new application or a new interface that helps with everyday tasks, students are becoming more tech-savvy than we are. Instead of blocking that knowledge by having the students put away their phones, how do we turn this natural obsession into an educational resource?
*Twitter expanded its 140-character limit to 280 in 2017.
Levi Allison is a music teacher at Western International School Shanghai in China. He comes from the United States but has spent the last few years working in the US, Kuwait and now China. Levi has a Bachelor's Degree in Music Education from Pre-kindergarten through to Grade 12 and is currently working on a Masters in Educational Leadership and Administration at Emporia University. Levi went into teaching to foster musical appreciation and to support musical growth in all students. His hobbies include an interest in musical theatre, socializing with friends and playing the trumpet. He enjoys watching students grow in their musical endeavours. You can follow him on Twitter @Music4All_WISS.
Want to learn more about how technology is transforming education? Read
this
article where we look at educational technology innovations and how they can aid and extend learning.